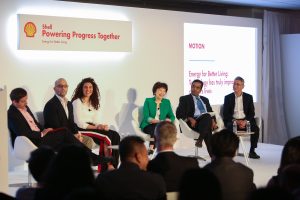 On the 8th of March, Shell organised the Shell Powering Progress Together Forum, at the Changi Exhibition Centre, to bring together some of the brightest minds in the energy industry to discuss and debate the future of energy.
As a part of the forum, Shell had put together a competition named Imagine the Future, a scenarios competition where students had to envision a possible future and explain its implications on energy and offer their solutions to a panel of judges.
The Yale-NUS Team from Singapore emerged as champions in the regional round, edging out competitors from Egypt and Thailand.
The winning team presented their scenario analysis to the members of the audience.
They depicted two worlds which they termed as the "Binary World" and the "Dispersed World".
The "Binary World" scenario depicts a highly centralised world, where big firms and governments have easy access to a large amount of data.
The "Dispersed World" scenario offers a view of the world where individuals are extremely autonomous, and innovation and creativity are at their peak.
The team concluded by saying that they imagine the world of the future, to be somewhere in the middle of these two extremes.
Ms Ann Chen, a member of the Yale-NUS team, shared her thoughts on her experience taking part in the competition.
She mentioned how this competition differed from others that she had participated in, as Shell "focused a lot on guidance and mentorship".
She further added that the competition had made her realise "just how important energy is".
Shell's Imagine the Future Scenarios Competition is one of the highlights in this year's Shell Powering Progress Forum.
The competition and #idearefinery, a 20 week accelerator programme focused on developing early stage energy-related start-ups into full-fledged commercial ventures, are two Shell initiatives as a part of the forum, designed to engage the thriving start-up industry in Singapore.
When asked about the direction of energy-related policies in the last decade, and if they were doing enough Dr Mallika Ishwaran, Shell's Senior Economist and Energy Policy Advisor said, " there is an increase in awareness by policy-makers to have policies to address carbon emissions".
However, she also highlighted that "clearly more effort is needed by governments to drive that additional reduction in emissions".
One of the topics touched on by the winning team was that of data-driven venture capitalism. This refers to a calculated investment in companies that would yield the best results.
When asked of her opinion on green start-ups, Dr Ishwaran laughed as she quipped, "They're great aren't they? Does anyone say anything else?"
She explained how in her opinion, "they drive innovation by trying and failing, as that's the nature of innovation".
When questioned if Shell would be keen on investing in green start-ups and what kind of green energy in particular, Dr Ishwaran replied, "We're interested in any opportunities that are in that new energy space."
However she then went on to add, "Do we want to buy [green companies]? I mean, I can't even speak to that. I think we are an innovative company. We see ourselves as innovators. So I think there is a lot of in-house development and thinking on how do we develop business models and commercial propositions that fill this sort of green need, but also make money and are commercially viable for us. So we tend to do that ourselves, rather than just buying or investing in external start-ups".
The continuing debate on sustainable energy is a pertinent one. A discussion that has clear and decisive implications on the future of not just our generation, but for all the generations to come.
It is integral that we invest both monetary and intellectual capital into the exploration of potential solutions to the energy question. And events like this forum by Shell are a step forward in the right direction.