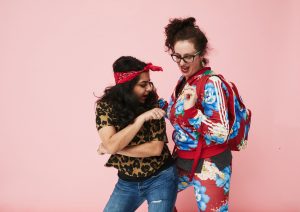 Checkpoint Theatre is delighted to present an electrifying new production, Thick Beats for Good Girls.
Written and performed by performance-poet Pooja Nansi (Singapore) and award-winning playwright Jessica Bellamy (Australia), Thick Beats asks a ton of questions about the balancing act that is being a woman, an ethnic or religious minority, and—God forbid—a hip-hop enthusiast.
Directed and dramaturged by Huzir Sulaiman, the production will run from 5 to 22 April 2018 at the Drama Centre Black Box.
The Ridge had the opportunity to ask Jessica Bellamy and Pooja Nansi about what inspired the play and why its one that is so close to their hearts.
Here's what they had to say:
Q: What inspired Thick Beats for Good Girls? What personal stake would you say you have in this play?
Jess: This was a play that I felt was urgent to write; one that not only draws together the multiple strands that I am made of, but also displays the ways in which women contain multitudes.
Pooja: Thick Beats for Good Girls stemmed from an unlikely topic like hip-hop offering Jess and myself nuanced connections as women who grew up in very different but yet oddly similar cultures.
Q: Tell us about the title Thick Beats for Good Girls. How did it come about and how is it significant to both of you individually?
Pooja: It wasn't the original title of the play, but Jess used the phrase "thick beat" in one of her narratives and we all thought this encompassed exactly what a bass beat, which underlies so much of hip-hop, is. The "good girls" bit was a natural distillation from the many conversations we have in the show about feminism and what it means to understand your own agency outside of what society tells you that a girl should be.
Jess: Thick beats are what draw the snakes to safety in that Simpsons episode called Whacking Day. I am happy to extend the metaphor to my own life. Thick beats are heavy, proud and do not apologise. There is nothing breathy, choked or throaty about them. Thick beats tell no lies.
Q: What has the experience of working on Thick Beats for Good Girls been like?
Pooja: It's the first time I've worked on a long-distance collaboration and it's been really cool to see how technology like Skype and Google Docs has allowed us to work on the same project at our paces while our everyday lives continued in Singapore and Australia.
Jess: Huzir has done an amazing job in planning the development of this play over time and distance. A three-hour Skype session is not as horrible as it sounds when it's with top quality artists!
Q: Would you say that Singapore is still a conservative and traditional society when it comes to issues on gender and sexuality? How does the play navigate the perceptions of the Singapore audience?
Pooja: I don't think we are all a monolith. I think Singaporeans have differing views on these issues. Gender and sexuality are incredibly complex, nuanced categories and I do think we are beginning to have more conversations about them.
I find the second part of the question difficult to answer because every individual, whether Singaporean or not, would have their own perceptions. But we do hope Thick Beats opens up important conversations amongst audiences.
Jess: This play is not just written for a Singaporean audience. It is written for human beings who have wrestled with the various intersections of their identity and have tried to work out what sort of life they are meant to be living.
Q: Was it tough for Jessica to write for a Singaporean audience?
Jess: No; Singaporean people and Jewish people have a lot in common. We love talking about food, complaining about the weather, and a nice sit in the air-conditioning.
Q: Beyond your love for hip-hop, tell us more about why it figures so prominently in the play. Does hip-hop as a genre have much to offer the dialogue of identity and communal belonging?
Jess: Hip-hop is Pooja and my unique way of navigating the world. For me, it unlocks something in my gut that is very significant: the ability to exercise my intellect and instinct at once. I don't get that unique feeling from anywhere else. I would hope that audience members view this play with an open mind to see if some thick beats might leave them feeling similarly moved.
Pooja: Hip-hop has been a monumental music in our lives. Hip-Hop is also a very young art form of 45 years, so it really is evolving along with the generation that gave birth to it. We don't even know yet what a rapper in his 60s would rap about which is fascinating to me. But it is also a very political music and an incredibly expansive and inclusive one. It opens up dialogue on so many issues such as class, race, femininity, romance and even motherhood.
What are you waiting for?
A play that embodies the best musical genre of all time, while incorporating heavy social dialogue? What is there not to love about Thick beats!
The play is currently in the second week of its run, so head on down to catch a slice of the action yourself!
---
THICK BEATS FOR GOOD GIRLS
Performance/Ticketing Details Dates/Times: Thu 5 – Sun 22 Apr 2018 8pm (Tue to Sat); 3pm matinee (Sat & Sun)
Venue: Drama Centre Black Box, National Library Level 5
Duration: 80 min without intermission
Ticket Price: $45 (excludes SISTIC booking fee)
Ticketing Agent: SISTIC – www.sistic.com.sg or Hotline 6348 5555
Concession: OCBC Arts Platinum Card – 15% off; OCBC Cards and PAssion Card – 10% off; Students, Senior Citizens, and NSF – 10% off; Group Bookings (25 tickets or more) – 20% off
---