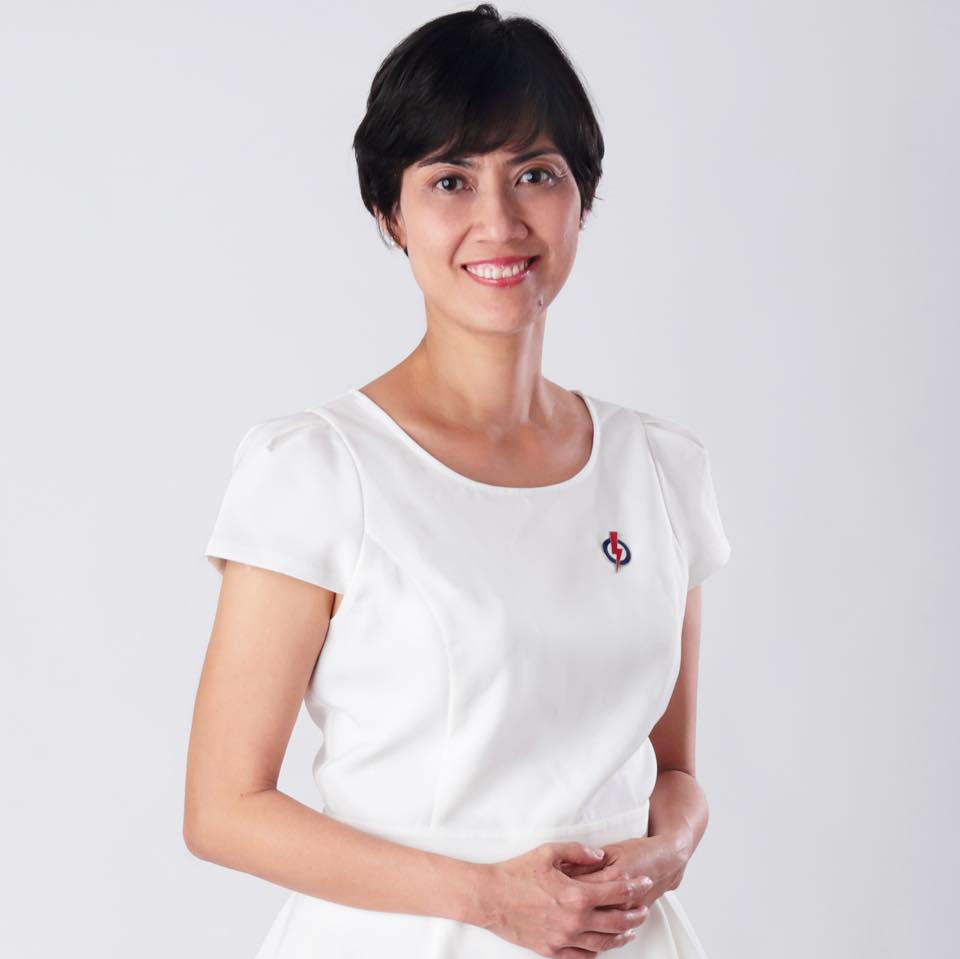 (image courtesy of Joan Pereira)
1) Share with us the activities you took part in while studying in NUS.
I took part in the NUS Catholic Students' Society.
2) What is your greatest takeaway from NUS?
NUS gave me the confidence to pursue my dreams and empowered me with the necessary tools to find my way in whichever path that I chose to take. The learning does not stop at university education. In fact, it is really only the beginning of many lessons that I have learnt throughout my career.
3) What are your hobbies?
In my free time, I enjoy reading, brisk walking and spending time with my family and my "furry son", a toy poodle.
4) Do you have a role model you look up to?
Yes, there are many! In my personal life and at work, there are many role models who inspire me. My mother is one of my most important role models – as she has taken good care of us while we were growing up and now continues to shower her grandchildren with unconditional love. She insists on being very independent at her age of close to 80 and loves all of us in her own quiet ways. She is the kind of mother that I have modelled myself after.
5) How did you get involved in grassroots work?
Well, it was literally "work" to me at the beginning, as I had applied for a job with the Ministry of Community Development and dived straight into working with the very dedicated grassroots leaders on the ground! The residents and the grassroots leaders that I have worked with have been my source of inspiration since.
6) Why are you so passionate in championing for the elderly? How did your post as Director of Family Life and Active Ageing at People's Association help you in your social activism?
I subscribe to the belief that family is an important building block of our society, and taking care of our elderly, whether they are our grandparents or are single elderly living alone, is a natural extension of this perspective. Only by respecting and caring for the generations before us can we build up strong family values and bonds, and this is what will make us a caring and nurturing society. In my previous role championing family life and active ageing at the People's Association, I have had the opportunity to spearhead and support programmes all over Singapore, giving me a national-level perspective on our population's needs and about effective utilisation of resources to achieve social outcomes.
7) Which part of being a parliamentarian is the most fulfilling? And which is the most challenging part of your job?
The most fulfilling aspect of being a parliamentarian is the chance for me to engage and interact with my residents, and that gives me an opportunity to listen to their stories, as well as to find out more about their aspirations and concerns. Where possible and where these relate to national interests or concerns our people, I will bring up these topics in Parliament. If I were not a parliamentarian, I would not have had this opportunity to reach out to so many residents for a chance to speak up on their behalf, or to embark on projects that can make their lives better.
The most challenging part of my job is not having enough time for my family, especially on weekends when they are at home and I am not able to be at home with them as I usually have events or house visits on weekends in my constituency. While I do still try to make time for them to meet them for meals, they often have to make concessions and adjust their schedules to fit mine. I am therefore so grateful that my family is so understanding and willing to make sacrifices in order for me to perform my duties as an MP. It makes the time that we spend together all the more precious and meaningful.
8) What is one quote you live by? Why?
Actually, there are many, but if I really have to choose one, it would be that "we can never fail as long as we do not give up". It keeps me focused on trying to find alternative ways to make something work, even if the challenges and obstacles facing us may seem to be insurmountable.
9) Where do you see yourself five to ten years down the road?
I still see myself doing what I love, which is championing social causes related to the elderly and families.
10) What advice do you have for young undergraduates who are still looking for their meaning and purpose in life?
Do not be afraid of uncertainty and the unknown. Your first job may not always be what you love to do, but it will equip you with valuable life skills and you must take the chance to learn as much as you can from your colleagues and mentors. And sometimes, it may well turn out to be something that you would be passionate about!