"Without Montreal, Canada would be hopeless." – Anthony Bourdain
Montreal is dubbed as Canada's cultural capital, boasting an exhilarating artistic face in an otherwise temperate region of the world. Regardless of the season, the streets of Montreal ooze with charm, offering up a slice of delight for all, with her long-lasting history of visual arts, jazz music, dance and food as only some of the things that the city has to offer.
I spent my time in Montreal in fall, which I would argue to be the best time to visit. Unless you've set foot in Canada, there is no words to describe Canadian winters that can truly communicate that experience. As an exchange student from Ottawa, a low-key albeit beautiful city, going to Montreal is such a delight for the vibrancy of the city can be felt the moment you step out of the station.
I've been to Montreal twice, and each time only for a short weekend trip. If I could have stayed longer each time, I definitely would have. But if you're short on time, here are just some of the things you can do for an enjoyable "Montrealer" experience.
1. Arts Scene
Place des Arts, as the name suggests, is at the heart of the Montreal arts scene. Theatres, museums and street art are on almost every corner that you will be spoiled for choice. The music scene in Montreal is always buzzing; both local and big-time acts are given their time to shine.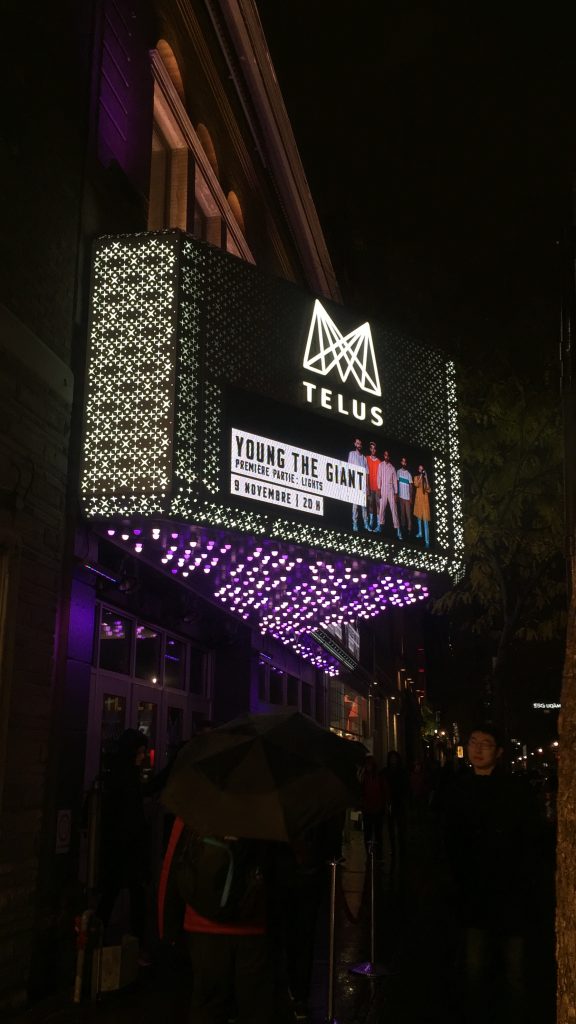 Out of the many galleries in Montreal, Musee de Beaux Arts (Montreal Museum of Fine Arts) and Musee d'art contemporain de Montreal (Montreal Contemporary Art Museaum) are perhaps the ones you should visit if you are interested in visual arts, but are running low in time.
However, what truly makes the spirit of Montreal captivating is the abundance of street art. Wherever you turn, you will find wall murals from local artists, that are regularly changed and updated every few years. It is like as if the entire city is, itself, an enormous dynamic museum.
2. Old Montreal
If you think of Montreal, and dare I say Canada, Vieux-Montreal (Old Montreal) is arguably one of the most recognizable landscapes. The streets of Old Montreal pride themselves with a "ye-olde" quaint, pleasant charm. The narrow cobble-stoned streets date back as early as the 17th century, and is always full of life. Cafes, plazas and an array of shops can be found offering some of the best that Canada's French colonial quarter can offer.
3. Mont Royal
You can take a break from the bustle of the city by visiting Mont Royal, a small mountain near Downton Montreal, and enjoy the breathtaking view and beautiful fall colours.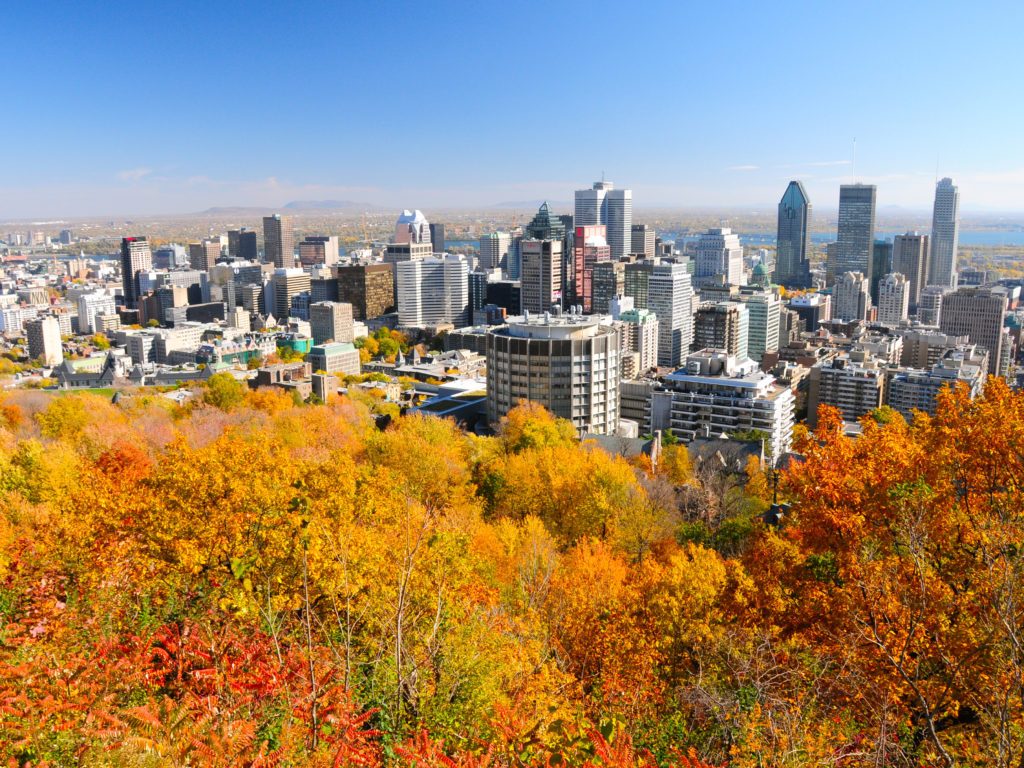 4. Food
Montreal is abounding with culinary offerings, from local, iconic Quebecoise cuisine, to international food that can compete even with its local counterparts. Regardless of the time that you have in Montreal, it is a must to sink your teeth in these unforgettable foods.
Schwartz's Deli is one of the oldest in Montreal, and one of the most renowned in Canada.
La Binerie Mont Royal. Tourtiere is a Canadian meat pie originated from the province of Quebec. La Binerie Mont Royal not only offers a tasty tourtiere, but also a cozy and welcoming atmosphere that makes you feel like one of the locals.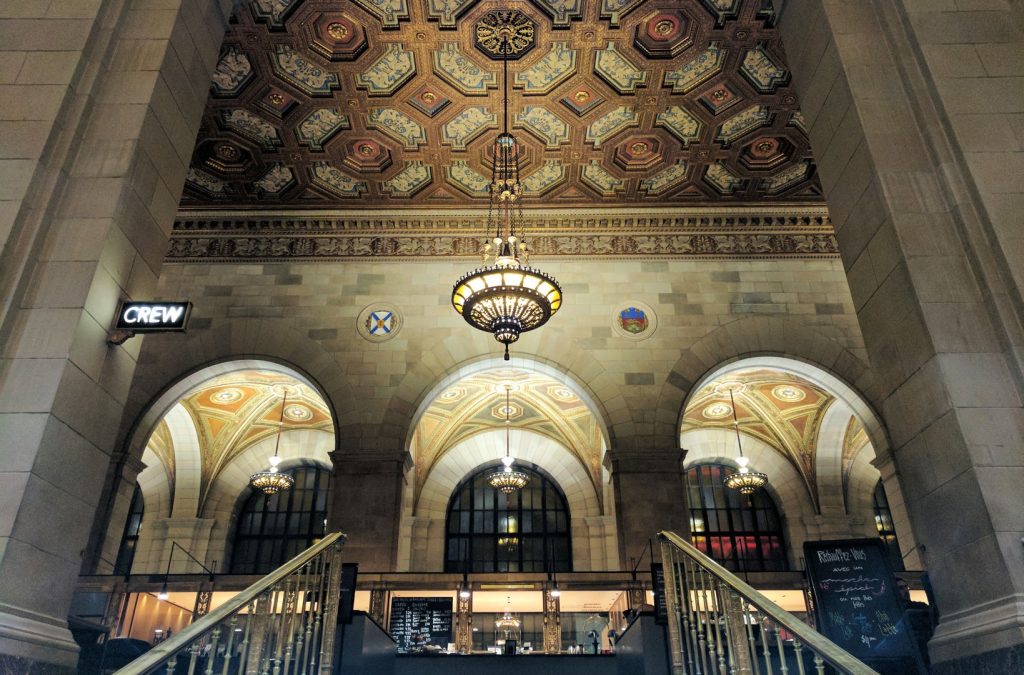 Crew Collective and Café. From the outside, you wouldn't think of this grand, historic building as a coffee shop. The building was once home to a bank, but has been repurposed into an imposing, breathtaking café. Studying has never felt more "bougie".
Delices Erable et Cie. A trip to Canada is not complete unless you've tried maple, and Delices is a great place to fulfill this mission. From classic maple syrups of varying grades, to unique products such as maple spreads, tea and even dressings, Delices will deliver. Try their special maple-based ice-cream flavours in store too.
I must say, that a place as effervescent and delightful as Montreal cannot be wholly captured by the above. Montreal has a vivid personality that evades a written account. The city's greatest gift, in my opinion, is its lively spiritedness that refuses to be bogged down – even by Canada's unrelenting temperatures. Visit Montreal, and you will understand why people fall in love with the city and why one is never lonely in this welcoming and heartening place.