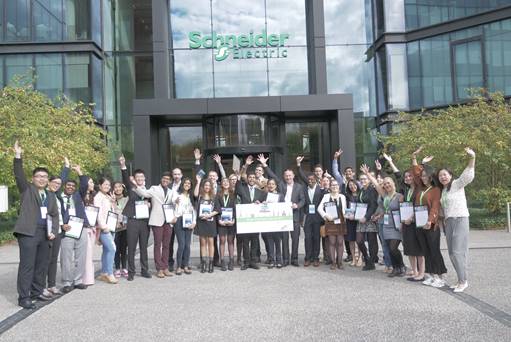 Go Green in the City 2017 finalists at Schneider Electric headquarter (Rueil-Malmaison)
On 9th February 2018, Schneider Electric, the leader in digital transformation of energy management and automation, officially launched Go Green in the City 2018, its global contest to find bold ideas and innovative solutions for smarter, more energy-efficient cities.
In its eighth year runniing, Go Green in the City has become a major event for business and engineering students worldwide. In 2017, nearly 20,000 young innovators from 3,000 universities in 180 countries took part, including 58% of women. The stakes for Go Green in the City competitors are high, with mentoring, networking, travel, cash prizes and business or job opportunities all on the horizon.
Three new topics added in the competition to focus on digitization
In 2018, the competition should attract even more interest, thanks to a wider range of topics. Students are invited to submit their bold ideas in one of five categories: sustainability and inclusivity, the digital economy, smart supply chain, cyber security, or "no boundaries/bold idea for going green" (any topic).
The more popular topics over the years are "Sustainability and inclusivity" and "no boundaries". The new categories this year reflect a greater focus on digitization, along with a "sky's the limit" approach to innovation.
Olivier Blum, Chief Human Resources Officer at Schneider Electric commented: "Schneider Electric has a bold vision to solve our planet's energy paradox. Go Green in the City was designed as a platform for young innovators to become a part of this vision. Helping students to develop their bold ideas for new sustainable solutions, and gain a foothold in our industry is a great way for us to accelerate positive change."
Participants are equally passionate and excited about the event. Raja Jain and Nimisha Gupta from IIT Roorkee in India won first place in the 2017 Go Green in the City final for their "Evacool" air-cooling system. They stated: "Go Green in the City has been a dream come true! Winning the competition has given us such a great sense of achievement, as well as a rich learning experience. If you care about how technology can promote greener practices and sustainability, you will not get a better opportunity than this!"
An ever-increasing success
Teams must comprise of two students attending accredited business or engineering schools in the same country for the duration of the competition. Each team should include at least one female member, in line with Schneider Electric's policy of promoting Diversity and Inclusion. The deadline for submissions is on 1st June 2018.
Shortlisted teams will receive mentoring by Schneider Electric experts to produce viable business cases to present at one of seven regional semi-finals over the summer in Europe, North America, China, India, Asia-Pacific, the Middle East and Africa, and South America. Each of the seven regional winners will then be invited to prepare for the competition final, along with one outstanding all-female team and two "wild-card" teams (additional teams selected from the semi-finalists).
After the second round of mentoring, ten teams will meet at the global final in the United States (city to be announced) in the autumn. The global winning team selected by the executive jury, will be offered the chance to start a career at Schneider Electric, after an international travel to visit any two locations of their choice worldwide, where Schneider Electric offices are present.
For more information, please visit: www.gogreeninthecity.com, http://china.gogreeninthecity.com
About Schneider Electric
Schneider Electric is leading the Digital Transformation of Energy Management and Automation in Homes, Buildings, Data Centers, Infrastructure and Industries.
With global presence in over 100 countries, Schneider is the undisputable leader in Power Management – Medium Voltage, Low Voltage and Secure Power, and in Automation Systems. We provide integrated efficiency solutions, combining energy, automation and software.
In our global Ecosystem, we collaborate with the largest Partner, Integrator and Developer Community on our Open Platform to deliver real-time control and operational efficiency.
We believe that great people and partners make Schneider a great company and that our commitment to Innovation, Diversity and Sustainability ensures that Life Is On everywhere, for everyone and at every moment.
For more information, visit us at  www.schneider-electric.com.