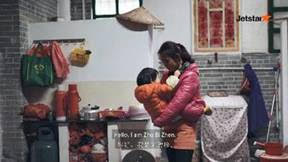 In 2017, Jetstar encouraged Singaporeans to stay home and be with their families during Lunar New Year. But there are some people who are not able to be with their families over the festive period. To kitchen chef Chen Rong Jian, the Lunar New Year period is an especially busy one, as he works tirelessly to ensure Singaporeans can enjoy a sumptuous reunion dinner with their families. Since coming to Singapore to work four years ago, Rong Jian has not been able to spend Lunar New Year with his wife Bi Zhen and two-year-old daughter Xin Yi, who are back home in a small farming village in China. This year Jetstar brought home to him, surprising Bi Zhen and Xin Yi with flight tickets to Singapore to join him for reunion dinner. Watch the reunion here.
This Lunar New Year, Jetstar will be reuniting many more families like Rong Jian and Bi Zhen over the festive period, with more than 650 flights arriving in Singapore between 15 February 2018 and 2 March 2018.
Do you have a heartwarming reunion story to share? Simply post a photo on Instagram with the hashtag #JetstarLNYreunion for a chance to win one of 18 Jetstar vouchers, worth S$180 each, to help bring home to them!
Contest ends 2 March 2018, 11.59pm SGT. Winners will be announced before 9 March 2018.
About Jetstar Asia
Jetstar Asia first took to the skies in December 2004. Jetstar Asia currently operates more than 600 weekly return flights to 25 destinations across 13 countries and territories in the Asia-Pacific region. Jetstar Asia was recognized as the top budget airline in customer satisfaction by the Institute of Service Excellence in 2016 and was listed as one of the top 10 safest low-cost airlines in the world in 2017 and 2018 by AirlineRatings.com.