90% of undergraduate students studying in universities in Singapore reported to feeling stressed out regularly. The survey was conducted by a team of final-year students of Nanyang Technological University (NTU).
"Stress is part and parcel of living in Singapore. If poorly managed, it can eventually lead to disabling mental conditions like depression and anxiety", said Dr Aaron Meng, a medical doctor who is in advanced training in psychiatry.
According to the National Health Survey conducted in 2010, the prevalence of poor mental health was the highest among young adults aged 18 to 29.
Some of the common reasons constituting to high stress levels include future uncertainties, monetary concerns and unemployment. To cope with the high-rising stress levels, one-third of university students reported to adopting unhealthy and sedentary forms of stress management such as stress eating, smoking, drinking and excessive screen-based activities, which can be harmful to the body.
In light of the findings, four final-year students from NTU's Wee Kim Wee School of Communication and Information have launched a campaign titled 'Ex-tension: Exercise to Release Tension'. The campaign aims to promote and encourage the adoption of aerobic exercise, an active and healthy form of stress management to university students. It is supported by the National Youth Council through the Young ChangeMakers grant for youths to create a positive social impact to the community.
Based on the survey results, approximately 83% of respondents displayed positive attitudes towards engaging in exercise to manage stress levels. Despite that, only 16% of university students engage in exercise for stress management. The top reasons cited by the respondents were lack of time and having other priorities such as school work and other commitments.
"As university students, we often find ourselves feeling overwhelmed due to the struggle between balancing school work, social life and other responsibilities, and these are often prioritised over our mental health," said Cheryl Ng, team leader of 'Ex-tension'.
"Understanding the importance of managing stress through a method that is healthy and beneficial is crucial, which is the reason why this project came about. Through introducing fun and exciting forms of exercise such as mass workout sessions to university students, we hope to encourage them to participate collectively and positively influence one another to adopt this active behaviour for a sustained period of time."
Aerobic exercise has been proven to be an effective form of stress management. Studies have shown that aerobic exercises activate the production of endorphins, a mood-lifting hormone and relieves the body of bad toxins.
"Almost everyone will benefit from some form of exercise and should be advocated to all," Dr Meng further elaborates. He also shared that aerobic exercises such as running can aid in alleviating anxiety through improved breathing, helping the body to relax. With reduced tension and worries, sleep cycles can also be regulated hence ensuring a good night's rest.
For more information, please visit https://www.facebook.com/extension.sg.
More about campaign activities
The campaign will reach out to university students through offline and online platforms.
Through the campaign's Facebook and Instagram page, informational content will be disseminated to promote and inform university students of the benefits and importance of exercise in stress management.
Campus outreach events will be held in various universities where students can take part in station games in the form of aerobic exercises such as cardio, basketball, soccer and table tennis.
Motivational cards will be distributed to students during high-stress periods across the universities to encourage them to take a break and relieve stress by exercising. A public outreach event will also be held at the Singapore Sports Hub to engage the masses by promoting exercise as a fun and healthy way to improve overall well-being.
'Ex-tension' Activation at the Sports Hub 'Community Play Day' Participants will be able to take part in sports-incorporated station games and stand a chance to win exciting prizes.
Mass workout sessions will also be held on the day as well.
Event Details
Date: 10 March 2018
Time: 9am – 7pm
Venue: Singapore Sports Hub, OCBC Square, 5 Stadium Drive, Singapore 397631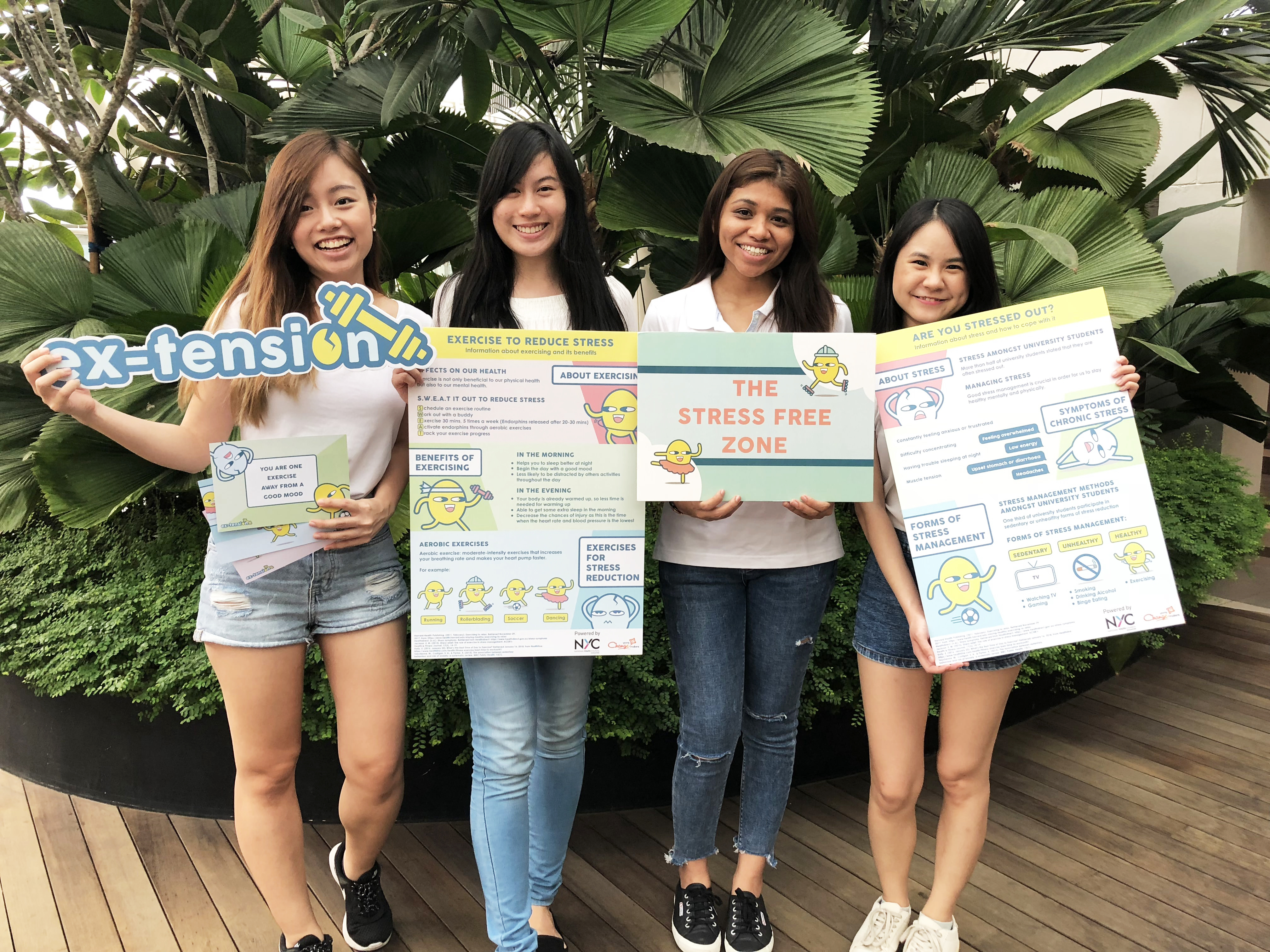 The team from left to right: Pamelin Teo, Natalie Quek, K Shaamini, Cheryl Ng