Did you realise that business trips typically consist of hectic schedules and getting the most out of your day, without time to enjoy the country that you are in? That's why Jetstar's FlexiBiz bundle is here to allow business travellers to change flights for free to accommodate last minute meetings or travel plans, but how much can you get done in a few extra hours?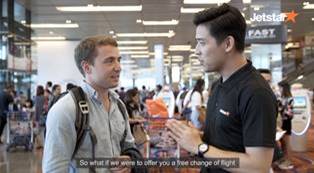 Jetstar Asia embarked on this journey by approaching business travellers at the airport over two mornings to offer an unexpected surprise: change your flight for free for an opportunity to enjoy an action-packed afternoon in Singapore, before returning to the airport to catch a later flight.
Five travellers decided to take the risk and accept the offer. Find out how much they accomplished in a few extra hours.
From 15 to 18 March 2018, Jetstar's FlexiBiz bundle will be on sale from just S$24 (U.P.: from S$32), to give business travellers greater flexibility with their travel options.
About Jetstar Asia
Jetstar Asia first took to the skies in December 2004. Jetstar Asia currently operates more than 600 weekly return flights to 25 destinations across 13 countries and territories in the Asia-Pacific region. Jetstar Asia was recognized as the top budget airline in customer satisfaction by the Institute of Service Excellence in 2016 and was listed as one of the top 10 safest low-cost airlines in the world in 2017 by AirlineRatings.com.