Choosing locations for a holiday are one of the toughest and most time consuming of processes. One of the usual methods of selection comes down to weather, popularity and type of activities available at the holiday destination. This usually tends to lead to a dichotomous choice — snowy end-of-year destinations or beachy sites for relaxations. However, as usual, I'm no stickler for the ordinary and thus must look at everything that is odd and different (possibly a little adventurous too?)
So, here's 5 destinations you might wanna try for a newer experience!
I know a basic rule of thumb is to assume Bangladesh is a developing nation that is fraught with poverty and corruption. Not wholly untrue but also not the Bible truth about the country. Take it from someone who's been to many of the states within this nation, Bangladesh is a treasure chest of heritage and great locations for sightseeing and relaxation.
photo courtesy: Google. Photo Credit: stepupbdit
– For those seeking cooler holidays (in terms of temperature yo), try the tea plantations of Sylhet. The peaky, dewy-cool greens of Sylhet are guaranteed to take your breath away, especially after the daily sight of our concrete jungle. Freshly brewed milk tea, masala tea or as the Bengalis call it, black tea – chaa, you can enjoy the beautiful foggy mornings clearing into the local "bhatiali" song singing tea pickers with their little baskets on their backs and their bundles of joy hanging from their necks. Vast lands of sugar cane fields and a burst of yellow mustard flowers as far as your sight can reach, the rural areas are beyond mesmerising. The dramatic beauty of foggy mornings settling into dewy and then sunny afternoons is the stuff of movies, and if you're anything like me, you'll get ready the camera and go running in the middle of these mustard fields for the most stunning natural shots.
photo courtesy: Google. Photo Credit: Click Ittefaq
– In case you're in a mood for a more culturally evocative holiday, you don't necessarily need to go to Rome to have a cultural/historical awakening—Asia, as we all know, is filled with heritage. Standing tall among riots of Marigold, visit the many heritage sites Bangladesh has to offer such as Ahsan Manjil, the 60 Dome Mosque, the National Martyrs' Memorial — which celebrates the lives and sacrifices of both the civilians and the officers of Bangladesh who fought bravely in bringing Bangladesh's independence in 1971. One place I'd personally suggest is the National art museum holding the collective works of artist Zainal Abedin. A world renown painter and scientist, Abedin is not only Bangladesh's very own Da Vinci but also very successfully tells the story of Bangladesh before, during and post the liberation war of 1971—paying special homage to the forgotten history of the 1974 Famine. They are not only informative but also give a very humanist and artistic insight into one of the most devastating chapters of Bangladeshi history, shedding light also on the general ugly truth of post-war conditions. You can go on a hike around the country, especially in the capital… Or if you're lazy and wanna take a shortcut, go to the Heritage Park amusement park in the capital Dhaka which houses mini replicas with trivia about many of the local historical sites.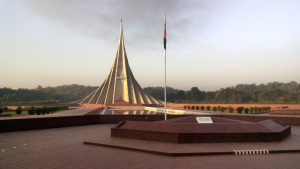 photo courtesy: Google. Photo Credit: Mapio Net
For anyone seeking a peaceful and chilly (not chill but it's honestly very close to it) holiday, Bhutan is a must-go destination. From its spiritually uplifting scenery to very picturesque locales and sunsets, Bhutan will fill your heart to its brim with peace and a sort of contentment that is hard to describe. Word of caution though, try not to bargain with the vendors about the price of tea and other basic amenities too much. These are poor and peace-loving people, but in attempting to make full use of our stronger currencies we potentially deprive these people of making some light profit. Also, if word from the tourists is true, recently locals have become quite annoyed to the point of chasing tourists away for bargaining too much. So be safe and be considerate J

photo courtesy: Google. Photo Credit: Little Bhutan
I don't think anyone who's ever gone through the Singaporean education system has not heard of Sri Lanka. Unfortunately, most of us only remember the details about the LTTE-Sinhalese civil war and almost nothing about the natural beauty that is Sri Lanka. We have many students from NUS going to Jaffna and nearby for school trips and all of them vouch for the mesmerising landscape and warmth the people of Sri Lanka can offer. The ever sumptuous and countless food dishes paired with the local love for fresh coconut water is a delight to anyone who must pay almost a fortune for decent food (okay, maybe that's just because I'm perpetually broke). But take my word for it, while nothing as dramatic as the sunsets of Bali, the sea side sunsets or Sri Lanka are the stuff of wistful happiness— the golden afternoon, the sun as red and as bright as a ball of fire burning across the ombré purple sky while the fishing boats become silhouettes. You can pretty much imagine this becoming a painting.
photo courtesy: Google. Photo courtesy: Sri Lanka Net
I know India is quite a tourist spot, even with us locals. However, a tendency most people have is to visit the metropolises like Delhi Mumbai or Chennai and the likes. While these cities have much to offer and are an experience in their own right, it is the more hidden locations/non-metropolitan states or cities where the true beauty of India lies. For a white winter try out Ladakh or Srinagar. This is a treat for the adventurous soul, with its marvellous trekking locations and crystal clear waters flowing musically down the snow peaked mountains. You can trek, climb or just sigh at the very beauty of all this (something I prefer). Soak it all in and then go forth and brag that you've seen a part many tend to only hear about!
photo courtesy: Google. Photo Credit: Zenith Holidays
It is a wonder that not more people choose to visit the hilly sites of Nepal. Kathmandu is probably the most epic locations of the lot, but there are surrounding villages that will take your breath away and make you sigh just the same. Nepal is home to some of the cutest apple-cheeks, beautiful and colourful traditional costumes and the most sumptuous of food, a personal favourite being the momo – which is very much akin to our chicken dumpling. Take a trek around the many hills of Nepal, if you're interested you can always go toward the Himalayas, but I'd suggest (me and my lazy bones) to take in the vastly fused society of Nepal. Despite being in South Asia, Nepal holds some very distinct practices which neither fully follow the typical south Asian practices (colloquially known to be the Indian cultural practices for e.g. colours and food), nor do they fully shadow Chinese practices. This fusion culture is something that truly marks Nepal out in the North-western zone of South Asia. Soak in the sweet warm sun during the dewy winters while slurping on a terracotta cup of hot Nepali tea. Join in during the Nepali traditional dance—a national treasure, in my opinion, clothed in the traditional clothes and jewellery which the locals will only very happily help you adorn with. Nepal will fill your heart in a way that'll make forgetting the country very difficult.
I know some of you are wondering why this list contains only/mostly destinations from South Asia, and that is because we tend to live by stereotypes about South Asia, with most of us only knowing about India as having natural beauty, whereas the whole of South Asia has so very much to offer. If you don't believe me, try asking the people from South Asian Studies, or better yet, try visiting these places and see it for yourself. And hey! A new experience never hurt anyone right?