You stand in front of your opened wardrobe, haphazardly pick up the dress that had rolled off the shelf, and for the third time try to stuff it back into the paltry space that's left, as if it was a game of Tetris. Behind you is a pile of freshly washed clothes, still waiting to be kept among your pile of old ones. It's been 10 minutes, you are running late, and you still do not have anything to wear.
Never mind that the closet is bursting at its seams, you still can't wait for new additions to arrive in the mail the next day.
Sounds familiar?
Ask any working females out there, and you get the same reply. Most of us are too caught up with putting on a "new look" for work each day; we splurge on new clothes, but hardly have the time to get rid of the old. Even the age-old ways of decluttering have their downsides too:
Donating – In donating, people tend not to donate the best things away since they do not get much back in return. Chances are, clothes still in good working conditions rarely go into the donation pile.
Join a Flea – For most, there is huge inertia to join one as this means having to lug bags of clothes to the market. The possibility of doing a clear up is low, and the problem remains unsolved when you have to lug them back into your closet. These days, with the prevalence of online marketplaces like Taobao and Carousell, even flea markets are few and far between.
List and Sell on Carousell – Carousell wants to make selling a "three-second process" – I must say this makes every seller hopeful. But how often does that pan out in reality today? While snapping pictures are easy, the time required for photo touch-ups, negotiations and meet-ups makes every transaction is a tedious process.
To help make the decluttering process a breeze, yet guarantee a return on previous purchases, Aloysius introduces one more way to get rid of your old clothes: Refash it.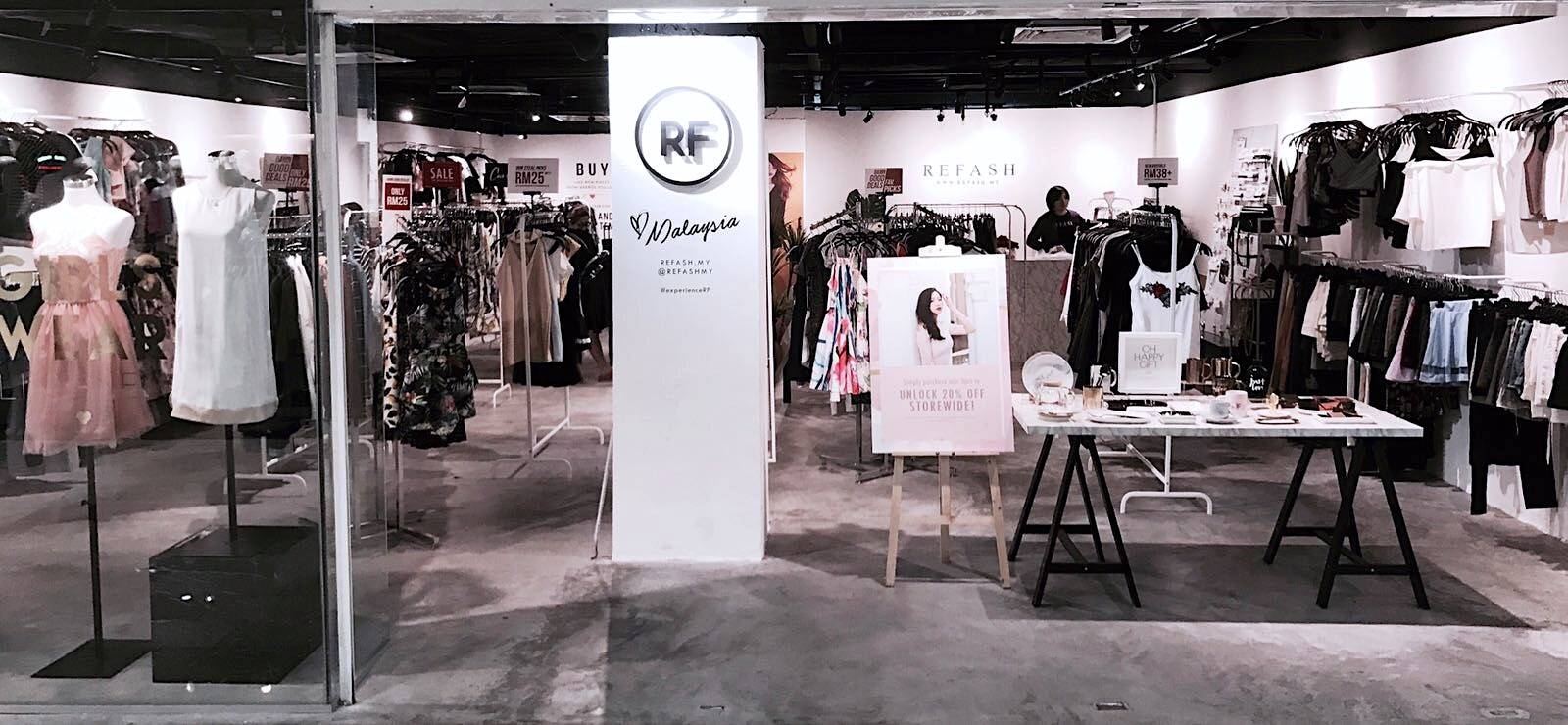 The Story of Refash
The problem with fast fashion today is that new designs are released almost weekly and brands are constantly putting up tantalizing discounts. Aloysius quickly realized that women's consumption of clothing is simply not sustainable. See, most people spend 20 to 30 dollars on each piece of clothing, only to wear a few times and then have it tucked away at the back of their closet. In reality, that piece of clothing could have gone for so many more wears.
The Refash Model: Creating Instant Gratification
To solve this, Aloysius and his team decided to operate on the principle of instant gratification: the feeling of clothes leaving your closet almost immediately for a better purpose. When you bring your items to a nearby Refash outlet, Refash does the processing, listing and reselling for you.
This allows for a more seamless buying and selling experience on both sides. For buyers, it is the ease of finding items with assured authenticity and quality control.
Aloysius gives an example of how finding items on online marketplaces may be hard. "If you search for Zara, the first 20 items coming out are never Zara due to the fact that people like to hashtag everything to get their items seen. But from the buyer's perspective, it is a terrible shopping process. Refash is like Zalora and ASOS, but secondhand. It gives you the assurance that if you do not like the item you receive within 14 days, you can still bring back the items and get a refund."
"They say I'm crazy, selling secondhand clothes will never be a scalable business"
Aloysius's entrepreneurial ride has not been entirely smooth. His retail journey first began at a small store tucked away in the corners of City Plaza. Fresh out of army and with just enough savings, he joined his friend to operate a wholesale store, but the lack of experience resulted in merchandising issues: they were not picking the right merchandise. Not giving up, he borrowed some money from his dad and began yet another wholesale shop from scratch. This went well for a few years until a retail downturn saw retailers turning to cheaper wholesale alternatives from Bangkok and China. Despite having to fold stores and deal with cheating partners, he remained unfazed and beaming with new ideas.
"I told my friends I wanted to sell secondhand clothes, I wanted to sell clothes from bloggers, open a legitimate business and do this every single day. They say that I'm crazy because it will never be a viable business. But within a few days, bloggers started to post about it, and people started to visit the store. That was when I thought, I don't need to sell just for bloggers, I can extend it to every female too."
When the number of sellers started increasing exponentially, Aloysius realized he needed to form a team, and build a platform that could house all the sellers. That was how Refash was born.
"People take working with friends as one of the biggest pitfalls of business, but I take it as something that brings us together"
The core team of Refash comprises friends from a long way back. When asked what he would do when facing performance issues with close friends, Aloysius admits that there is always a struggle to relay the message across.
On dealing with such situations, Aloysius shares the importance of adopting the following 3 approaches:
Ensure goal alignment by keeping the company vision constant and clearly conveying the direction of the company through weekly meetings
Adopt a flat hierarchical company structure
Encourage open communication, especially with underperforming staff
"You know people take working with friends as one of the biggest pitfalls of business, but I take that as something that brings us together. While it is sometimes hard to tell your best friend what they are not doing well, in times of need if the company is not doing well today, your working partner will tell you, "that's fine, we're not doing well, but I still want my salary". But your friends are the ones who will go through thick and thin with you, and I cherish that. I'm a very different kind of founder, but I believe that building long-lasting relationships can have a very positive outcome in building the company."
Surely there must be some truth to the old African saying, "If you want to go fast, go alone. But if you want to go far, go as a group."
Moving forward: Franchising and Expanding Overseas
To date, Refash has a total of 7 offline stores across Singapore and Malaysia, with 3 currently operating in Kuala Lumpur.
Expanding overseas is never an easy feat. With me, Aloysius candidly shares the difficulty of entering the Malaysia market with an initial lack of knowledge on a wholly different culture. Nonetheless, he sees great potential in Malaysia due to its large population size and has plans to expand beyond KL into Penang and Johor Bahru.
Back in Singapore, Refash is looking to grow its franchise ventures, by inspiring and encouraging business owners to open their own secondhand clothing stores.
Looking back, what is one advice you would give to your 24-year old self just starting out?
"To make as many mistakes as possible. Explore your opportunities and don't be afraid to make mistakes and learn. That's the thing about entrepreneurship."