*Interviews conducted in Jan/Feb 2020
NUS has been implementing numerous large-scale renovations to our campus, one of which is that to the School of Design and Environment 3 (SDE 3), a major workspace for architecture students. The building was closed for renovation last academic year, and architecture students were instead allocated a studio space at Yusof Ishak House (YIH) on a temporary basis, until the renovation is complete—which is estimated to be in December 2020. So with its completion drawing near, let's take a look at how the architecture cohort and faculty prepared for the change, and their feelings on the move.
To best understand the cohort's thoughts on the renovation, The Ridge spoke to Architecture students with experience of both SDE3 and the new studio space at YIH. Unsurprisingly, their immediate response to the move was resistance. They consistently cited it as being much smaller than is required for their needs—the architecture curriculum is unique in that it requires a lot of space to facilitate the creation and storage of large-scale models. Some of these models, as a Year 5 student—who wished to remain unnamed—puts it, "can be up to 3 meters large." The space at YIH—while large enough to comfortably accommodate one year of the Architecture cohort—is woefully small for 4 years to use.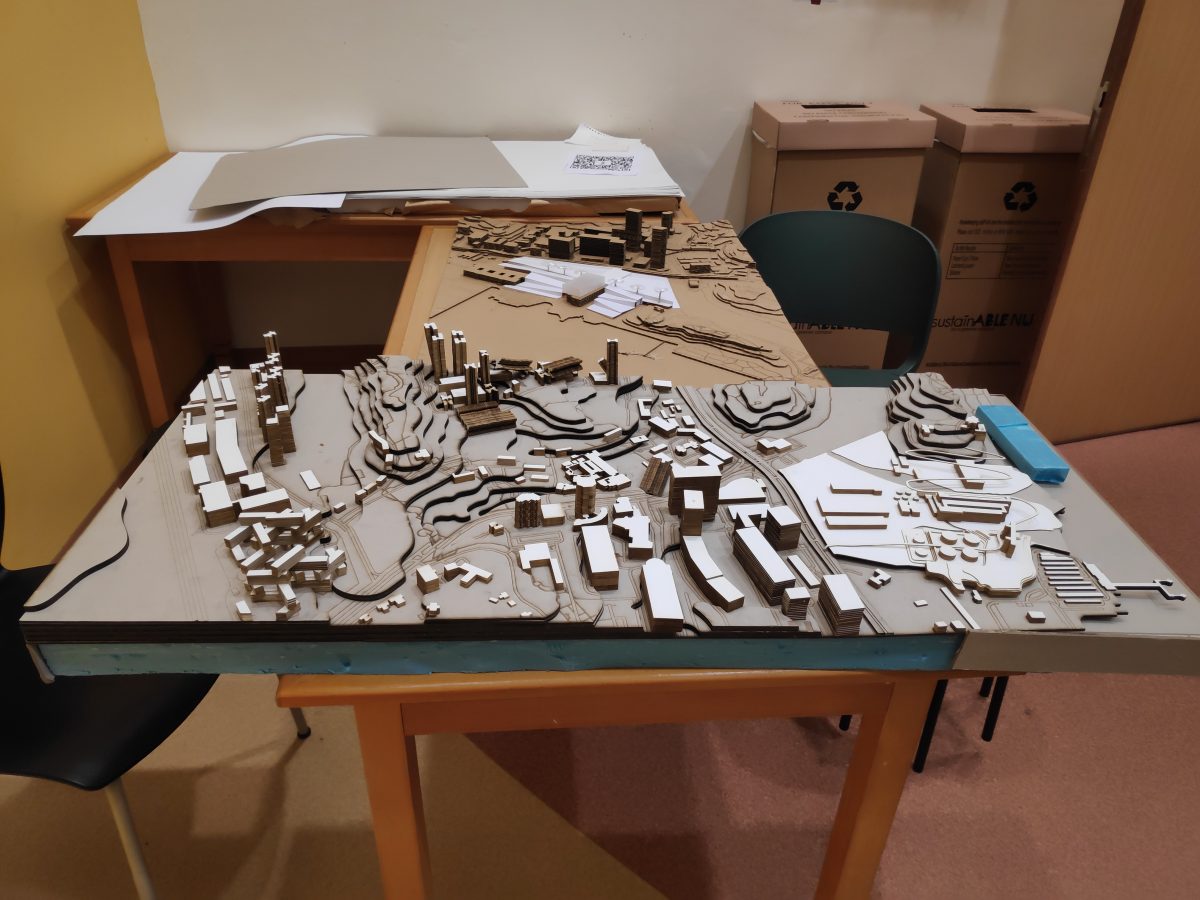 However, while this might seem discomfiting for students, Professor Ho Puay-Peng, the head of the Architecture department, revealed that YIH was the most fitting option out of all the spaces offered to them. "Their other options included one of those ministry's buildings," he said, referring to Ministry-owned buildings. "So it's like an office block and there's no way we can put in our workshops. There's another one in the Faculty of Social Sciences [and] again it's the same reason. Most of these buildings are office buildings so the partitions are all there, and we cannot take them away. For us, [the] studio has to be big, open spaces."
To maximise the utility of the relatively small space, the cohort now uses a 'hotdesking' model as opposed to the previous 'fixed' model for studio space. Previously, each studio group—composed of around 10 students—had their own fixed studio space with attached storage areas. The new model, according to Emma Lau, a year 4 student and the president of The Architecture Society (TAS), will be constantly rotated among the Year 2s, 3s, 4s and 5s. "Although this new model was implemented to save space, Emma also said that "even when they adopt this hotdesking model, which requires much less space than the original model we had before, there is still insufficient space." In fact, Professor Johannes Widodo commented that: "co-working and co-sharing arrangements don't work for design studios, [and are] only able to facilitate discussion.
However, for the younger students, the real loss incurred seemed to be centered around "studio culture," and pedagogy. Yie Jie, a Year 2 student, said that when everybody had a fixed space to store and display their models, "you get a lot of ideas off your friends, [and] not just from your tutors. So when you see other people doing something weird at 3 a.m, when morning-time comes, you're gonna be like 'I'm gonna incorporate that into my design' and it helps everybody move forward together."
But this doesn't mean that studio culture is entirely lost, as Hogen Salim Huang, a Year 5 student observed: "Downstairs, on the lower floor, they have this cabinet that they put in the front to display [like] old models, processed models, and that's not so bad. And [they are] putting up like these ongoing drawings on the walls as opposed to the pin-up boards. I feel like that kind of helps."
This display of resilience, and adaptation of the architecture students is in line with what architecture professors expect, as Professor Widodo has made clear: "Architecture training includes problem solving and [an] ability to look for alternative measures to maintain quality. The so-called "studio culture" may change and adapt to new circumstances, it is not static."
But the effects of the renovation aren't confined to the students alone; staff too have experienced discomfort at the change. As professor Ho says, "they [faculty members] work from home 'cus their offices are separate now—it's under renovation as well."
However, there seems to be a general consensus on the need for renovation of SDE 3. A Year 5 student, who wished to remain unnamed, said that SDE 3 is "like a factory! And the air-con is always spoilt. The air-con system there was actually quite dangerous at one point, where they had to turn up the air-con at one place, in the computer labs, so that the classroom at the other end would not get carbon monoxide poisoning."
This sentiment was echoed by Yip Feng, a Year 2 student. He recalls that his "mum was in architecture also, 30-odd years ago when she was in NUS, and the building hasn't changed much since then. I sort of understand why they [had to go] under renovation."
In light of this, students seem to have accepted the need for renovation. But the cohort was not passive in their acceptance. They actively participated in the design of the new space and the amenities afforded to them at YIH. As Emma said, "A group of students kind of stood up to take charge." These students, and later TAS, approached the professors and advised them on the layout of the space. "We also facilitated the moving…we were the ones who gave the number for the cutting mats and extension wires and made sure that it was happening."
However, at the time the interview was conducted, Emma stated that TAS' role wasn't quite finished, and that they were lobbying for a more appropriate setting for the architecture cohort. She explained that, "they [OSA] only gave it [YIH] to us at office hours, 9-6. And then after that it's open for other groups to book. And based on our field-work survey, a lot of interest groups book the room after 6. So because of that we can't leave any of our storage things there. And we cannot have a very fixed furniture layout that is ideal for our working space. So we try to fight for it [YIH] to be 24/7."
As for the department's next steps, Prof. Ho said, "we've been trying to make more resources available and [so in] the next two weeks we have a new space in addition to YIH for workshops and so on. So hopefully—I mean we are trying our best—to push and to seek the university to help us in providing more for students here."