Think sustainability, think future. Transitioning towards a new normal, businesses have been adapting rapidly to stay resilient amidst the Covid-19 pandemic which has led to many relooking long-term business models and fine-tuning their structures of corporate governance. This includes putting forth sustainability on the agenda as well. Running the gamut from large-cap corporations to small-medium enterprises, creating value through sustainability has never been more beneficial in a time like this.
Gone are the days where Warren Buffett would single out classic top picks like Kraft Heinz. In fact, the latter's stock price tumbled more than half-fold within the past few years, bearing in mind the vast amount of plastics used in its packaging. On this note, large consumer chains like Starbucks have not stopped short in their efforts to go green. Its increasing focus on quality management and acute responsiveness to externalities translates into unwaveringly dedicated efforts to use recycled paper cups for its coffee packaging service.


Image Credits: Starbucks
It wouldn't be far off to attribute much of this awakening consciousness to the enactment of the UN's Sustainable Development Goals (SDGs) in the agenda for 2030 – selected goals in the spotlight seek to address complex global problems such as climate change, environmental degradation, inequality and poverty. Check out the full list of SDGs here!
Image Credits: PayPal
Following the roadmap of the SDGs, firms like PayPal began to conduct contribution mapping efforts in 2019 to align their business activities and key priority areas with these significant goals. PayPal, in particular, yielded a direct positive contribution to 11 out of 17 of these SDGs. To further its efforts in the global sustainability space, PayPal became a member of the UN Global Compact in 2020. This foundation stands as a proactive voluntary initiative which encourages businesses to adopt sustainable and socially responsible practices that are consistent with the UN's SDGs.
Helping reduce the world carbon footprint is a collaborative effort and joint responsibility of governments, corporates, non-profits, and consumers. From the products they buy to the brands they prefer – individuals around the world have become increasingly conscious about their choices and how it impacts the environment. As PayPal has been ingrained into the daily lives of consumers, being responsible helps create a ripple effect across the entire society. PayPal is also enabling retailers around the world to embrace sustainability. Empasta Cheeze – sustainable vegan cheese sauce in the US is one good example. The owner of the business, Matt Mullens, leveraged PayPal's financial assistance and payments infrastructure to scale his burgeoning small business into a national e-commerce site and further enable many consumers to be part of his contribution towards a greener earth.
PayPal: Helming sustainability at its core
Zooming in on PayPal's curated efforts in establishing its very own "science-based targets", we examine how the global online payments system company pivots towards sustainability goals such as pledging to support a net-zero carbon emissions regime by 2040. This sits in tandem with how many firms are strategically aiming to ink a low carbon footprint by laying out portfolios or designing strategies with a particular purpose in the realm of sustainability targets.
According to PayPal's Chief Technology Officer, Sri Shivananda, the firm has decisively aligned its goals with meeting the Paris Climate Agreement as it actively supports the push towards climate action. To highlight, PayPal has also signed on with many other notable organisations such as the revolutionary America Is All In movement that strives to bring about minimally a 50-52% reduction in emissions by 2030.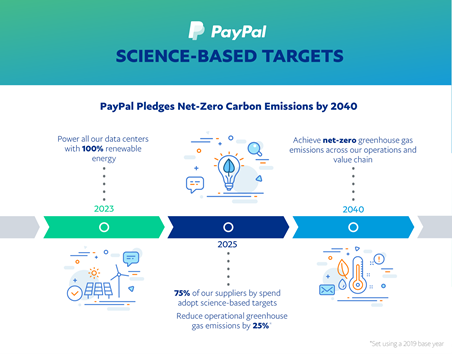 Image Credits: PayPal
Indeed, PayPal's commitments to sustainable efforts have been sizable. Much awareness and publicity have been garnered through its timely initiatives in light of Earth Day. Last year, PayPal's Global Lead for Environmental Sustainability, Jaxon Love, underscored the importance of tackling climate change and reinforced the firm's goal of attaining 100% renewable energy for all its data centre operations by 2023. In addition, he acknowledged that the Covid-19 pandemic did bring about a silver lining on the sustainable front as global greenhouse gas emissions saw a major decline. This phenomenon was largely due to widespread social distancing measures and shifts in lifestyle or work patterns fuelled by the turn towards digitalisation. This year, Love discussed PayPal's launch of a remote working sustainability campaign that focuses on everyday efforts across the globe encompassing public health practices like environmental wellness and eco-conscious movements like waste reduction and recycling.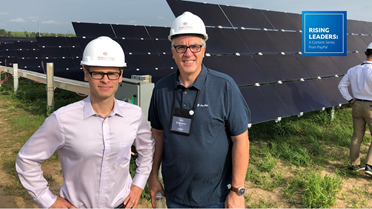 Image Credits: PayPal
Taking refuge in the digital economy, Love believes that such financial services could propel "economically underserved populations", especially those living in remote areas. For instance, project finance that involves tree-planting and improving the energy efficiency of local homes would enable such communities to step up climate resilience and adaptability. Coupled with the fact that some communities are hard-hit by extreme climate-related events, PayPal strives to maximize adaptation outcomes for such individuals. After all, PayPal views climate change as a paramount social justice issue of the times and reaffirms its commitment by hinging on science-based climate action and financial technology.
Lastly, PayPal's $2.2 billion acquisition of the Sweden-based payments startup, iZettle, in 2018 certainly paid off on the sustainability front. Paypal's iZettle team launched the "Ocean Reader" last year, the world's first card reader made out of recycled ocean plastic. If you're curious about how the ideation process sparked off, it was none other than ingenuity incubated during an iZettle hack week. The team found it utterly perplexing that 46% of the 5 trillion total plastic contained in the ocean came from fishnets. Hence, the idea of using fishnets to make card readers was born, and PayPal's iZettle team collaborated with Oceanworks, a global marketplace for recycled ocean plastic and products, to bring it to fruition with the launch of the "Ocean Reader". 75 percent of the materials used to make the card reader consisted of fishnets and ropes from the North and Baltic seas, and the project successfully removed over one metric tonne of plastic from the aquatic space, achieving a bold milestone in sustainability.
With a dose of innovation, the final product is replete with a unique swirling effect and texture in a natural blend of original fishing materials and abstains from added colorants. Furthermore, each card reader is distinct in its colour pattern, bearing the multi-faceted story of ocean plastics.
Image Credits: Finextra
Sustainability: is there a price?
Meanwhile, Environmental, Social and Corporate Governance (ESG) has been a key topic in thematic investing among asset and portfolio managers. With sustainable finance taking centrestage, more and more financial institutions have begun enlisting Chief Sustainability Officers and other experts in the field to helm newly created departments which specifically look into sustainability. However, ascribing valuations to something qualitative that sits on a spectrum has been the perennial struggle of Wall Street bankers crunching financial models on Excel overnight. Where do intangible assets like intellectual property rights, corporate branding and emissions position themselves in the rows of balance sheets? Risk management issues have surfaced as well, such as how to optimally price carbon risk.
Moreover, the issue of greenwashing has surfaced to the forefront as companies might capitalise on unsubstantiated claims as well as aggressive marketing efforts to mislead the public. Such claims are usually exaggerated or unfounded, and whether their products are truly environmentally friendly is an open question.
Ultimately, it boils down to establishing a consistent and systematic framework of due diligence in the ESG domain and evoking a credible system of checks and balances to ensure the validity of these causes, such as enlisting an external party to verify the eligibility of a company's sustainable finance projects. Albeit requiring more effort, such extra work is necessary to move forward in the realm of sustainability. Also, the quest to establish proper and coherent taxonomy in the global sustainability realm currently stands as a piece of unfinished work.
Sustainability and the way forward
Moving forward, establishing regional and global cooperation is instrumental in upkeeping a sustainable economy. In particular, the role of regulators has never been more crucial in enforcing consistent disclosure standards across the board. For instance, the ASEAN Green Bond Standards has been mapped out for issuers to comply with and such a framework strongly resonates with the Green Bond Principles (GBPs) laid out by the International Capital Markets Association (ICMA). These GBPs stand as a voluntary set of guidelines which advocates for transparency and adequate disclosure among the issuance of green bonds. Since 2017, a global network of central banks has also sprung into action to look into the scaling up of green finance, with the Monetary Authority of Singapore (MAS) as permanent member. On top of that, MAS has been constantly looking at strategies to collaborate closely with other stakeholders such as the Association of Banks in Singapore (ABS) and Sustainable Finance Institute Asia (SFIA) as well as fintech companies to deepen Singapore's sustainable economy.
Alas, the global markets have chosen not to turn a blind eye on sustainability concerns – take for instance the wild cryptocurrency market which saw the price of Bitcoin plummeting to 33% of its previous high after investors priced in their concerns over unsustainable Bitcoin mining practices. Fueled by Tesla's CEO Elon Musk's recent tweet on the high energy consumption of computers powered to execute the mining of Bitcoin, Musk's refusal to accept car purchases using Bitcoin triggered a massive correction in the crypto market. This would lay the grounds for specific crypto miners to gain traction by virtue of a green Bitcoin — such blockchains earn verification using computers powered only by renewable energy.
Closer to home, NUS recently raised S$300 million through its second green bond issuance in effort to further develop its University Climate Action Plan 2030 that sets out to create a carbon-neutral university. Green bonds aside, the university's continued investment in renewable solar energy would enable it to generate approximately 12 million kWh of clean energy annually by end-2022! Sustainable infrastructure in NUS has been made possible owing largely to the Green Finance Framework. This framework incorporates the criteria for its Green Finance Transactions in alignment with principles such as the GBPs and ASEAN Green Bond Standards. By now, you would have probably driven past the newly completed E7 building just before alighting at the bus stop opposite Yusof Ishak House and noticed the sustainable and forward-looking architecture of the times!
Image Credits: National University of Singapore
Evidently, the push towards a full-fledged sustainable economy is still a work in progress. Although we have seen how companies actively partake in transition finance to make the switch from brown to green, whether the supposed decarbonisation and cleaner practices adopted actually offset other energy-intensive production sectors by a great deal is still debatable and challenging to monitor. To completely do away with coal mining and thermal energy would definitely take a toll on bottom lines as firms' rely heavily on such key production processes. However, it is heartening to see that emerging forms of asset classes have been well-received, with sustainability bonds actually outperforming green bonds for the first time in 2020. In fact, sustainability-linked bonds have also gained traction as they allow more flexibility with the use of proceeds not ring-fenced towards a particular purpose but only to attain several broader sustainability targets.