In January this year, the world was shocked by the sensational article on tabloid site Babe featuring accusations of sexual harassment against popular comedian Aziz Ansari.
A female journalist who went on a date with Ansari, accused him of taking advantage of her and of ignoring her verbal and non-verbal signs of discomfort. You can read the full article here.
The main lead of the runaway success Master of None, was a vocal advocate of awareness on gender equality and actively participated in the #MeToo campaign.
Barely a few weeks after, closer to home, local youtube star Eden Ang was accused of inappropriate behaviour towards a female intern. He allegedly made lewd comments about her attire and spoke to her in a manner that was suggestive. The intern subsequently posted a statement on her Instagram account about her ordeal and pledged to make a police report soon. You can check out the whole story here.
In view of the rising number of sexual harassment cases that are coming to light, I think it's about time that we start to talk about what consent means.
And I'm not talking about what society thinks it means.
The growing pattern that one observes in these sexual harassment cases is that the victims were primarily silent.
They were either petrified and afraid, or they were under duress and in a position that precluded any form of action on their part.
And the perpetrators in these cases were quick to assume that the lack of protest, was an indication of willingness and even an invitation to proceed.
This is one instance where the old saying that silence is consent, doesn't apply. And this isn't limited to the extreme cases aforementioned either. Consent is a fundamental right that should be the bedrock of any relationship. Regardless of gender, race, religion, sexual orientation, etc, this should be an inalienable part of the fabric of human society.
Popular culture is rife with allusions to how when a women says no she actually means yes. Or that with persistence and brute force any woman will be worn down. The same culture tells men that to be turned down by a woman is to be emasculated. That women require convincing and nudging because they aren't as sensual as men.
As crazy as it may sound, when women say no I'm uncomfortable, they actually mean no I'm uncomfortable. Shocking I know.
It is not an invitation to test their limits, they are not playing hard to get, they are not a 'challenge' to be surmounted.
Being open to communication and respecting boundaries is not effeminate. The long accepted idea of men needing to wear the 'pants' in the relationship and needing to 'lead' the woman should have been left behind at the turn of the century.
Instead we still subscribe to these traditional ideals and conservative views that are highly misogynistic and clearly draconian.

Society can only progress as far as its people.
For as long as we avoid the difficult yet infinitely important conversation on our contemporary understanding of consent, we will forever be trapped in this vicious cycle of ignorance and perennial misery.
Campaigns like the #MeToo movement in the United States or the Me Too, We too dialogue organised right here in Singapore, by the National Volunteer and Philanthropy Centre are excellent examples of public platforms that are encouraging both men and women to begin to question their fundamental understanding of consent.
Change doesn't happen overnight. And a worldview as entrenched as this, will require consistent effort and profound dialogue.
But most importantly, this change starts with how you and I treat our other halves with dignity and compassion.
---
Know of people who are seeking to voice similar frustrations? Check this out:
Me Too, We Too Dialogue #3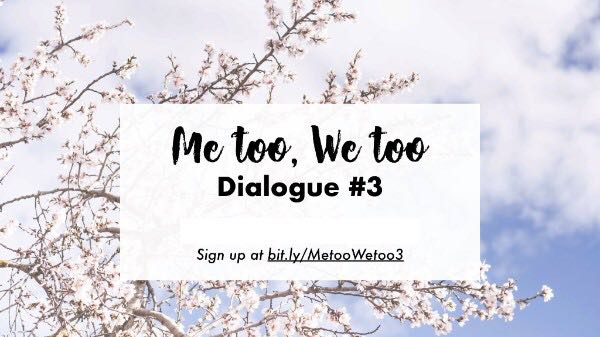 Description:
While #metoo has been great in spearheading a social movement, hashtags and awareness alone are not enough. Especially for those who've been through it.
That's why we started Me too, We too Dialogues – to break the silence and facilitate transformation through stories and connection.
Who is this event for?
It's for all #metoo people, with much to say, yet few spaces to feel safe sharing. Perhaps you have reached a level of healthy acceptance and are open to greater healing through sharing.
Do note that #metoo constitutes a range of sexual harassment and/or assault experiences, from people of all genders. No experience is too small, all are equally valid and worth discussing.
What will you get?
In this safe space, we will experience connection and conversation with fellow #metoo people about identity, vulnerability and most importantly, transformation. The aim is to explore actionable ways for us – as individuals and communities -to move forward with newfound courage, resilience, and resolution.
How is this run?
Our experienced facilitators will hold this safe space, using discussion and storytelling to support personal transformation.
This small group will be capped at maximum 12 pax.
As this is a discussion of sensitive nature, we adhere strongly to codes of confidentiality and consent.
Details: 
Saturday, 24 February 2018
2.00pm – 5.00pm
The Giving Place
6 Eu Tong Sen Street #04-88 The Central Singapore 059817