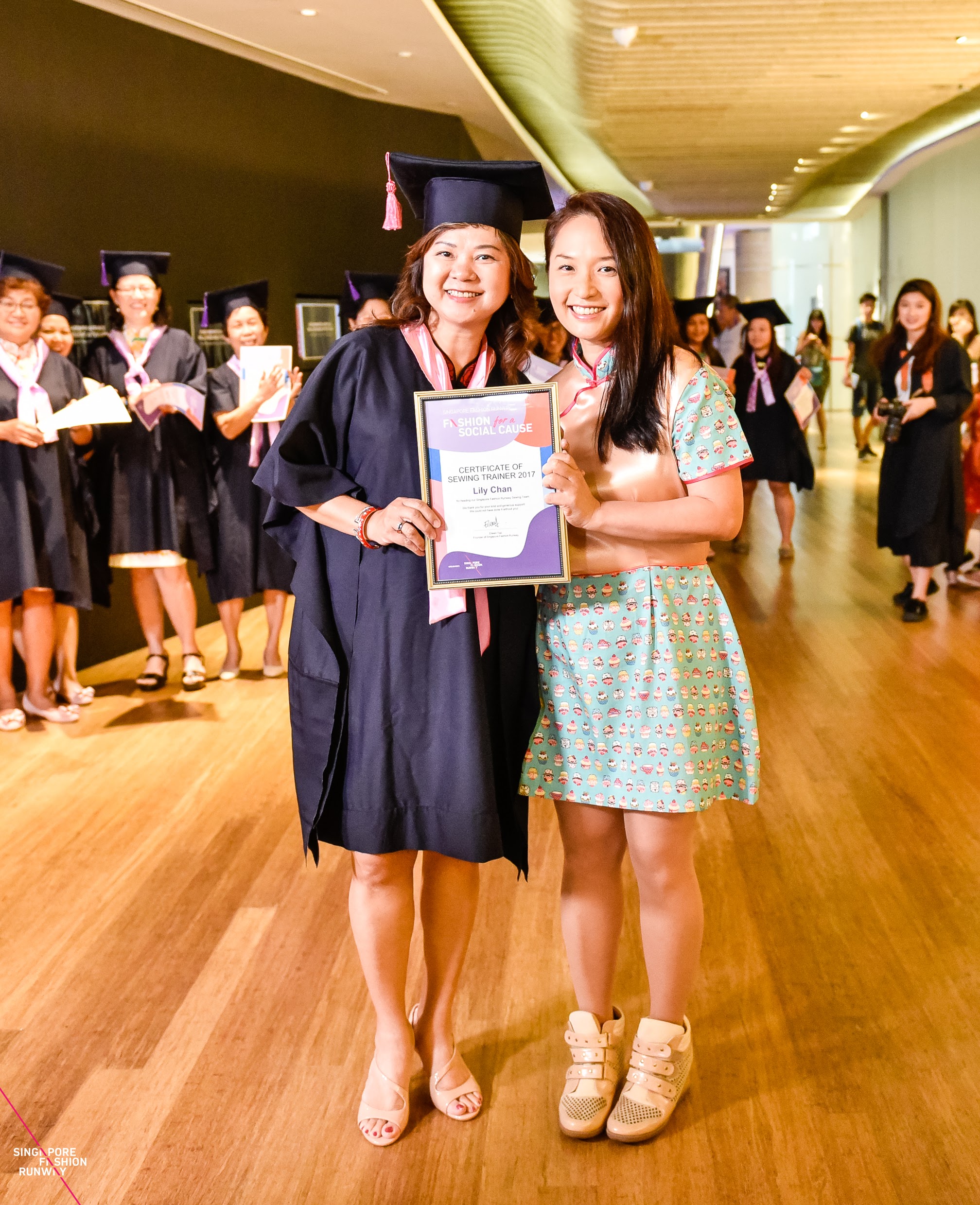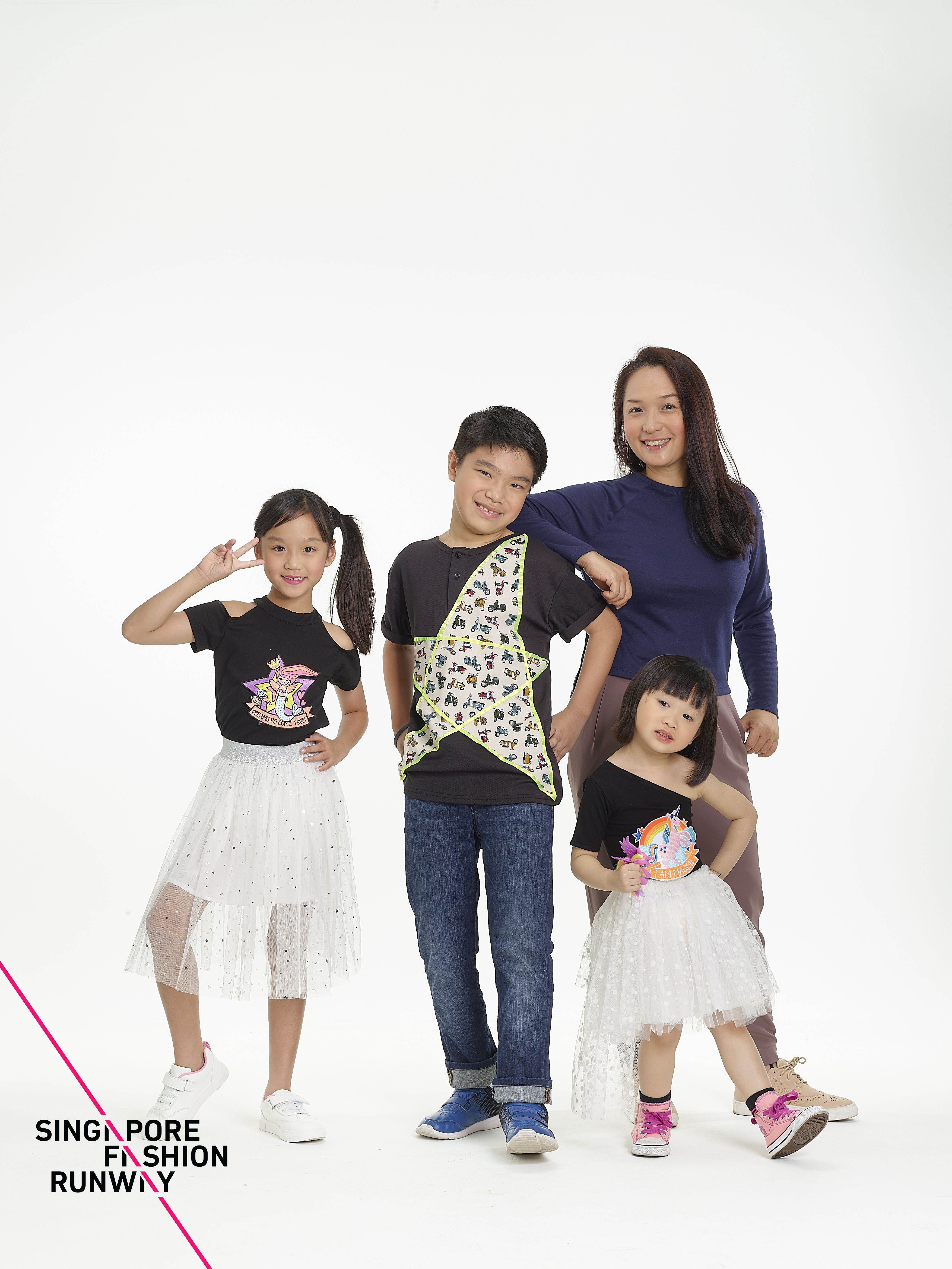 (photos courtesy of Eileen Yap)  
Social Enterprise Singapore Fashion Runway started in 2015 due to SG50, to gather people who love designing, creativity, arts, music and sewing to come together to present our love for Singapore through fashion. Today, SFR bring joy and hope to the special needs, chronically ill children and youth, and breast cancer patients or survivors through our movement Fashion for a Social Cause. Visit here and here for more information.
1) Share with us what you studied in NUS and why.
I studied at the faculty of arts & social sciences majoring in Economics and Statistics. I studies Economics and Statistics as I thought they sounded profound and intelligent. But truthfully, my better modules which I scored well in are Sociology and Public Education. However, through Statistics, I got to learn about Marketing Research and I love this subject very much. So, with Sociology, Marketing Research and Public Education, I feel that I am pursuing what I like and at the same time utilising the subjects I love to do well today.
2) Share with us the activities you partook in during your time in NUS.
I hardly have time for any activities or CCAs in NUS as I was mostly studying in the library. I was a true-blue bookworm and I enjoyed being a bookworm very much. Besides the library, I like to hang out at the photocopying room, always photocopying notes etc to help me in understanding the subject. However, I do love dancing, and would join every "mambo" sessions where my friend Dawn and I would partake in most mass dancing sessions in the school. Looking back, I guess those were the days where you just listen to the music, and you just dance to the tunes. That was the most active sport I did in NUS.
3) What was the inspiration behind Singapore Runway Fashion and Fashion for a Social Cause?
I would say God. Had it not been Jesus, I would not have entered fashion and started Noel Caleb in 2011. And had it not been for Noel Caleb, I would not have started Singapore Fashion Runway, where it rose and shined many in the communities through Fashion for a Social Cause today. The inspiration behind Fashion for a Social Cause, is to include everyone who has a talent and like to do social good to come together. No one should be left out, as this movement weave communities of people who are creative and love performing arts to design, sew, model, photograph and market fashion pieces. Largely, I feel that the disabled, special needs and disadvantaged groups can also be very talented, yet there has never been a platform for them to be part of fashion, which is always perfect and glamorous, henceforth Fashion for a Social Cause rose as a mission to impact lives and provide an inclusive platform for those who love arts, fashion, music, photography, sewing, craft-making, modelling and more to come together as one united voice for Singapore.
OUR WORKS AND SUPPORTERS
This video shows the show we produced on 12 August 2017, where we turned local talents in designing, sewing, modelling, events organising to hearted communities through fashion, music and art at *SCAPE. Member of Parliament Mr Baey Yam Keng, Parliamentary Secretary, MCCY was our Guest-of-Honour then and wore an outfit designed and sewn by our community at this show.
Some key Singaporeans who have graced our shows include Minister Grace Fu, local sports para-athletes like Yip Pin Xiu, Theresa Goh, Shanti Pereira and Mediacorp artistes such as Mark Lee and Chen Hanwei. More local celebrities who have been part of our journey are found here.
For some of our beneficiaries' stories with full video, you can watch here.
For a highlight (shorter) video on our Fashion for a Social Cause, please watch this.
God gave me the idea to start Fashion for a Social Cause, as he told me that I should focus on People, Love and Unity as I spread the talents of everyone and all of them can contribute to the society too!
4) Do you have a role model you looked up to? What is one quote you live by?
Jesus. Too many quotes from the bible. I try to live by as many quotes as possible from it.
5) Where do you see yourself in five to ten years' time?
In Singapore, we will become an inclusive hub for fashion, creative and performing arts and education for special needs and the disadvantaged communities. Singapore Fashion Runway will also be a Singapore household brand, bringing our fashion collections and designs from the local scene to the international platform.
6) What advice do you have for young undergraduates who are aspiring to be entrepreneurs?
Far too many people dream, and far too many people doubt themselves. Once you feel you have a brilliant idea, you may testbed it by sharing with trusted friends and families. Once you have gathered enough feedback, along with proper planning, you may begin to launch your business/brand. Attach yourself with a mentor, so you can receive advice and find a support group. You can also contact me at eileen@noelcaleb.com should you need any advice or mentoring! I will be more than happy to help!
More About Eileen Yap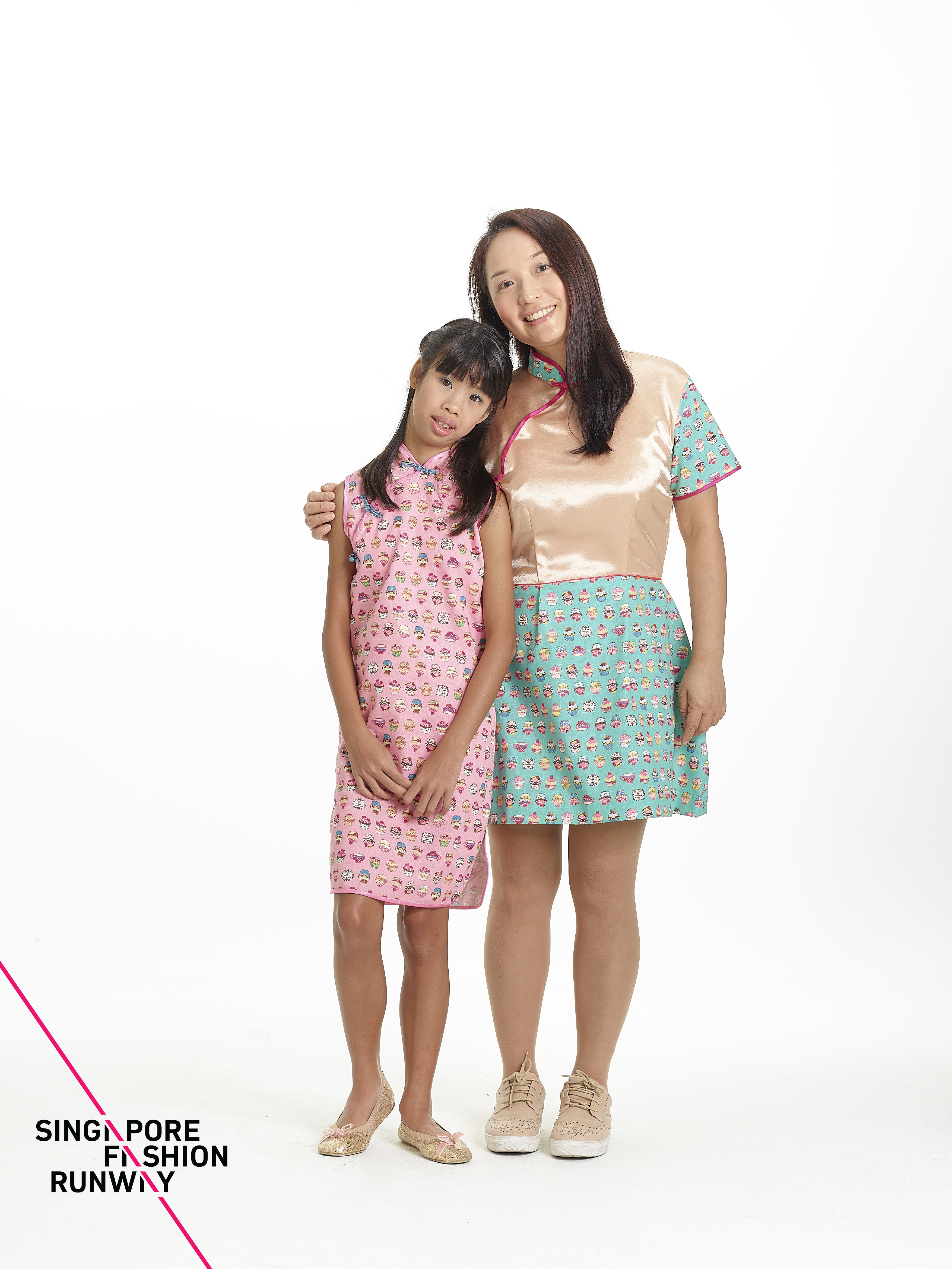 Founder of local fashion label Noël Caleb and social enterprise Singapore Fashion Runway, Eileen is also an Honouree of the Spirit of Enterprise Award 2014. Eileen was conferred the Spirit of Enterprise Singapore Award from Singapore Senior Minister of State, Mr Lee Yi Shyan in Nov 2014 for her spirit of passing on her entrepreneurial spirit to the next generation. She was also the first incubatee of the Social Innovation Fund offered by the Singapore government as featured in The Straits Times in July 2014. On 16 November 2015, Eileen Yap represented Singapore at the ASEAN Entrepreneurship Summit – fashion category in Kuala Lumpur, Malaysia. She presented a speech and a runway show to the thousands of audiences and local media in Malaysia.
RECENT MEDIA LISTINGS:
Singapore Fashion Runway Realising the Dream of a Disabled on Channel News Asia, 5 Feb 2018
https://video.toggle.sg/en/series/just-like-you/ep1/565944 
Inside the Story of Eileen Yap, Founder of Singapore Fashion Runway, 30 Jan 2018 (Mandarin Radio Interview)
https://www.youtube.com/watch?v=Gf5SRBWjYJs
https://www.youtube.com/watch?v=d2zs7Ht6t8o
MCCY's Campaign on Singapore Fashion Runway (across all cinemas) on how youth are part of our journey
https://www.youtube.com/watch?v=Um4ToDy1Wsg
Straits Times 
http://www.straitstimes.com/singapore/inclusive-role-models-at-fashion-fund-raiser
LianheZaobao
http://www.zaobao.com.sg/sme/news/story20170813-786658
Channel News Asia
http://www.channelnewsasia.com/news/catch-up-tv/first-look-asia/lifestyle/fashion-for-a-social-cause-9064862
Channel 8 Good Morning Express
http://www.channel8news.sg/news8/ca/morningexpress/episodes/20170808-morning-express-epi/3789018.html
Razor TV
http://www.razor.tv/video/fashion-for-a-cause/4802324433001/5515596732001
New Paper
http://www.tnp.sg/lifestyle/fashion/socially-responsible-fashion-show-back
About Singapore Fashion Runway
Singapore Fashion Runway (SFR) is a nationwide initiative that aims to gather Singaporeans and Singapore residents to co-create and design clothing pieces. SFR nurtures our beneficiaries who are special needs, disabled, have chronic illness, are breast cancer patients and survivors in their journey of fashion, so that they can learn a skill and seek happiness while battling with their illnesses. Be it through designing, sewing, modelling, photography, styling, writing and/or events organising, these beneficiaries learn about confidence building, talents incubation and integration with the other abled local talents from Singapore. SFR creates platforms and opportunities in the development of one's giving and big heart through Fashion for a Social Cause. Join us as we put our hands and hearts on our sleeves!
Vision: SFR aims to create a world-class fashion statement and thriving fashionable creative industry for Singapore that could bring about a revolutionary outlook of Singapore fashion o an international platform, as well as to commission fashion for a social cause, through our inclusive fashion outreach programmes that connects everybody from all stratums of age and society.
Mission:
To gather Singaporeans from all walks of life to co-create Singapore's unique fashion statement, inspired by Singapore for Singapore. SFR challenges us to dig deep into our shared history, culture and heritage to interpret Singapore's fashion identity.
To bond individuals and organisation – from craftsmen to fashion critics – towards one common mission – fashioning Singapore.
To uncover and groom a whole nation of talented people who love creativity and self-expression through fashion, and who will contribute to the creative culture and industry of Singapore.
To build fashion towards an inclusive community and to increase awareness and support for people with special needs.
Visit our website at www.singaporefashionrunway.com and follow us on our social media platform at @singaporefashionrunway.