On 9 November 2018, 10 top music acts from across Southeast Asia came together and played for a one-night only concert at Victoria Theatre in Singapore last evening. Titled One Voice: The Best of ASEAN Performing Arts, the concert showcased an exciting mix of musical genres from Southeast Asia, celebrating the dynamic, innovative and vibrant spirit of the ASEAN community. Grace Fu, Minister for Community, Culture and Youth Singapore was the Guest-ofHonour for this event.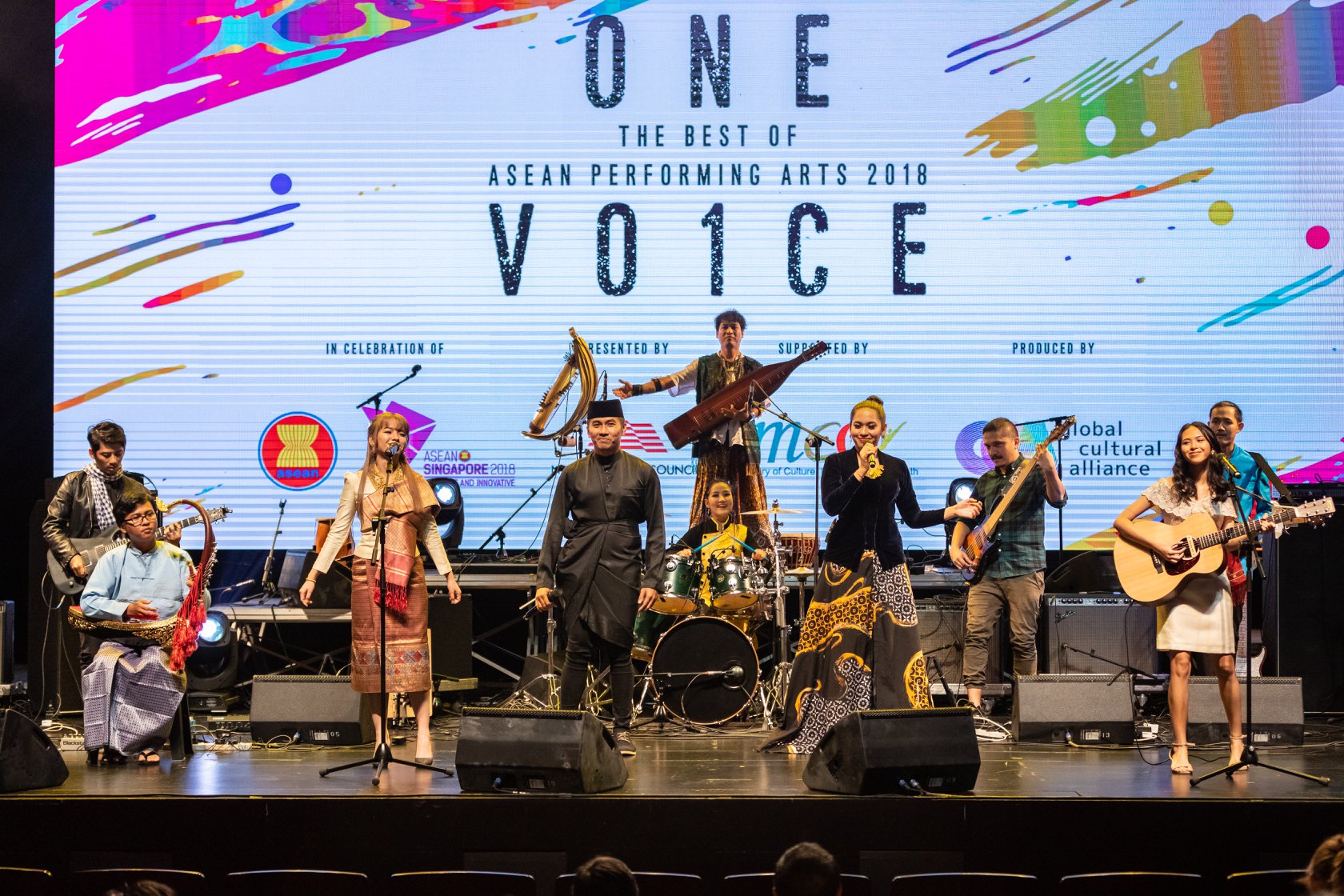 Held in conjunction with Singapore Writers Festival 2018, One Voice was presented by the National Arts Council and supported by the Ministry of Culture, Community and Youth. The concert was produced by non-profit arts and culture organisation Global Cultural Alliance with Singapore composer and music director Philip Tan as music and creative director.
The concert featured the following award-winning acts and crowd favourites: A Band Once (Brunei Darussalam); Cambodian Pop Band (Cambodia); Mia Ismi and Kiel Dharmawel ft Berto Pah (Indonesia); Nam Fon (Lao PDR); Istamuzika Istana Budaya (Malaysia); Yangon NUAC Ensemble (Myanmar); Clara Benin (Philippines); Tim De Cotta (Singapore); Asia 7 (Thailand); and Young Dreamers (Viet Nam).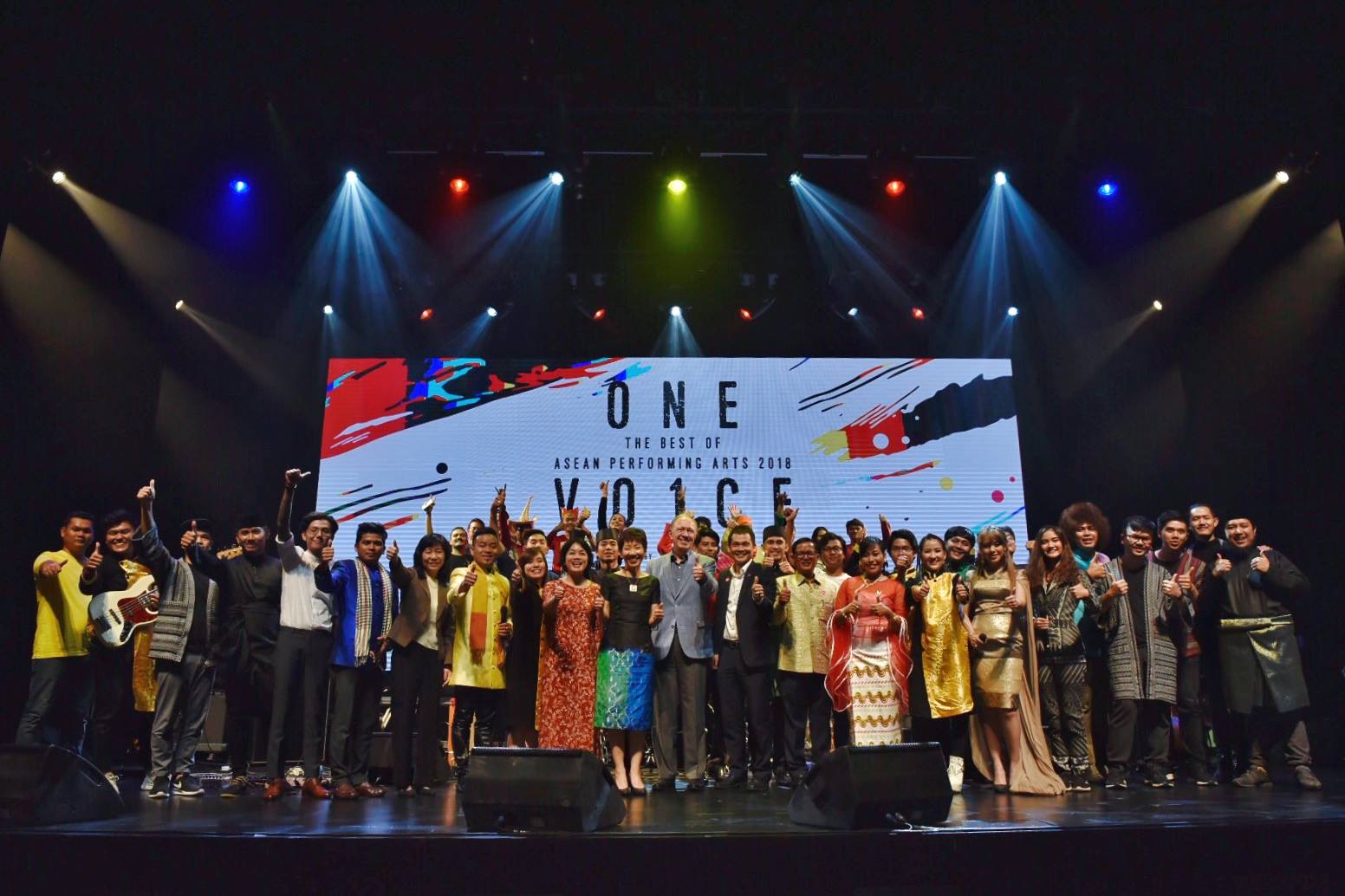 Other than individual performances, the other highlight at One Voice were the six original works performed collaboratively by the music acts, including 2 performed by all 10 ASEAN Member States. These cross-cultural musical creations demonstrate the best of ASEAN's arts and cultural heritage, creating a new blend of contemporary music fused with traditional elements unique to the region.
About the National Arts Council
The National Arts Council champions the arts in Singapore. By nurturing creative excellence and supporting broad audience engagement, our diverse and distinctive arts inspire our people, connect communities and profile Singapore internationally. We preserve our rich, cultural traditions as we cultivate accomplished artists and vibrant companies for the future. Our support for the arts is comprehensive – from grants and partnerships to industry facilitation and arts housing. The Council welcomes greater private and corporate giving to and through the arts so that together we can make the arts an integral part of everyone's lives. For more information on the Council's mission and plans, visit www.nac.gov.sg.
About Global Cultural Alliance (GCA)
Founded in 2014 and a wholly owned subsidiary of The RICE Company Ltd (TRCL), Global Cultural Alliance Ltd (GCA) is a not-for profit arts and cultural organisation which aims to develop Singapore as the premier cultural hub for the exchange of knowledge and shared experiences to foster a harmonious Singapore in an increasingly connected and globalised 21st century. GCA conceptualises and creates conducive and open platforms for the confluence of shared experiences of local and international communities. GCA achieves its mission through two key strategic thrusts: Bridging Borders and Building Communities.
All photo credits to Global Cultural Alliance's Facebook page