As the week draws to a close, many of us will be planning on what to do over the weekends. Especially when we are in week 1 or 2, weekends seem to be a perfect escapade from our daily academic pursuits. Be it going out to catch up with friends, having a nice outing with family, visiting a nice café and letting your time tick freely or simply just savouring the momentary peace that you get.
But on 24th January, Thursday, rather than to checking out the latest movies showing or booking a weekend dinner with my mother, I was on my way to the airport. It was time to embark on my reconnaissance trip to Vientiane, Laos for my Love Export X (LE X) project. Together with me on this trip was Hwee Ling, my Assistant Project Director. Our project's target beneficiaries will be the three schools (two primary and one secondary school) located in Xaysomboun Village, Vientiane, Laos.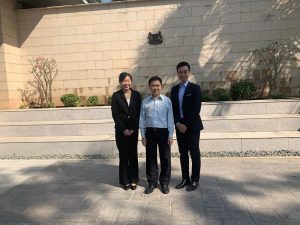 Having no previous experience in organising an OCIP, I was both nervous and excited for this recon trip. What am I going to see? What am I supposed to do on a recon trip? Will it be safe to walk on the streets? What about water and meals? Though we have done some preparations and attended the Youth Expedition Project (YEP) Leaders Course, these questions kept knocking on me as I sit in the plane preparing for takeoff.
But my anxiety or worries were found to be excessive. Thanks to Hwee Ling, everything – from hotel and accommodation booking to transport arrangement and to keeping me awake during transit – was handled perfectly and smoothly by her. Soon, we checked in at our hotel without much hassle and rested so that we would have enough energy for a full day tomorrow (though I did sneak out near midnight to get a beer).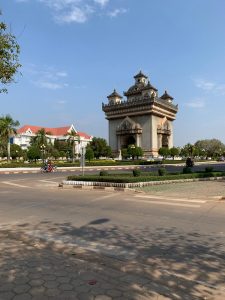 25th January, Friday, was a hectic day for us. It was also the highlight of this entire recon trip. After an exploration of the vicinity in the morning, we went to the Singapore Embassy in Vientiane to meet with Mr Gary Lim, Second Secretary (Administrative and Consular). The purpose for this appointment was to seek Mr Gary's advice on important matters concerning our project, including the project's programme, medical evacuation plans and other cultural and social sensitivity issues and considerations. We are very grateful for his generous advice and for taking the time to meet us despite his busy schedule. Mr Lim's friendliness and easy-going demeanour also made us feel very much at home.
After the meeting, we proceeded to Xaysomboun Village with our partner, Ms Rachel Lai from ENgrowers Rural, a non-profit organisation dedicated to engaging renewable energy technology for rural empowerment. Ms Rachel has been working in Laos for over a decade. Her continuous effort and dedication to the local community in Laos serve as a powerful inspiration for many, including us.
It was a 30-minute drive to Xaysomboun Village from the city area. Due to the recent reallocation of families and merging of nearby villages, Xaysomboun Village is a huge community. However, there had been little infrastructural improvements to accommodate its fast-growing population.
We were lucky to meet with local principals and teachers from these three schools despite it being a Friday afternoon. Upon our arrival, the teachers welcomed us warmly, and we exchanged polite greetings with each other (though at the point of time I only knew how to say ສະບາຍດີor Sa-bai-di, which means hello).
The lack of digital equipment is a problem that we hope to ameliorate through our project. We plan to improve the schools' digital infrastructure by developing a digital learning room as well as enhance the digital literacy of both teachers and students. However, the lack of English teaching capabilities is also a significant concern. It was only in 2002 that English lessons were firstintroduced in schools to replace French. Thus, the foundation for English education remained rudimentary at best.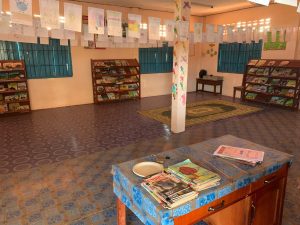 By the end of the meeting, a plan was brokered between, and now we have a clearer picture of the teachers' needs and expectations. To better tailor our project to local conditions, Hwee Ling and I have decided to incorporate a video lesson element into our education programme; for these videos can be reused and redeveloped for the benefit of more local students in the future. This also goes in line with our project focus on digital capacity-building. We also hope that these teaching videos may serve as a useful reference for local teachers in their future lesson planning.
The drive back to our hotel from Xaysomboun Village was quiet. Darkness had fallen, and roads were lined by dim street lamps. The ambience was just right for a moment of reflection. The meeting that had just ended remained vivid in my mind. The cheerfulness and friendliness of the teachers stayed within me and their dedication and passion for teaching had moved every inch of inertia and reluctance I had with me before this trip. For one moment, I could feel a heavy rock tied to my weary back and pulling my energy away. But now the rock is gone and I am more inspired and driven than ever before.
At the same time, memories of the entire LE X journey thus far poured into my mind. Like the bumpy road that our car drove on and those explorations and turnarounds around Vientiane in the day under the hot sun, our journey as project directors had not always been smooth sailing. The road to the inception of LE X and this recon trip was far from linear. Occasionally, we experienced twists and turns – even detours at times (similar to what we did while trying to get our sim cards).  But despite these challenges, we managed to overcome them step by step, bit by bit.
The significance of this recon trip could not have been overestimated.  Before the trip at the Leaders Course, I was repeatedly reminded by my course instructors that OCIP is not just about embarking on a trip to render help to foreign communities and expect ourselves to be the saviour of the day. Instead, it is a valuable journey towards service learning. While we direct our sincere service to the local community, we are also learning and benefitting from them – from the work that we do and the experiences that we make.
If I still carried some doubts with me on the applicability of service learning before this recon trip, I was thoroughly convinced of its relevance and importance when I returned back to Singapore. Experiences in this recon trip had expanded the horizon of my hitherto parochial view of community service. Previously, I had thought that OCIP is about helping others and making meaningful changes to the beneficiaries. However, this trip made me discover that sometimes it is us that genuinely benefit from the OCIP experience.
The recon trip to Vientiane and the visit to our beneficiaries did not only benefit our project because we have gained a better understanding of our beneficiary's needs and gathered important preliminary information for our project development; for it also allowed me to witness my strengths and weakness.
From managing an OCIP and working with beneficiaries to travelling to my first Southeast Asian country besides Singapore and Malaysia, this recon trip had been of many "firsts" for me. Surely, I am also not going to forget how Hwee Ling attempted to survive the final night in Vientiane with only Ha-loior five hundred kips (500LAK = 0.08SGD)!
On returning back to Singapore, we had managed to develop not sketchy ideas on our project but more precise goals and purpose to make Love Export X a meaningful service learning journey for our team. We also brought back with us a wealth of fun memories and experiences. It was a reconnaissance trip like no other.
If you happen to read this, I strongly encourage you to join Love Export X. You are not just helping the local community to start a new chapter of their life. You are also embracing the opportunity to incorporate a unique and meaningful experience to your own life. Like this recon trip, we hope that LE X will be a journey of self-discovery and an opportunity for growth for you.
Please stay tuned to our project recruitment and updates! See you there!
ຂອບໃຈ(Khop Chai)!