Gillette's recent media campaign targeting "toxic masculinity" sparked controversy, with broad charges brought upon the brand. The ad led with the slogan "We Believe: The Best Men Can Be". Some audiences found the campaign to be policing and criticizing the supposedly predominant perception of masculinity while others accusing Gillette as simply 'goodwashing' and riding on the bandwagon of social activism as a marketing strategy. I simply scoffed at it, because what exactly is the correlation between "patriarchal oppression" with razors? But the responses were unexpectedly vehement.
The campaign garnered support from some, but majority of the discontent appeared to come from men. It seems that men do not like being told that they can be and do better, instead they gather up in arms to defend their wounded ego as the ad pointed out the harmfulness that can come from excessive machismo.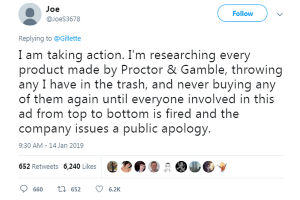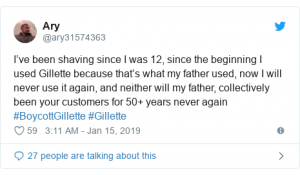 Admittedly, atop the contrived atmosphere of the ad, the extremely leftist tendency of the campaign could have been avoided, but it seems awfully ironic that the response men had to the ad was one of outrage, and even sparked a boycott. It's almost as if they proved they proved the exact point that Gillette was making. It's also laughable that men were unable to deal with the supposed expectations that the brand was imposing on masculinity while women are constantly confronted by social expectations, particularly beauty and body image concerns, from the media for the longest time.
However, the responses to the Gillette fiasco also highlights another issue. It is not the first time a big brand created a controversy over its stance on social issues – Pepsi's take on police brutality and Starbucks' #RaceTogether campaign are just some examples. With big brands holding a significant degree of influence on consumers, should brands take a stand on social issues? In the 2018 Edelman Earned Brand Study, it was shown that majority of consumers buy on morals, i.e. brands that have the same beliefs as they do. So with this kind of marketing potential, why are brands faced with such PR woes? I believe that the problem with brands taking a stand on social issues is not so much raising awareness itself. In fact, big brands are in an advantageous position to enact positive social change given the influence they hold. It is precisely in the fact that there seems to be no follow up to these declarations of support. Perhaps the distaste such campaigns leave in people's mouths is that they are perceived mere corporations whose ultimate goal is to market and sell their products.
Let's take a look on some brands whose social campaign worked. Patagonia's "The President Stole Your Land" championed environmental conservation, that was not merely a marketing stunt. Patagonia has a record of grassroots environmental efforts, and resources to educate people to act on their mission. Nike also got on the good graces of consumers, as they took a stand with Colin Kaepernick, an ex-NFL player who faced racial injustices while in the league. A Gallup poll revealed that less than half of the consumers believe that the brand will act on their promises. Futther, a survey done by YouGov showed that sharing examples of a brand's support or action towards a cause and announcing a donation made for the cause are some of the effective ways for a brand to take a stand. This seems apparent enough, as action speaks louder than words. A 2017 Edelman study ("Beyond No Brand's Land") found that more than half of consumers believe that brands have more power to solve social issues than the government. With this much influence, brands should not only take a stand, but also take action.
Ultimately it seems like brands taking a stand is simply a trend and not a movement. To effectively garner their consumers' support while actually effecting positive social change, brands must move from mere advocacy of social issues, to exercising their agency.