CAMPUS NEWS
NUS to let students design their own modules from August onwards
Announced on 8 February 2019, NUS will be beginning a Design-Your-Own-Module initiative, where undergraduates may take up to four modular credits (MCs) from their Unrestricted Electives Modules (UEs) to pursue subjects that contribute to their personal and professional growth.
Students would have to organize themselves into a group of at least 10, and submit a proposal to an NUS faculty mentor for review and subsequently approval. Students can choose to either invite a guest speaker from the industry to tutor them on a subject, or select modules from online courses offered by edX, a non-profit massive open online course provider.
NUS Senior Deputy President and Provost Professor Ho Teck Hua said the new initiatives are purposefully designed to encourage students to take greater ownership of their learning and pursue their interests. He posits that students who enjoy what they are learning tend to be more motivated, and hence have increased chances of doing well.
What this means for NUS students: Time to gather around 10 like-minded friends to create that "dream" module that you have envisioned yourself taking at University-level! Some tips for you – look at the modules and course outlines of top universities and take some references from there.
Chan Chun Sing and Ong Ye Kung speaks at NUS MEI
Speaking at the annual conference of the NUS' Middle East Institute (MEI) on February 11, Minister for Trade and Industry Chan Chun Sing and Education Minister Ong Ye Kung spoke about the challenges and learning outcomes to be drawn by Singapore as a sovereign nation-state, and as a member of ASEAN in light of the intra-regional rivalry in Middle East.
Context: Due to its strategic location and abundant energy resources, Middle East is often seen as a convenient proxy battleground for extra-regional powers and forces. Its location which controls the critical "strategic lines of communications" (SLOC) in land, sea and air have led to strong desires by global and regional powers, as testified across history, to secure their interests in Middle East. The growing Chinese interests in Middle East then presents a strong possibility of Asian power coming up against the United States in an alternate battleground, beyond Asia, between both economic powerhouse.
The destabilizing effect experienced by Middle East thus presents key lessons to be yield by Singapore, amidst wider global geopolitical contests.
Chan Chun Sing: Drawing from the Middle East experience, Chan posits the importance of regional cohesion to prevent Southeast Asia from becoming a platform for proxy competition by major powers. He argued that ASEAN should strive to become a "neutral place where people from elsewhere can come and be engaged in the region". Likewise, he talked about the survival of Singapore vis-à-vis staying connected to the world. With the world as our hinterland, he urged Singaporeans to travel as widely as possible, to gain a deeper insight on the interests' of others and seek ways in which Singapore can remain relevant to them.
Watch video here.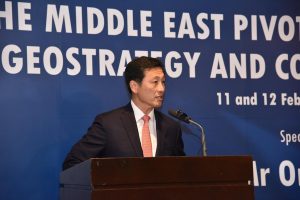 Ong Ye Kung: Speaking as Education Minister, Ong presented a unique perspective of foreign affairs through his educational experience. He paralleled the essential foreign policies to the lessons one can learn from in school – making international relations a less impenetrable topic to be discussed by Singaporeans. Ong then touched on three major long-term trends that can make the managing of foreign relations more challenging – US-China ties, the need for economic transformation, and the evolution of politics in the age of technology.
Watch video here.
About MEI: Founded in 2007, it is an autonomous research institute within NUS which serves to advance understanding of the Middle East, and to deepen engagements between the Middle East and Asia through Singapore's position at the crossroads of the world. MEI NUS provides a platform for research, lectures and consultations among various stakeholders, as well as a concourse for exchanging ideas and information on the Middle East in Singapore, Asia and the world.
Author's take: To gain a deeper insight about Singapore's role in the global realm, modules such as PS3249/SSA3205 Singapore's Foreign Policy allow students to investigate Singapore's foreign policy interests through its relations to countries in the West and Asia. This module is highly suited for students from all faculties as Singapore's survival largely depends on the demands of the world and our neighbouring countries, and NUS students would be able to find such knowledge relevant for their future endeavours.
SINGAPORE NEWS
Budget 2019 – $1.1 billion Bicentennial Bonus to be shared with Singaporeans
To commemorate Singapore's bicentennial (200thanniversary) this year, Finance Minister Heng Swee Keat announced on February 18 a $1.1 billion Bicentennial Bonus to be shared with Singaporeans.
Context: 2019 marks the 200thanniversary of Sir Stamford Raffles' arrival in Singapore. While it is prevalent to consider Raffles' coming as the beginning of Singapore's history, the Singapore Bicentennial in fact urges Singaporeans to look at our history from a longue durée perspective – a Singapore that began in 1299. This project hence opens up Singapore's historical narrative to deeper investigations, deeming 1819 as a mere watershed event that changed the course of the nation's history rather than the genesis of Singapore.
About Bicentennial Bonus: It aims to help Singaporeans, especially those from the lower-income group, with daily living expenses. This includes a maximum of S$300 GST Voucher to be given in cash to individuals of differing household income. The bonus also includes support for students through top-ups to their Edusave Accounts and Post-Secondary Education Accounts. Likewise, the government have also branched out this bonus to include retirement savings for elderly, especially women who have left the workforce for caregiving roles. Read more here.
What this means for NUS students: More money, more honey! Just kidding – remember to put that extra moolah to good use, such as saving for your exchange expenses or treating your family to a nice meal.
Footballer Ben Davis defaulted on his NS obligations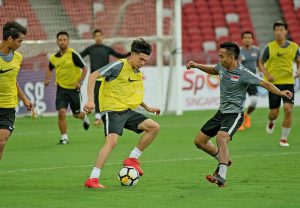 Local footballer Benjamin Davis has defaulted on his National Service (NS) obligations, as said by the Ministry of Defence (MINDEF) on February 18. Read more here.
Context: In June 2018, Benjamin Davis signed a two-year contract with newly promoted English Premier League (EPL) side Fulham. He is the first Singaporean to sign a professional contract with a top-tier English club. Davis, who was born in Thailand, received his Singaporean citizenship in 2009 and have applied for long-term NS deferment in light of the opportunity given by Fulham FC. However, his application to defer his national service enlistment was rejected by MINDEF in June last year, as Davis "does not meet the criteria".
Perspective of a dad: Given the dilemma, Mr Harvey Davis have proclaimed in July 2018 his desires to renounce Ben's Singaporean citizenship in order to fulfil his footballing dreams. Ben's father have also stated in June 2018 that it is "unfortunate" that MINDEF have an impression that his son would not eventually return to Singapore to serve his NS. Mr Davis repeatedly argued that the issue at hand is simply a matter of "when" Ben should do his NS, and not whether he should do at all.
Perspective of Defence Minister: In August 2018, Defence Minister Ng Eng Hen addressed the deferment issue in Parliament, and called out the lack of beneficial gains for Singapore football should the deferment plans hold. Dr Ng argued that athletes are deferred only if it serves Singapore's interests, and stated the contrasting priorities between that of Davis' father. Read more here.
Perspective of FAS: The Football Association of Singapore (FAS) claims to be "extremely disappointed" that Davis have chosen to default on his NS obligations. The FAS stated that they were never informed about Davis' plan to avoid his NS obligations, and had even supported his deferment on the basis that he would eventually play for the Singapore national team. Read more here.