We're already halfway into the semester and school has definitely taken a toll on me. The worst part is, it shows. As the first semester of my university career starts, I can't help but notice my hideous dark circles and uneven skin complexion when I look at myself in the mirror every morning. That's where makeup comes in, helping me look like I've my life together (when I actually don't). Knowing that many other girls use makeup as well, I can't help but wonder what products they use to look put together for school. Out of curiosity, I looked to my fellow first years to discover their makeup routine, hopefully picking out some tips and discovering new beauty products along the way.
1. Elisabeth's Makeup Routine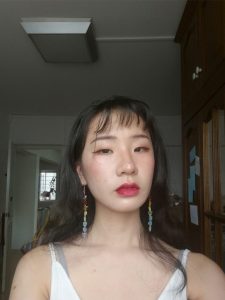 Elisabeth's Makeup Products for School:
Etude House Drawing Eyebrow Pencil in #3

NYX Professional Makeup HD Photogenic Concealer Wand in Light

Fenty Beauty Sun Stalk'r Instant Warmth Bronzer in Shady Biz

ColourPop Cosmetics Blush Stix in Invite Only

MILK Makeup Highlighter in Lit

theBalm Meet Matt(e) Trimony Eyeshadow Palette

Catrice Brow Definer in Brown

Fenty Beauty Mattemoiselle Plush Matte Lipstick in Ma'Damn
Makeup products can be versatile and Elisabeth knows just that. She uses her Catrice Brow Definer in Brown as eyeliner! While that may raise some eyebrows, she concedes: if it works then why not?
She takes an average of 15 minutes to do her makeup, but if she's in a rush, blush can always be applied on her way to school. Her current favourite beauty product is the Dewy Fine Treatment Mist from oasis:skin. Compact and handy, this product is from a Singaporean beauty brand and is great to keep your skin hydrated when you've long days.
2. Moe's Makeup Routine
Moe's Makeup Products for School:
Too Faced Born This Way Super Coverage Multi-Use Concealer in Sand 

Tarte Cosmetics Amazonian Clay Waterproof Brow Mousse in Medium Brown 

NYX Professional Makeup 3 Steps to Sculpt Face Sculpting Palette in Light 

Etude House Look At My Eyes Cafe in OR207 Sweet Dried Persimmons 

tarte Cosmetics Amazonian Clay 12-Hour Blush in Ornate 

Too Faced Better Than Sex Waterproof Mascara

 BECCA Cosmetics Shimmering Skin Perfector Pressed Highlighter in Prismatic Amethyst

3CE Slim Velvet Lip Colour in Plain
When it comes to her daily makeup, Moe thinks it's best to keep the makeup light and natural. In other words, skip the foundation and use concealer instead.
To look put together for school, she spends 15 to 20 minutes on her makeup. Moe's favourite product in her beauty stash is none other than the NYX Professional Makeup 3 Steps to Sculpt Face Sculpting Palette which she raves that it helps to define her features. It's also affordable and pigmented, so it's no wonder this is Moe's favourite beauty product. 
3. Qistina's Makeup Routine
Qistina's Makeup products for School:
Pixi Beauty Rose Tonic 

The Body Shop Vitamin E Eye Cream

Fenty Beauty Match Stix Matte Skinstick in Mocha

3CE Loose Powder in 002

tarte Cosmetics Amazonian Clay 12-Hour Blush in Paaarty

ZOEVA Cosmetics Cocoa Blend Palette (shade 'Freshly Toasted') 

ColourPop Cosmetics Dream St. Shadow Palette  (shades 'Spark' and 'Potion') 

NYX Professional Makeup Matte Liquid Eyeliner in Black
innisfree Super Volumecara in Black
innisfree Glow Tint Lipbalm in No. 5 Rose
On a good day, Qistina takes 10 to 15 minutes to do her makeup but on days when she's in a rush, she takes 5 to 7 minutes and skips products such as eyeshadow.
Like Moe, Qistina suggests to skip the foundation unless you find it absolutely necessary for your daily makeup look. She loves her blush which gives her a healthy look and her mascara which gives her an extra boost of confidence by making her eyes look wide awake. These go-to products might just be what you need to look more energetic in school.
4. Tiana's Makeup Routine
Tiana's Makeup Products for School:
Bobbi Brown BB Cream SPF 35 in Fair

MAC Cosmetics Prep + Prime Fix+ in Original

BCL BROWLASH EX Eyebrow Pencil And Liquid in Natural Brown

Holika Holika Jelly Dough Blusher in 01 Apricot Jelly

BECCA Liptuitive Glow Lip Gloss
Tiana usually spends a maximum of 10 minutes to do her daily makeup, sharing that using a makeup sponge definitely helps blend and smoothen out your base makeup quicker.
Her favourite product in her makeup collection? Colourpop's Jelly Much Shadow in Doves N' Roses, a soft coral shadow with rose gold glitter that is both affordable and of good quality.
5. Tricia's Makeup Routine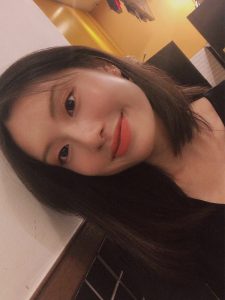 Tricia's Makeup Products for School:
dear, Klairs Illuminating Supple Blemish Cream

innisfree Auto Eyebrow Pencil in No. 7 Honey Brown

innisfree Glow Tint Lip Balm in No. 2 Camellia
With a simple makeup routine that consists of three products, Tricia spends less than 10 minutes to do her daily makeup look for school. If you're into a natural look for school, follow Tricia's advice to focus on your base and brow makeup and skip the rest.
Oh, and don't forget to hydrate your lips while you're at it. She recommends innisfree's Glow Tint Lip Balm which is hydrating and is one that's perfect for an everyday look.
This is a collaborative effort with NUS Makeup And Design, NUS' one and only fashion and beauty interest group. Check out their Instagram @nus_makeupanddesign for more content like this or email makeupanddesign@gmail.com for more information.