Visuals by Jasmine Zou
Free food – these are two words that will definitely bring a smile to everyone's faces.
As university students, we are always hungry for food, that much-needed fuel to survive a crazy day's worth of classes. And what can be better than food? That's not paying for it of course, because we are students and we are often #broke.
With that, we have done the hard work. We've hunted around the best ways to get free food around campus, blessing both your wallets and your tummies.
01. NUS Buffet Response Team Telegram
Have you ever walked past a buffet spread in school and wished you could sink your teeth into one of those succulent chicken wings or those exquisite chocolate éclairs? Do you feel indignant whenever you see hordes of unwanted, yet perfectly edible food being thrown away? If your answer to both questions is yes, then the NUS Buffet Response Team Telegram group is perfect for you.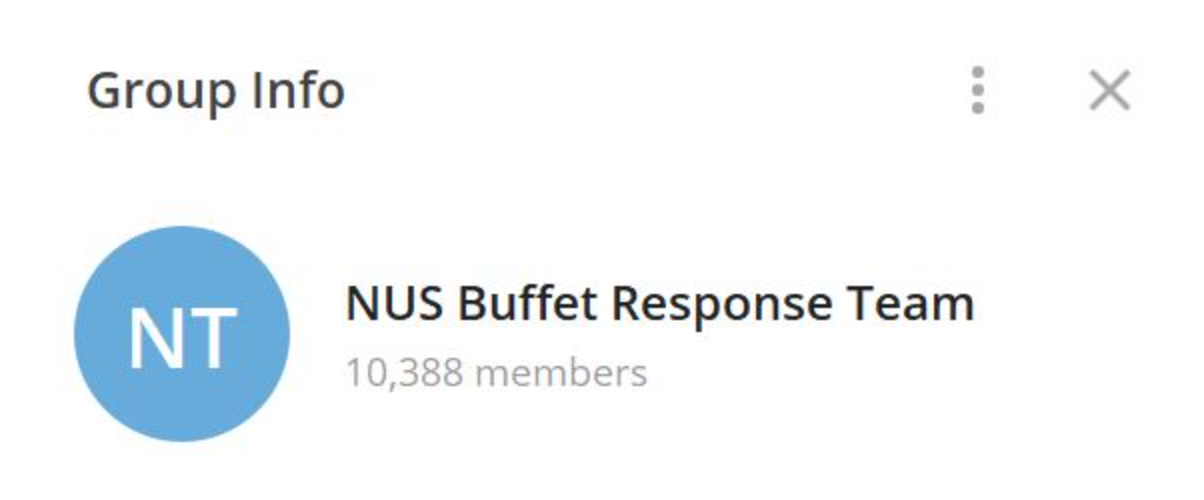 Founded by two Year 4 NUS undergraduates, the group aims to help clear unfinished buffets around the NUS Kent Ridge campus. This effectively lets students have free meals while also cutting down on food waste, which is a pertinent issue in Singapore. After all, we don't want perfectly edible food to go into the trash bin!
The premise is simple. If there is leftover food after an event, the organisers can choose to open it up to the public for consumption by sending a picture of the food, the location and other relevant information in the Telegram group. After receiving the message, you can then head over to the venues to get the food. Be warned though – from our observations, the food tends to run out pretty fast, so get there ASAP after the heads-up!
If you would like to join the Telegram group, you can do so via the link here.
02. Makan Rescue app
Alternatively, there is a mobile app, Makan Rescue, that does basically the same thing as the NUS Buffet Response Team, except that it includes food from across the big 3 local universities in Singapore – NUS, the Nanyang Technological University and Singapore Management University.
The app is available for download in both Google Play and the App Store.
03. NUS events
NUSSU events such as the annual NUSSU Day Carnival, usually held in Semester 2, also offers free food for students, in addition to carnival games and learning more about the Students' Union.
Moreover, with the biannual Free Cone Day or Milk Tea Tuesday (usually held in March and October), students also get to enjoy cold treats to beat the heat. In past years, Gong Cha bubble tea, F&N Magnolia's Mag-A-Cone, Thai Milk Tea and even Häagen-Dazs ice cream were given out to queues of people all around campus.
At the start of every Academic Year, events such as Rag & Flag, as well as the Student Life Fair, not only provide a great platform for freshies and seniors alike to come together as one NUS community but also help bond people over a wide variety of snacks, ice cream and cotton candy.
04. Annual General Meetings
Yes, you read that right. Food is often provided at Annual General Meetings (AGM) for various clubs and unions, such as the NUSSU AGM. As a full-time NUS undergraduate, you are automatically a member of the Union and hence are eligible to attend the meetings.

In fact, many clubs' AGMs provide food to attendees and are open to all NUS undergraduates. While free food is good, it's also your chance to learn more about the workings of the clubs that will shape your student life one way or another!
For more information on the upcoming AGMs, do check your NUS emails, where they will usually be sent to.
05. Faculty events
Other than university-wide events, there are also various faculty events that are not only fun and informative for students but offer up various sweet treats as well. These include the annual FASStival organised by the FASS Club, as well as Bizad Club's Bizcotheque.

Information on such events is usually disseminated via the respective faculties' social media accounts. So, be sure to follow them to keep up-to-date with the latest exciting events that they have lined up for you.
Hidden gems across campus
Everyone loves free food. But at the end of the day, it is also about participating fully in all the university events that have been meticulously planned for all of us. Plus, we not only get to fuel up with lots of great food, we do our bit in cutting down on food waste. It's basically a win-win situation for everyone.
Got some way to finesse some free food of your own? Don't shy – share it with us at theridge.team@nussu.org.sg.