Picture this: you take a nice, refreshing shower and pop out feeling fresh and squeaky clean, except, you start sweating immediately as the heat hits you in the face.
Patience runs thin during the sweltering warm weather, as with any attempt to look cute in a new outfit with boob sweat and sticky thighs. While it's nearly impossible to completely beat the heat here in Singapore, here are a few wardrobe ideas that just might help!
1. Maxi Dress
Maxi dresses are a summer essential, which is great because it's always summer in Singapore. The thin fabric and lightweight material of the dress will prevent you from feeling like you've entered another shower after getting out in the sun. You can splurge a little on high-end stores like Zalora, order one online (no rush; summer will still be here no matter how long the shipping takes) or grab a nice thin piece at Bugis ($20-$30). If you're worried about freezing lecture theatres, try pairing it with a light cardigan!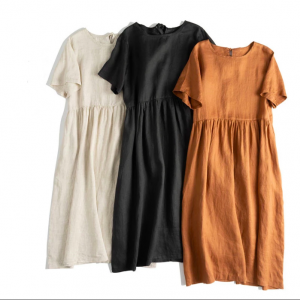 Source: Fantasy Linen
2. Sweat Shorts
"Sweat pants are called sweat pants because they make you sweat." – Anonymous
Sounds counterintuitive to wear anything with the word 'sweat' in it in this heat, but what about sweat shorts? It's flexible, loose and baggy – perfect for the sweltering heat that seems to make every piece of fabric stick to your skin. Black, grey and white sweatpants are the easiest to match. Stores like H&M and Yishion sport a great variety. Some pairs even have designs at the side hems to make it look less plain. If their designs don't catch your attention, online shopping platforms like Taobao, Ezbuy and YesStyle have a gargantuan amount with various designs (don't worry about the time it takes to be shipped over. After all, summer isn't leaving Singapore anytime soon). Throw on a baggy shirt and you have a chill and comfortable outfit to last you the day! Try choosing a pair that's on the thinner side so it doesn't make you sweat (contrary to its name).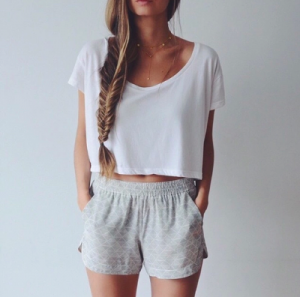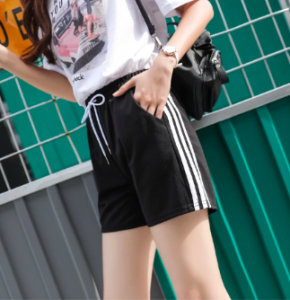 3. The Oversized Shirt
Just like the little black dress, most people have one in their closet – the (usually white) baggy shirt they can pair with anything. From jeans to FBTs to denim shorts (for a "no pants look"), this will definitely come in useful in the sunny weather. While you will probably still sweat, a loose cotton shirt is a better pick over a skin-tight piece on any hot day. Places like Cotton On, H&M, Forever 21, Yishion and even Bugis have a wide array of oversized shirts for your picking. If you can't find anything in the female section, you can always try a size 'S' or 'M' in the guy's section. Try picking lighter colours like beige, white or pastels, as they absorb less heat than dark-coloured clothing.
4. Atheleisure 
"… but I don't workout."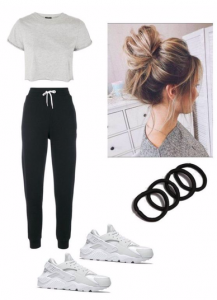 Some people might be able to pull it off a sports bra and tights. Unfortunately, I am not one of them.
However, your level of athleticism (or lack thereof) doesn't change the fact that workout clothes are meant to be sweated in. Plus, they have high breathability and are comfortable to the skin. If 'fake it til you make it' doesn't quite work for you and wearing workout clothes makes you feel like a fluke, grab the aforementioned oversized shirt (any other shirt works too) and throw it on with any pair of dark-coloured yoga pants. Nothing too bizarre, but still great for the weather!
Source: Molitsy
5. Tank and Halter Tops
While I am never one to bare my armpit fats for the world to see, tank and halter tops are a great way to go when the heat becomes truly unbearable. If you feel too exposed in it, try avoiding skin-tight ones and instead, opt for the one that's a comfortable fit. They go well with any pair of denim shorts or wide-legged pants. Bonus points if it has tropical prints to match the weather! But here's a note of caution: make sure you apply an appropriate amount of sunscreen on your arms to avoid any weird tan lines
Source: Coupon Valid
Source: We Heart It
If dressing light still isn't enough to beat the heat, here are some other little steps that can add up to make a great difference.
Tie up your hair to keep it from sticking to your neck
Pick clothes with light colours as they don't absorb as much heat (time to bring back the pastels)
Wear a cap or hat to shield yourself from the sunlight
Apply at least a thin layer of sunscreen to protect yourself from UV rays (I recommend the Sunplay Skin Aqua Tone Up UV Essence SPF50 PA++++, which is available at Watson and other beauty stores).
Bring wet wipes or tissues to wipe yourself down if it gets too sweat (the Biore Sara Sara powder sheets, which are available at Watson, are great for wiping away grime and oil, even if it is a little astringent)
Beating the heat 24/7 isn't easy… especially in a country as humid and hot as Singapore. Thankfully, we are blessed with air-conditioned LTs and classrooms on campus. Try to stay in the shade when possible and hydrate well to avoid falling ill in the harsh heat!
This is a collaborative effort with NUS Makeup And Design, NUS' one and only fashion and beauty interest group. Check out their Instagram @nus_makeupanddesign for more content like this or email makeupanddesign@gmail.com for more information.