By Nini Russell and Justyn Toh
You might have seen a small multi-coloured bus slowly and silently making its way through parts of the campus. But what is it like being in this driverless bus? And is it, *gulp*, safe?
With autonomous vehicles touted as the wave of the travelling future, we simply had to give the bus a try.
The autonomous electric NUSmart Shuttle bus service opened to the public in July for a one-year trial. It runs from 10.20am to 11.20am and from 2.20pm to 3.20pm, in 20-minute intervals, and can seat six passengers and another six standing.
For now, the bus makes four stops – at the innovation 4.0 building, Opposite Hon Sui Sen Memorial Library, 29 Heng Mui Keng Terrace, and Biz 2. Not exactly the most crowded parts of the Kent Ridge campus – and for good reason.
Getting on at innovation 4.0, which was the start of its route, we were joined by a Vehicle Safety Officer from ComfortDelGro, which operates the service.
This EZ10 shuttle was made by French start-up EasyMile, costs about S$500,000 and can go up to 40km/h, he told us. Except that for the trial, this speed is capped at 15km/h, roughly the top speed of a GrabWheels e-scooter!
He declined to give his name, but said he was there to "man'' the vehicle and assess the weather and road conditions. He had a box with plenty of buttons on it. Think of it as a remote-control box.
He also acted as a guide, explaining the technologies and features of the NUSmart Shuttle to us.
Oh man, he had a lot of explaining to do, right from the start.
Shortly after we departed, the bus jerked to an abrupt stop. The bus sensors had detected something in its path, and the safety emergency brake was activated, which led to a sudden jolt that none of us had anticipated.
We looked out the window and saw that there was absolutely nothing in the path of the bus, to which the officer replied:
"The sensors are very sensitive. It most probably detected a falling leaf or a butterfly close to the vehicle."
That was a bit of a shock. Does this mean the driverless bus can never travel in a leafy neighbourhood?
The safety operator pushed some buttons on his remote-control box, and the NUSmart Shuttle continued its journey. As the shuttle approached a zebra crossing, it slowed to a halt. The safety operator had to press a button before the shuttle continued on its route.
We were curious about this, as we had been told that the shuttle used Artificial Intelligence (AI) primarily for its "localisation, navigation and perception".
"Ultimately, machine intelligence can't beat human judgement,'' he said. A safety operator is required to make decisions at zebra crossings and intersections, checking that nobody is crossing the road when the shuttle is about to execute a turn. Which sort of defeats the idea of a driverless bus, we thought.
The officer said experiments were being conducted to determine if the cameras attached to the front and back of the vehicle are enough to allow safety officers to operate remotely from a central base. For now, he was needed to function as its eyes.
After the officer pushed a button, the bus was able to turn the corner on its own using its AI software, which we found quite impressive.
Shortly after, it again came to a stop seemingly in the middle of the road. This time, it was behind a parked car, and when it became clear that the car was not moving, the officer used a joystick on his box to manoeuvre the bus to overtake the car.
The rest of the ride was smooth, albeit slow, and the planned stops were gentle — nothing like the earlier emergency stop. The officer on board had then apologised for the shock, adding that there was nothing he could do about the jerky emergency brake. We figured that this would be one point he would be making to his bosses, especially since the trial was to smooth out the kinks in the ride.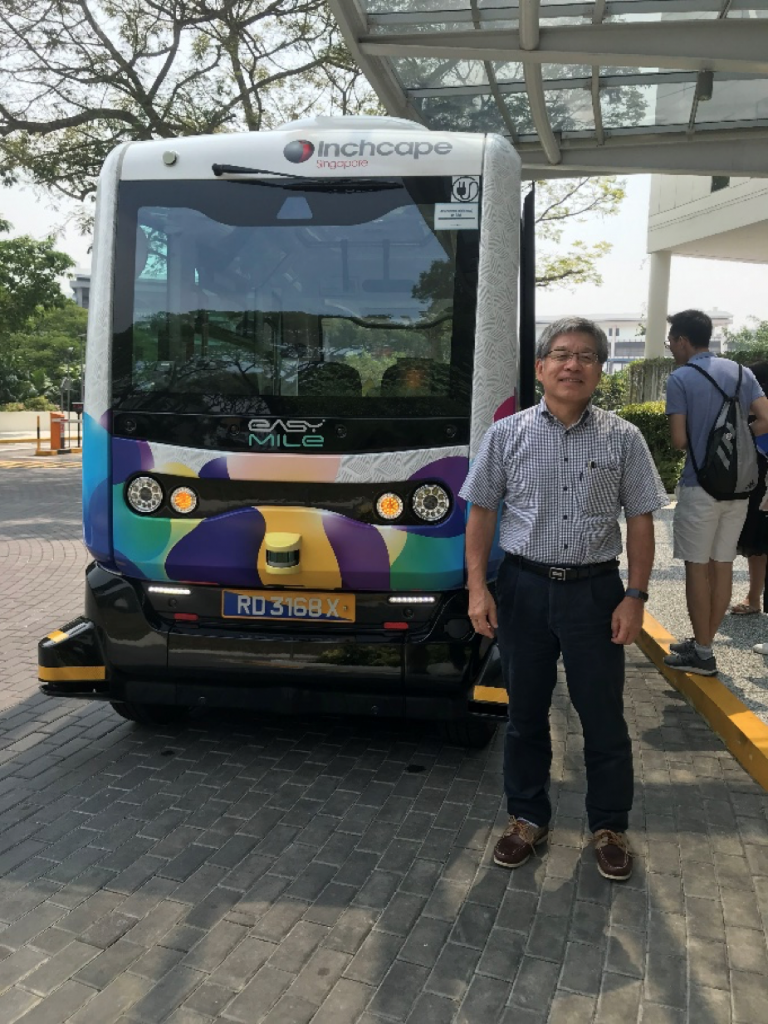 During one of our three "test'' rides, we were joined by Mr Harry Akatsuka, a member of the public who specifically came to NUS to ride on the NUSmart Shuttle. Mr Akatsuka had heard about the NUSmart Shuttle trial from his friends, and being an enthusiast in self-driving vehicles, this was an experience he could not miss.
"I enjoyed the bus ride very much. It was smooth and free from any bumps, except for the sudden jerk at the beginning,'' he said.
"However, I think it is very slow — not good for a country like Singapore where people like to get from place to place fast.''
Mr Akatsuka said he understood, however, that safety would always come first and that this was just a pilot run. In fact, the bus has a fire extinguisher, a first aid kit, a built-in CCTV camera, as well as three emergency stop buttons, one emergency door open button and an emergency call button to a central operator — which does seem like a whole lot of precautionary measures for a small shuttle.
Besides Mr Akatsuka, no other passengers joined us during the rides — but the bus certainly attracted a lot of attention. Students would stop and take videos and photographs whenever the bus passed them, but otherwise, they seemed to have no interest in riding on it.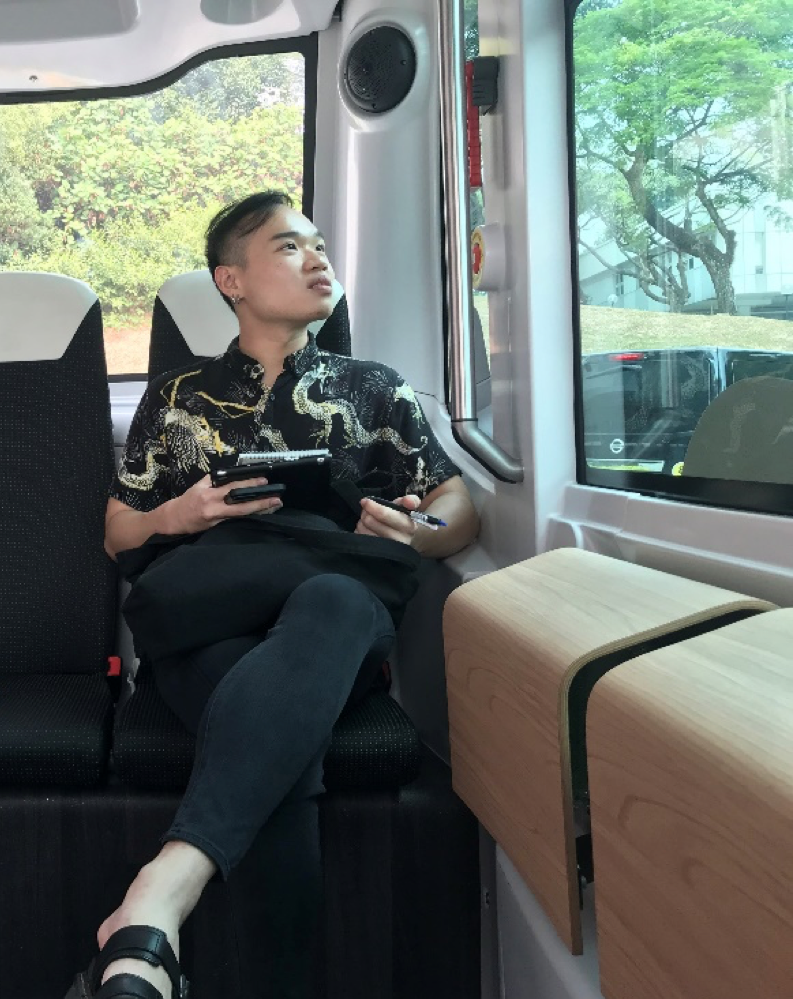 Would we ride on an autonomous electric bus again? Yes, only if some kinks are ironed out. While the ride was smooth, it's not ready for wide-scale operation and needs more calibration for use in a real-world traffic situation. It can't compare with the normal shuttle buses – at least not yet.
We were initially hesitant about whether it would be safe riding in a driverless bus. As it turns out, the bus in its current iteration might be in fact too safe.
But, hey, at least it is equipped with eight USB charging ports for passengers to charge their mobile devices. Plus a digital screen telling passengers about the next stop and approximate arrival time. Good for knowing if you're late for class.
Nini (year 3) and Justyn (year 2) are undergraduates from the department of Communications and New Media. This article was first written for a News Reporting and Editing class assignment.
Would you risk running late for class to try out the NUSmart Shuttle? Let us know at theridge.team@nussu.org.sg