"We all have been casual with our clothes, it's time to get dressed with intention." —Dana Thomas in Fashionopolis: The Price of Fast Fashion and the Future of Clothes
From cultural appropriation, to non-decayable synthetic fibers derived from fossil fuels which eventually end up in landfills, to tragic labour exploitations, the problematic feat of global fast fashion has evolved into a colossal industry designed to cater to the endless cycle of our insatiable consumption habits.
Though it may all seem grim, there actually has been a rise in Gen-Z advocacy against brands that condone unethical practices. For example, there has been an emergence in the backlashing of companies like SHEIN, who have dabbled in labour exploitation, cultural appropriation and the usage of cheap synthetic fabrics.
However, despite the rise in sustainable fashion activism, many would prove to be proponents of fast fashion and argue that due to their outrageously cheap prices, fast fashion may in reality be a broke student's only choice.
Thrifting as a way to save the environment
Fortunately, aside from being a means to challenge the throwaway mentality by contributing to lightened environmental impacts, thrifting is also now perceived as an amazing way to tackle tight budget situations.
Starting out as a vintage trend to stand out, the act of finding non-mainstream pieces that don't break the bank was originally a hobby at most. But the revolution against capitalistic ideals has caused thrifting to evolve into a powerful personal protest against the negative effects of fast fashion.
In addition, many companies are also striving for a lighter carbon footprint under corporate social responsibility plans, with Burberry's aim to be carbon neutral by 2022 and Zara's shift to sustainably produced fabrics. Everyone is incorporating sustainability into their lives and operations, is green now becoming the new black?
The Green Bazaar brings thrifting to NUS
There are many thrift shops around Singapore, but did you know that NUS also has its very own annual free thrift pop-up? Known as Green Bazaar, the shop is brought to you by NUS SAVE (NUS Students Against Violation of the Earth), the campus' largest environmental organization.
The Green Bazaar serves as a platform for the NUS community to trade pre-loved clothes and promote reusing culture. The remainders are collected and kept in the circular economy as they are recycled into industrial rags or shipped to developing nations for donations. An instant hit, since its inception in 2013, the bazaar has collected more than 18,000 kilograms of clothes.
In 2019, the annual Green Bazaar pop-up was held from 21 to 23 October and was situated outside Food Clique in UTown, with aims to inspire the NUS community to discover their styling creativity through this literally priceless method of helping the environment.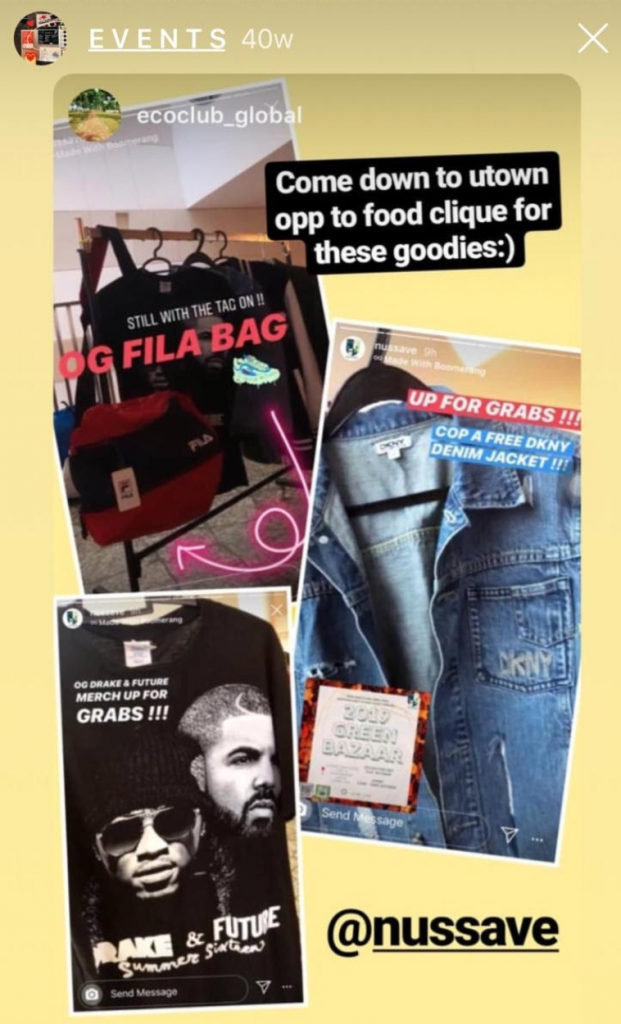 Precious finds such as an original Drake merchandise t-shirt made it to the shelves and was traded with a DKNY denim jacket whilst an original Micheal Jackson tank top was traded with a FILA bag!
The popularity of this clothes swap event is evidenced by its seven year existence. During last year's event, students and staff alike shared their positive pop-up experiences.
Final thoughts
Reuse culture supports the fundamental idea of a circular economy in which maximum value is being extracted from resources, recovered and regenerated into new products. Although we cannot put a halt to the woes ensued by the gargantuan industry of fast fashion, it is time to be a trend sweater and contribute to making a difference right here on campus.
What is your stance on sustainable fashion? Tell us more at theridge.team@nussu.org.sg