The NUS Student Life Fair (SLF) is a widely anticipated annual event which aims to showcase the vibrant campus life in NUS. During past SLFs, the UTown area would be brimming with activity as over 150 student organisations set up booths to showcase their activities.
As we continue to stay resilient amidst the COVID-19 pandemic and adhere to safety regulations, this year's SLF had to resort to taking a virtual form—the event's first time in doing so!
Spanning a period of five days from 10 to 14 August, NUS' first E-SLF featured different types of Co-Curricular Activities (CCAs) on each day.
The online fair also had its very own radio live streams, Radio SLF, to not only answer any burning questions that students might have about student life but also promote exciting giveaways.
Traditionally, the SLF is important as it is a means to integrate and introduce freshmen to NUS and its extra-curricular activities. Henceforth, the student organisers spared no effort in making it as informative and engaging as possible while attempting to overcome the unique challenges that come with conducting virtual sessions.
A different theme for each day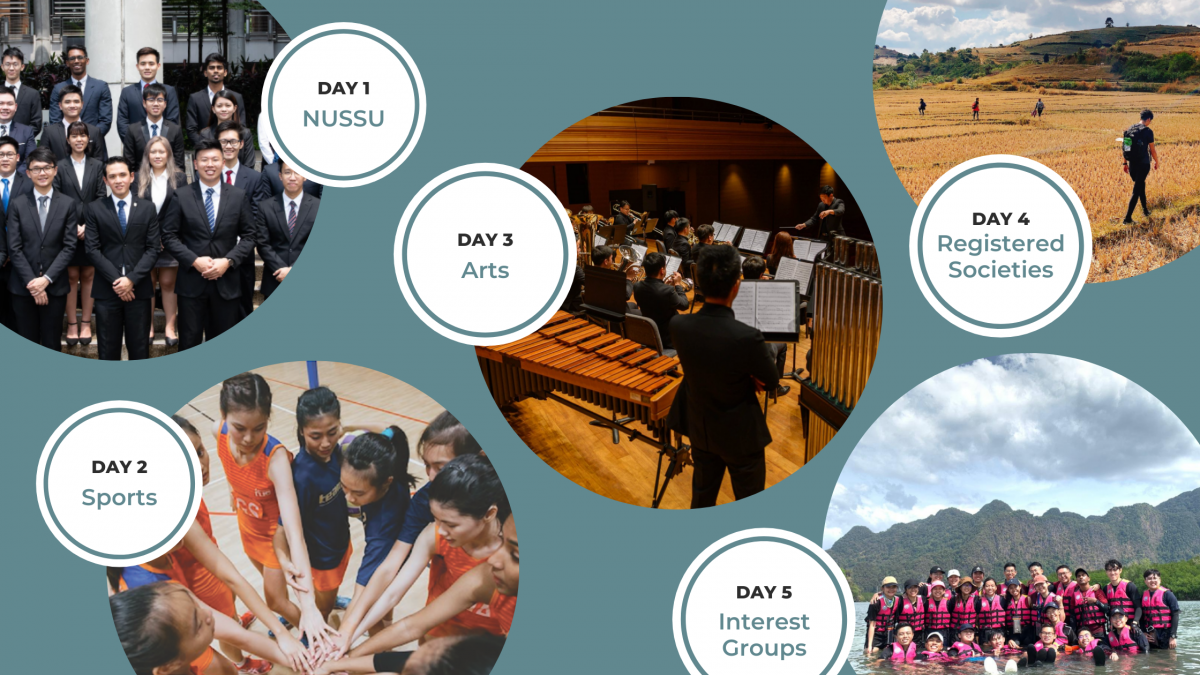 Each day, different categories of CCAs organised and conducted their own online sessions, and provided Q&A opportunities for interested students to find out more about their activities.
There were also e-booklets for every category, summarising very neatly all the CCAs and the various links students could go to if they were interested in learning more and signing up for the CCAs.
The fair kicked off its first day by introducing the NUS Students' Union (NUSSU) and its numerous cells, as well as the various NUS Offices that help us with student affairs. The same was done for the NUS Students' Sports Club and sports CCAs on the following day.
On the third day, the limelight was given to 35 Arts CCAs and students were even treated to some live performances! While on the fourth and fifth days, the fair showcased NUS' Registered Societies and Interest Groups respectively.
Participants' thoughts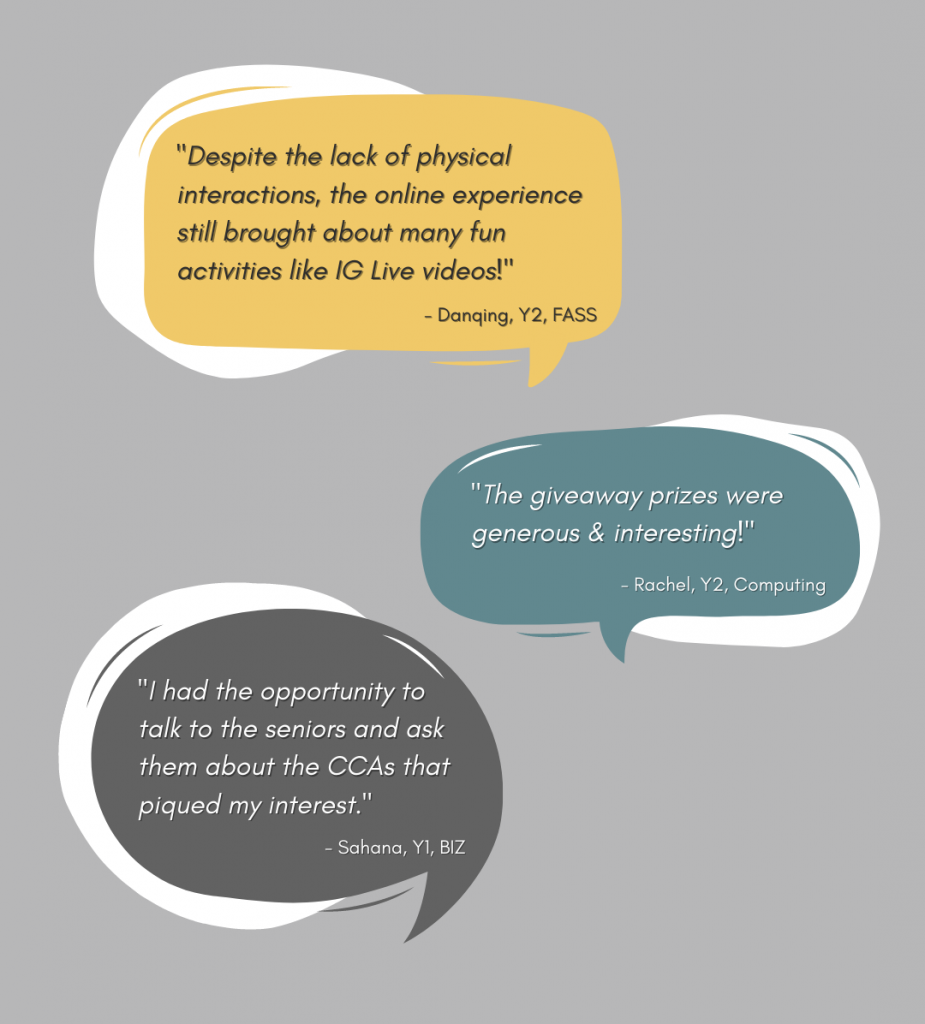 Kathryn, a Year 1 FASS student, found the compilation of CCAs in the e-booklets very useful as she could conveniently browse through to find her interests even if she missed the Zoom sessions.
Similarly, Sahana*, a Year 1 Business major, felt that the SLF activities were very comprehensive. "I had the opportunity to talk to the seniors and ask them about the CCAs that piqued my interest. For example, as I was interested in NUSSU, the seniors very willingly shared with me important information about NUSSU's operations. This helped me gain a better understanding as I could clarify my concerns with the seniors at the e-booths, enabling me to make better-informed decisions."
The seniors who have attended both physical and virtual SLFs shared their thoughts on how this year's SLF contrasted with the usually physical event.
Qiuyan, a Year 2 Business major, said, "The atmosphere of a physical SLF is definitely livelier." This sentiment was echoed by Cheryl, a Year 3 Business student: "It's definitely less exciting to participate in a virtual SLF as it is not as engaging for the participants."
In addition to the CCA introductions, there were many giveaways throughout the five days. Prizes such as a Macbook Air, an iPad and Grab gift vouchers were given to selected participants who have completed the SLF's challenges.
Rachel*, a Year 2 Computing student, felt that the prizes were both "generous and interesting." She also shared that while she did not know much about the SLF initially, the daily SLF quizzes sparked her interest to do research and find out more.
Student organisers share their experience
In an effort to give you both sides of the story, I have asked some student organizers about their opinions of the virtual event.
Danqing, a Year 2 FASS student from nuSTUDIOS Film Productions, explained, "It was definitely a different experience since it's online." Seniors had the opportunity to hold their own Q&A sessions on Zoom. Despite the lack of interactivity from a physical booth, she shared that an online experience opens the door to exciting activities such as giveaways, Instagram Live sessions and the recording, and screening of past performance videos.
Daphne*, a Year 3 student from the NUS Students' Sports Club, admitted that while it was hard to get people into the online sessions, those who attended showed genuine interest and made the effort to look up the clubs they were interested in.
Concluding thoughts
While online activities can never fully replace the physical experience, let's take heart in and laud the efforts of both the student organisers and the SLF committee who have worked hard to make the event possible. We hope that the virtual SLF has provided you with the necessary information about the student organisations that you're interested in!
What are your thoughts on the E-SLF this year? Share them with us at theridge.team@nussu.org.sg
*students' names have been changed, and are pseudonyms used for anonymity