We're all aware of the great city's hustle and bustle, the rat race and the long commutes. A familiarity we all indulge in as a daily getaway; the coffee run. For many it may be a quick run downstairs to grab a hazelnut latte from The Coffee Bean & Tea Leaf, or maybe a Kopi O from Toastbox. Whilst I personally satisfy my caffeine addiction with a Vanilla Sweet Cream Cold Brew from the Starbucks next door, there are many cases where I wished I could allow the multi-dimensional drink to sit in the spotlight, as opposed to it being a mere accessory to the working lifestyle aesthetic. If you're looking for a coffee indulgence amidst immaculate vibes as opposed to a coffee fix, here are some places to include in your coffee walk.
Situated in the heart of City Hall, tucked away in a corner of Chijmes, The Glasshouse features a bar that showcases its brewing and pouring methods. With daylight pouring in from the glass walls and minimalist decor, this greenhouse themed cafe is definitely a calm and peaceful place to enjoy a latte for $5.50 or an Americano for $5. Open from 8am – 9pm everyday, enjoy a few hours under the soft sunlight.
Having taken Indonesia by storm, Tanamera Coffee has opened its first outlet in Singapore, situated in Change Alley Mall, steps away from Raffles Place MRT. Sip on their dark, decadently bitter notes amidst their bold red and black themed decor whilst Cigarettes After Sex blasts through their speakers. When ordering your coffees, perhaps a latte for $5, have your pick of either the Premium Blend, a fruity blend featuring a light zesty flavour or my personal favourite, the Forte Blend, a full-bodied nutty blend with rich chocolatey overtones. Opened from 8am-8pm except on Saturdays where they close at 3 and on Sundays when they are closed, find some coffee indulgence in the midst of CBD.
Photo by Bang Jeemin
Dubbed the coffee version of TWG by DanielFoodDiary, visiting this Moroccan establishment is an event in itself. Customers are pleasantly overwhelmed with a selection of over 200 coffee choices. Despite its luxurious decor, a pot of coffee for two starting at $9 could be deemed extremely worthwhile. Served with a side of homemade Chantilly whipped cream–of which I was guilty of gobbling by the spoonful–this delectable experience will definitely make you feel like royalty. Open from 9:30am – 10pm daily, the extremely long queue outside might make your indulgence a little bit more short-lived.
Photo from IG @KurasuSG
Kurasu
Commonly compared to The Apartment, a popular establishment in Lavender, Kurasu's Matcha Latte Espresso ($7.50) perfectly marries sweet and bitter notes. Hailing from Kyoto, the minimalist Japanese decor is a perfect accompaniment for intimate conversations and their Gesha Village Chaka blend that exhibits sweet citrusy accents. Visit their new Waterloo outlet from 8:30am – 6:30pm.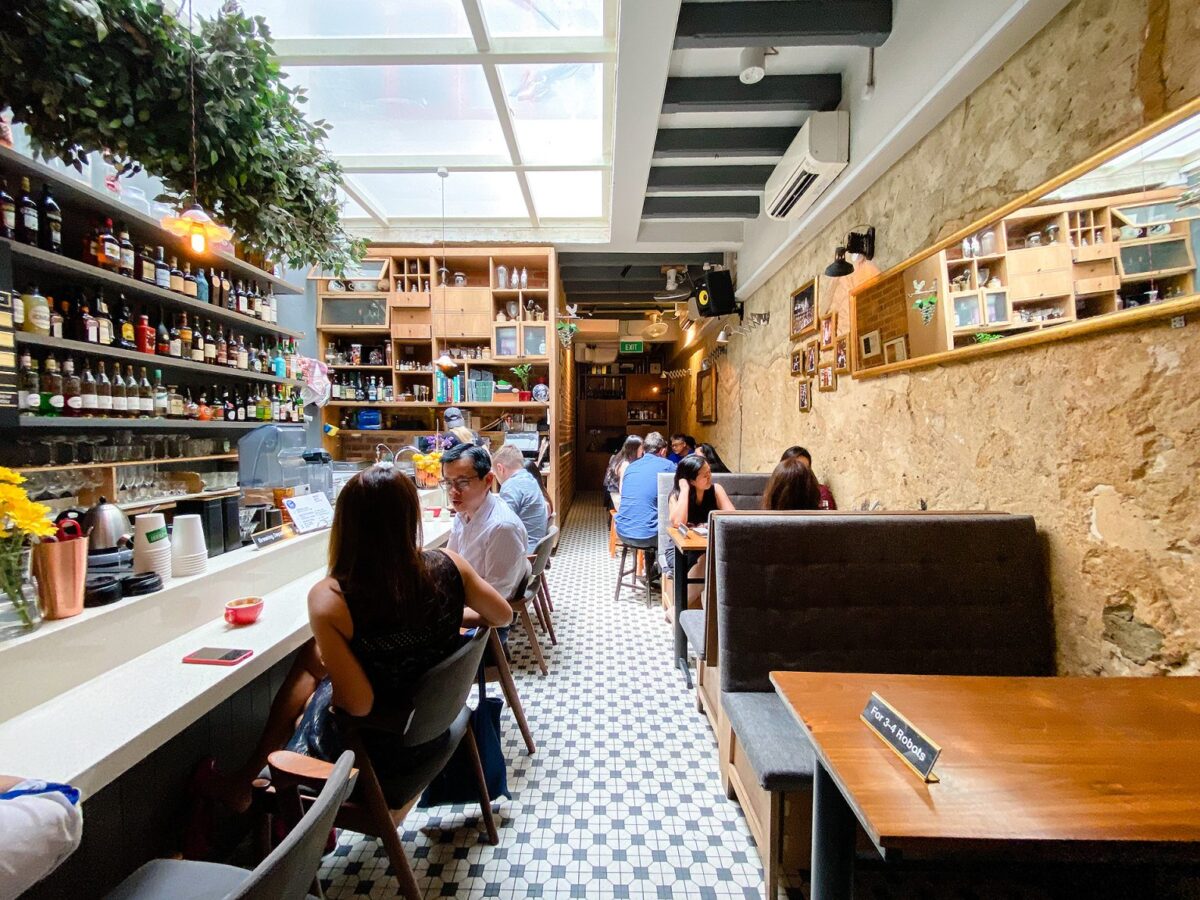 A personal favourite of mine, Free The Robot's speakeasy vibe is always a go-to. A perfect Sunday consists of basking under their skylight, sipping on their coffee made by Nora, dubbed the Coffee Jedi, a barista/roaster and co-founder of the establishment or their senior barista Vicki. Free the Robot's in-house roasted Freedom Blend makes a perfectly rich latte ($5). On a nuttier note, try their perfected Robo-One Chilled Vanilla ($6.50). If you're lucky enough, you might just catch their resident chihuahua mixed jack russell hybrid, Baileys, sauntering across the floors. Opened from 9:30am – 10:30pm, find this hidden gem in the midst of cafes on Telok Ayer Street.
Photo from IG @cshhcoffee
Chye Seng Huat Hardware
Operated by the infamous coffee brand, PPP Coffee, Chye Seng Huat Hardware has an obscure storefront disguised as an abandoned hardware store. Accompanied by an outside seating area, the industrial themed patio adorned with cactuses is an aesthetic Insta-worthy backdrop to their fine selection of cold brews such as the Cold Brew White ($8.50), a full bodied chocolatey nutty blend. Or sit inside to appreciate the vintage antiques on display against a chrome facade. Infused with nitrogen, whilst sipping on the lightly zesty Nitro Antimatter, brewed with Oat M*lk ($8.50) is a unique experience indeed. Open from 9am-9pm, find this gem in the heart of Lavender.
Some of these places also feature amazing brunch menus, for a selection of brunching on a budget, check out Peter's article #BrunchingWhileSavingYourPennies!
Now with midterms over, let's take a breather and indulge at these coffee spots, reminiscing about a simpler time before we step back into the rat race of Week 11. Tell us all about your own coffee walk at theridge.team@nussu.org.sg, we'd LOVE to hear from you!