The end of the semester is arriving. Burnout is creeping in, and many are longing for an opportunity to recharge. This Halloween, many clubs at NUS are hosting on-campus activities you can join for a quick pick-me-up. Whether you want to get your adrenaline pumping through screaming along to your new favorite bands or you want to get spooked by some storytelling, here are five fun things you can do this season in school after a day of classes and work!
Solve a Horror Film-inspired Murder Mystery
In S16, a child serial killer has been lurking around the corner… make sure you find them before they find you!
The Life Sciences Society's murder mystery, inspired by Orphan (2009), is not for the faint-hearted. In a room dimmed and stuffed with mutilated soft toys, you are tasked to find the young murderer using the clues provided…only to have to find your own way out after the police officer you've been helping gets abducted by the murderer (Clue: find a phone to call for help). If you and your friends are up for this thrilling challenge, gather together to investigate who this murderer is!
Date: 18 to 21 October (6.30pm-9.30pm)
Location: S16 Level 4
Admission fee: Tickets are $5 per pax, with a maximum of five members in a group. Sign-up for both TLSS Welfare and LSCAMP'23's escape rooms to enjoy a bundle pay of $7. (Be quick to buy tickets, as limited spaces are available!)
Sign up here: https://tinyurl.com/LSCAMPxLSSWelfareHalloween
Go Wild at a Spook-tacular Photobooth
Before or after completing the escape room, you and your friends can choose to take photos to remember the day's fun. The Life Sciences Society is hosting a Halloween-themed photo booth you can take photos at— spooky props and backdrops are included!
So, grab your pals and have fun posing for cute polaroids. Plus, you can decorate them with Halloween-themed stickers if you want!.
Date: 18 to 21 October (6.30pm-9.30pm)
Location: S16 Level 4
Polaroid Prices: Polaroids are $2. You can also choose to top up 50 cents for unlimited stickers.
Have a Screaming Good Time at a Rock Concert
Amplifright is an annual Halloween-themed rock concert hosted by NUS's Cultural Activities Club. In line with the spirit of Halloween, this year's Amplifright is a screamathon. Scream as the cacophony of heavy guitar distortions and loud drums play (And when it's time to do so join the tradition of mosh-pitting!).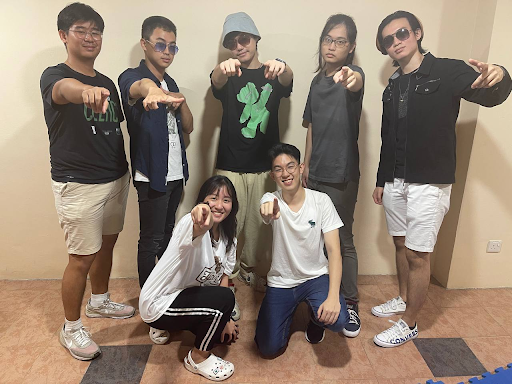 This rock concert will debut five rival bands, including "Lights Out", "Broken E String", and "Last Played Here". Some of the artists covered include Ariana Grande, Linkin Park, and BTS.
There will also be a costume competition, where the best dressed wins a prize!
Date: 22 October (Saturday) (7.10pm-9.30pm)
Location: NUS Shaw Foundation Alumni House Auditorium.
Admission Fee: $7 per ticket
Sign up here: https://forms.gle/cMAyAQM1svvdojAn7 or through the link on NUS Amplified's Instagram page (@nsamplified)
Stargaze at the Cosmos in the Quiet of the Night
NUS's very own Astronomical Society will be having a Halloween Party centered around stargazing, where students can view the wonders of the night sky such as the gorgeous Orion, the Summer Triangle (a trio of bright stars: Vega, Denab, and Altair), and planets such as Jupiter and Saturn. If you are a newbie to astronomy, don't worry— you will also learn how to mount and use telescopes on the spot.
Additionally, you can play games to win prizes! The club's Halloween-themed event hosts a myriad of station games, and popular snacks will be awarded to winners.
There will also be a costume competition, where people are encouraged to dress up for the event — the person with the most popular costume will win a prize at the end too.
Date: 28 October (Friday) (7.30pm-9.30pm)
Location: Engineering Bridge connecting CLB and Engineering
Admission Fee: Free!
Do note that the stargazing activity may be affected due to unforeseen weather circumstances but the rest of the event will carry on as planned!
Sign up here: https://forms.office.com/r/TUZDMbZDeG
Listen to Horror Stories by Filipino Cultural Club
You have heard of Bloody Mary and Singapore's very own Pontianak. But have you heard of creatures from the Philippines, like the Manananggal, a winged spirit with a detached torso, or the Kapre, a giant tree demon?
NUS's Filipino Cultural Club will be telling the stories of these creatures during Barangay Horror Nights. This is the perfect chance for you to learn more about these creatures (If you dare to!). More than that, there will be sharings of personal encounters with some of these creatures by the club's very own members. *Chills!*
If this is not scary enough for horror enthusiasts, you can look forward to a screening of a thriller Filipino film. (The film's title will be a surprise!)
Get ready to be takot (which means spooked in Tagalog)!
Aside from these, the club will also be hosting a photobooth, a costume competition (prizes included) and a mask making activity where the masks you create will be similar to those from The Purge!
Date: 27 October (Thursday) (7.15pm to 9.30pm)
Location: UTown's Education Resource Centre (ERC), Seminar Room 9 (RSVP by 20 October)
Admission Fee: Free!
Sign up here: Barangay Horror Nights #BHN – NUSync (campuslabs.com)
Bonus Off-Campus Activity: Night Cycle pass and Visit Creepy Places
Take a break from late night cramming— instead, do some late night cycling (and spook yourself out with haunted sites and spine-chilling tales!). NUS's Outdoor Activities Club is hosting Hallowheels, a cycling event where students travel from Changi Village to Toa Payoh on rented bikes.
Along this 42.8 km route, students will pass and roam around the gates of the infamous abandoned Former Changi Hospital. The hospital was a torture chamber the Japanese used during WW2 and is arguably the most haunted location in Singapore – It even inspired the 2010 film, Haunted Changi. In the past, many have claimed seeing apparitions puttering around the building, so who knows what you will see… You will also hear stories about this location from the expedition leaders- talk about a horror film experience!
Don't forget to bring cash, as there will be supper at Jalan Kayu, a hidden trove of late-night Indian and seafood. For our Muslim friends, note the food will be halal-certified. If you are still feeling peckish, you can buy small snacks and cold drinks from nearby convenience stores to munch on.
Freebies, such as neon paints, snacks, and halloween accessories, will also be given to you when you join this event.
Date: 29 October (Saturday) (9pm to 6am the next day)
Location: The meeting point is at Changi Village.
Admission Fee: Early bird price is $30 (12/10/22-19/10/22) and the normal price is $34. Do note that limited slots are available, so sign up quickly!
Sign up here: https://nus.campuslabs.com/engage/submitter/form/start/563010