New sem, same you? A new academic year is the perfect excuse to revamp your look. So what exactly are NUS kids wearing this semester? 
Here's a look at some trendy picks that either stuck or seem to creep into most students' closets this semester. If you are tired of rummaging through your closet for something cute, take inspiration from some of the clothing items in this list. Whether your style is more subtle or bold, these are some quick and easy ways to switch up your style for the semester in this NUS style report.
01. OVERSIZED SHIRTS
Oversized shirts are a trend that has stood the test of time, proving it to be an essential item for both girls and guys! Most brands carry a wide variety of designs especially streetwear brands such as Adidas, Supreme, Off-White, BAPE and Ellesse. 
Keith in an oversized shirt and black shorts, paired with high socks and sneakers.
"Most of my shirts are oversized. I feel like it gives off a very casual and relaxed vibe, furthermore it's very comfortable to move around in Singapore's weather. I also feel socks are a great way to show personality which is why I'm a huge fan of high socks. It just takes a little more guts to wear them out, especially if they have loud prints. What I like about this outfit is really just how comfortable it is."

-Keith Wong (Year 3)
02. SLIP ONS
Slip ons are a must-have this season and they go with virtually any outfit! They're not only convenient but extremely versatile to pair with both casual and formal outfits.
An Lyn in Slip ons, paired with ripped jeans, a white tank top and a sheer long sleeve top over.
"I really love bright colours and prints, so the sheer shirt is really interesting to me and one of my favourites! I try to thrift instead of shop nowadays since it's more sustainable. This entire outfit is thrifted! These sliders help complete the look as casual but not underdressed."

-Chee An Lyn (Year 2)
03. PRINTED BUTTON-DOWNS
Take a risk and go with some bolder prints to switch up your look! Floral prints especially are more common this season and although it might be daunting to some to wear such a bold look, pair it with more simple bottoms like jeans or bermudas and you've got a simple yet fun outfit. You could also throw on some accessories to make it more dressy or go for longer sleeves with a few top buttons undone for a more vintage vibe!
Matthew in a collared button down shirt with tropical prints, paired with tinted sunglasses.
"As a travel enthusiast, tropical prints are right down my alley. I feel that it radiates a sense of adventure and at the same time, serenity. Top it off with a pair of shades that matches the hues of the shirt – it accentuates the mystery and surprise of an adventure you'll never forget."

-Matthew Qiu (Year 2)
04. ANIMAL PRINTS
From leopard prints to zebra prints, animal prints have filled the runway this season with celebrities donning it both on the red carpet and as casual streetwear. The trend isn't just reserved for high-fashion events, though! Many brands like Zara, Topshop and even Cotton On carry variations of this trend.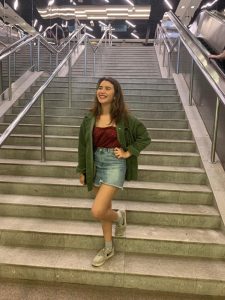 Natasha in a red spaghetti top with subtle leopard prints, paired with a denim skirt, oversized jacket and sneakers.
"I've been trying to get more statement animal print pieces in my closet – this piece was from Cotton On, and was only $5! Statement pieces like these easily pulls together any outfit effortlessly. The square neck top is also another favourite of mine and has been increasingly popular in Singapore fashion labels like Love, Bonito and The Editor's Market."

-Natasha Allnutt (Year 2)
05. MANDARIN COLLARED SHIRTS
Mandarin collared shirts have become increasingly common for a slightly more dressy back-to-school look. The shirt design provides a good balance between casual and formal, providing guys with another alternative to change up their look!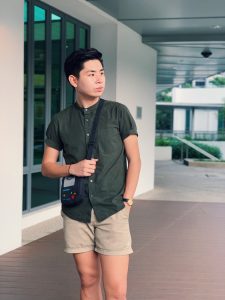 Ronnie in a mandarin collared button down short sleeved shirt paired with beige bermuda shorts and a sling bag.
"I literally only wear mandarin collars… I think it is very versatile. When paired with shorts or bermudas, it can be rather casual and yet put together. Pair it with a pair of jeans? You're ready for a fun night out. You can also match them with pants and dress shoes for a formal look! There's nothing a mandarin collar cannot do!"

-Ronnie Lai (Year 1)
Not enough? Here are some honourable mentions that didn't make it to the top 5
06. SCRUNCHIES
Scrunchies are a versatile and simple way to accessorise your outfits. This vintage style item is back in fashion and all over the internet! Whether you choose to use it as a hair-tie for a more formal put together look like Hailey Bieber or wear it on your wrist as an accessory for a more 'VSCO girl' trend, it easily switches up your look. Scrunchies also come in many different colours, designs and even prints, making it suitable for any outfit!
Sites and shops you can get yours at
Lazada 

Shopee 

Lovisa

Sephora
07. GRAPHIC TEES
Switch up your usual plain tees for a more bold, graphic tee! Whether you're a fan of a band, musician or a certain brand, graphic tees are an easy way to express this and show your personality. Pair an oversized graphic tee with simple denim shorts for a casual look or throw a blazer over for a more formal vibe like Gigi Hadid. You can also pair it with a mini skirt and sneakers like Sofia Richie to make it look more chic. Taking an oversized graphic tee with big prints also goes well with jeans or shorts to get a more chill vibe as seen with 5SOS singer, Calum Hood.
Sites and shops you can get yours at:
ASOS

Zalora

Urban Outfitters

Pomelo Fashion

H&M
08. TOTE BAGS
Tote bags are a must-have item for most university students, it's both functional and really ties in your entire outfit no matter what look you're going for! Opt for a cloth tote with words or designs that show your personality for a more casual outfit. For a more chic look, go for leather or faux leather such as PVC to make your outfit look more put together. The different brands, designs and colours available allow you to find one that suits the unique style you're going for!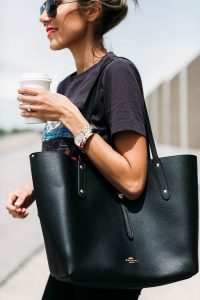 Sites and shops you can get yours at:
For cloth ones:
For leather/ PVC ones:
Charles and Keith

Coach

Michael Kors
We hope that these trends inspire you and give you some ideas on how to amp up your daily look!
Kirstie is a year 2 student at FASS currently majoring in Communications and New Media. She would describe her personal style as "vintage" and gets a lot of fashion inspiration from looks in TV shows such as Rachel from 'Friends", Cher from 'Clueless' and Fran Fine from 'The Nanny'. Her current style icons are Kim Kardashian West, Zendaya and Blake Lively. 
"My favourite fashion event is the Met Gala and my all-time favourite Met looks are Blake Lively at the 2018 Met in Atelier Versace and Beyonce at the 2015 Met in Givenchy."  -Kirstie
This is a collaborative effort with NUS Makeup And Design, NUS' one and only fashion and beauty interest group. Check out their Instagram @nus_makeupanddesign for more content like this or email makeupanddesign@gmail.com for more information.