Students are avoiding the service after NUS and Grab introduced new safety regulations on campus in March making it compulsory to wear helmets, complete a 30-minute training course, and reducing the scooters' maximum speed from 25km/h to 10km/h
Ho Mun Yong, a third-year Chemistry student, used to love scooting around campus on GrabWheels.
It allowed him to be the master of his own time. There was no more need to wait around for the shuttle buses in the sweltering heat and, more importantly, he didn't have to squeeze with dozens of students to eke out a small inch of space for himself in the overcrowded shuttle buses.
But since new rules were introduced in March 2019 requiring all users of the e-scooter rental service on NUS' Kent Ridge Campus to wear helmets while riding, Mun Yong has stopped using the service.
"(The shared) helmets are damn ugly, bothersome and disgusting. You never know how much sweat is on it," he said.
"Going uphill was very slow. Walking was faster," added Mun Yong. "It is also very expensive. It's 50 cents for five minutes. It used to be 50 cents for half an hour. Do you think it's worthwhile?"
GrabWheels was a hit when it was first introduced in NUS in November last year. Within a month, students had taken some 40,000km worth of rides according to Grab, and an NUS survey found that close to 80 per cent of students on campus used it at least one to four times a week.
Now, students are avoiding the service after NUS and Grab introduced new safety regulations on campus in March making it compulsory to wear helmets, complete a 30-minute training course, and reducing the scooters' maximum speed from 25km/h to 10km/h. Grab also added shared helmets and cleaning supplies at the GrabWheels parking stations, and upgraded its fleet of e-scooters with better braking systems and controls.
The regulations were introduced when NUS lifted its week-long safety timeout of the service after accidents on-campus resulted in a "small number of injuries" which needed hospital treatment, while one case involved a "more serious injury."
Since the new safety measures have been implemented, there were "only two accidents where the riders had sustained minor bruises or abrasions", NUS told The Ridge in an email.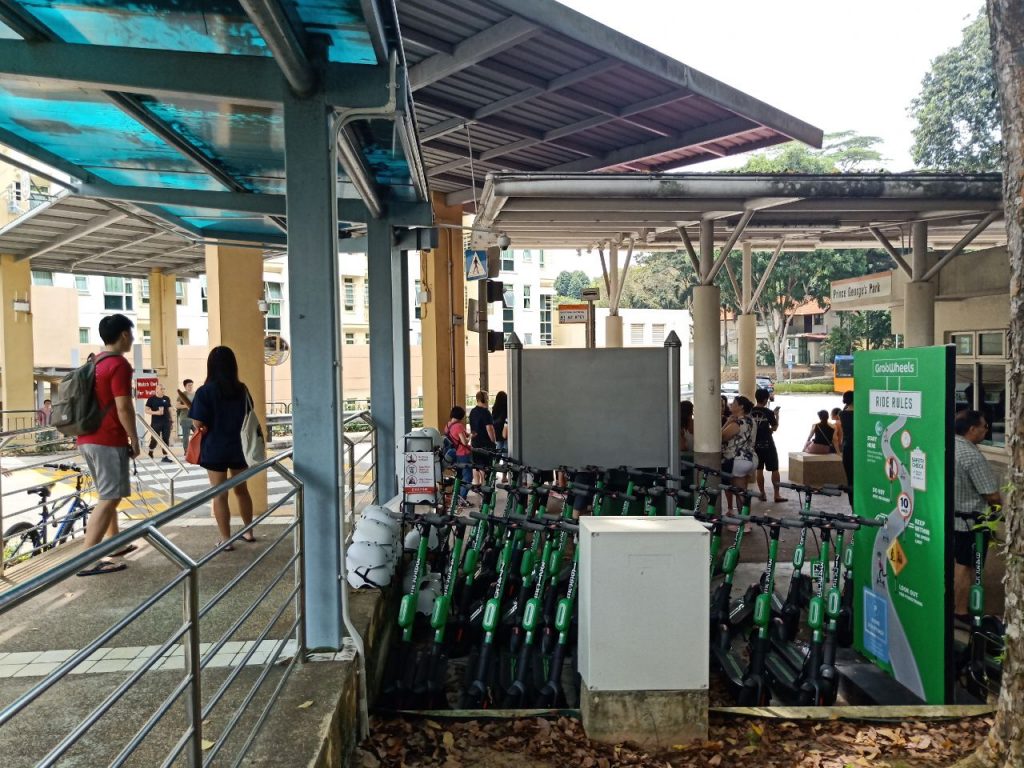 Most students agreed that these safety measures would enhance the safety of both riders and pedestrians, but were too bothersome to actually participate in.
"It can be unsafe if the rider doesn't really know how to ride properly or if they are riding on crowded walkways," said first-year engineering student Kriti Agrawalriti, adding that that the training course could benefit the safety of both e-scooter riders and pedestrians.
The same sentiment was echoed by first-year sociology student Lian Kay Wen. However, both students said they would be reluctant to attend the course.
Mun Yong said he supported the speed restrictions because he had found, in his past experience on GrabWheels, that "25km/h was scary and quite fast".
For users who flout rules such as not wearing helmets or riding on roads, NUS said Grab will issue warnings, as well as e-scooter suspensions and bans. Campus security and other users who spot these errant riders can report them to Grab.
"GrabWheels may also impose a fine for safety violations," it added. NUS did not say how many students it has caught flouting the rules in the past six months.
In the past week, The Ridge spotted two users flouting rules. One zoomed past the busy Yusof Ishak House bus stop without a helmet, and the other was riding on the road at CLB, at night.
The Ridge also found that users who have not completed the mandatory safety training could still rent GrabWheels e-scooters on campus. There were also no upcoming training sessions available on Grab's website, with the last training session scheduled on Aug 2 at NUS' UTown Plaza.
NUS said it was planning for the construction of dedicated pedestrian walkways on campus to segregate pedestrians from personal mobility device (PMD) users and cyclists. "We expect to have some preliminary findings and recommendations by next year."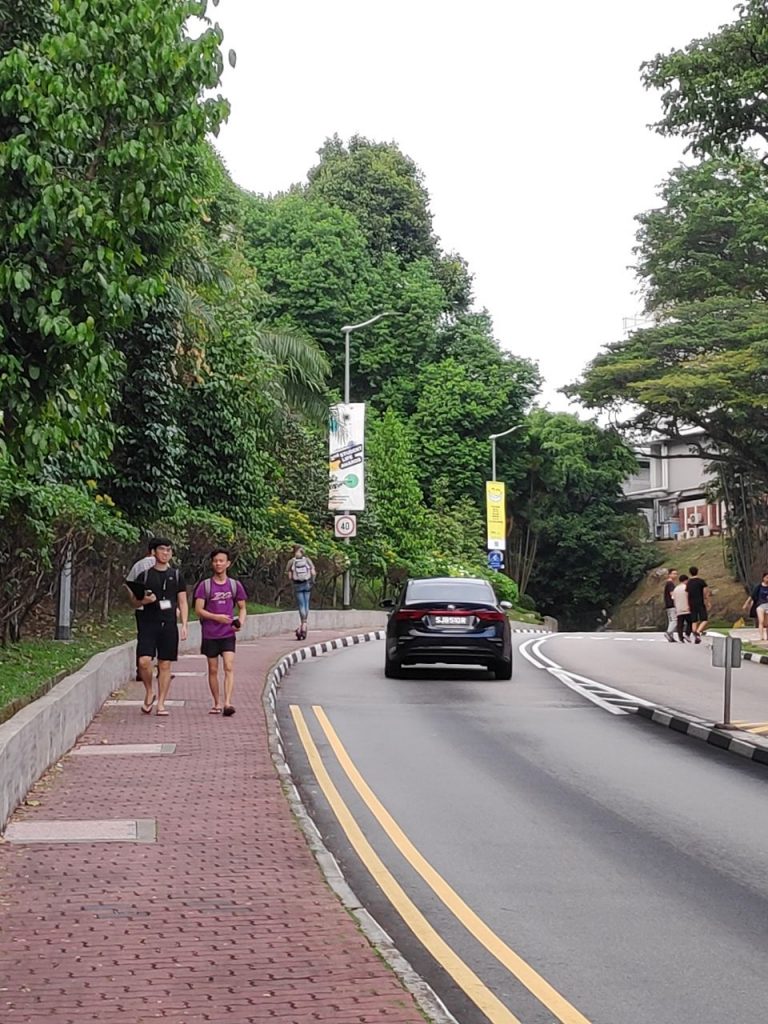 "There needs to be a balance between education, ridership and enforcement," said GrabWheels chief executive TJ Tham in a phone interview with The Ridge. "If you expect us operators to have all these (safety) measures and do enforcement then how do we thrive as a business?"
Responding to the fall in the number of GrabWheels users on campus, he said the campus provided a testing ground for the team to see how far they could "push the limits of" implementing safety measures before ridership takes a significant toll.
"A lot of learnings we took from NUS, we implemented outside of the zone," Mr Tham said. The GrabWheels service was expanded in April with a "couple of hundred units" in areas such as Orchard, Somerset, Tai Seng and Joo Chiat.
Safety restrictions outside of NUS are less strict. Users do not have to attend the mandatory safety course. Helmets are also not compulsory, even though Grab tries to provide them at some locations.
The services were expanded to business and hotel owners who agreed to allow the e-scooters to be parked on their private land, even as the Land Transport Authority (LTA) delayed handing out sharing licenses for PMDs for the second time amid two PMD-related deaths in the past month.
Last month, a 30-year-old man died after he lost control of his e-scooter at Tanah Merah Coast Road and a 65-year-old woman succumbed to her injuries after her bicycle collided with a PMD, reigniting a vigorous debate on whether PMDs should be banned in Singapore. Several injuries involving PMD fires and speeding PMD riders have also been heavily reported.
"The challenge I think for LTA is that they don't have control over the private scooters," said Mr Tham.
"The key for them is to first launch the licensing regime," he added. "Having a shared operator will be a very big first step", as it would give the authorities more control over safety standards and tap on operators' ability to enforce regulations for their users.
While Mr Tham said GrabWheels will continue reviewing how it can improve safety for its riders, he added: "If we can help commuters get to their stations faster and with less sweat, then I think we've done our job lah."
Daryl Choo contributed reporting.
Do you still use GrabWheels? Don't be shy, let us know at theridge.team@nussu.org.sg.
Correction: An earlier version of the article mistated the authority that will issue warnings and sanctions against errant users. It is Grab, not campus security, that will issue them.