We've probably all complained about NUS' Internal Shuttle Buses (ISBs) at least once in our life as an NUS student.
The ISB man is no different. Meet Ryan Ch'ng, Year 2 Business Analytics student.
His official title was NUSSU's 40th Exco's Deputy Welfare Secretary for ISB issues (in the academic year 18/19), but "the ISB Man" is much less of a mouthful.
He's now a Media Relations Executive for the 41st Exco, but he continues to run his blog about NUS' ISBs at the ISB Man in a personal capacity.
I recently had the chance to sit down with him and ask him about his life as the ISB man, and his passion for NUS' ISBs is clear from the get-go.
When setting up a meeting place, he tells me, "Whatever's convenient for you, I can go anywhere with ISB".
ISB Telegram channel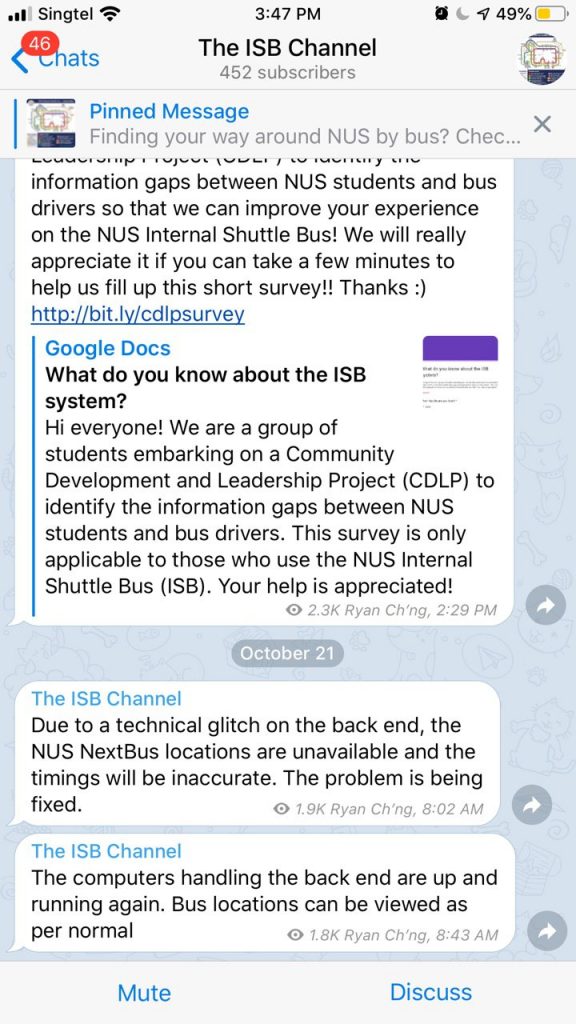 The legendary ISB Telegram Channel, with over 400 subscribers. Photo: Alvina Koh
As part of his job as the ISB man, he ran the ISB Telegram channel, where students can get updates on ISBs going around campus. For example, delays or breakdowns will be broadcasted on the channel.
Many of these updates are the ISB man's own observations – he keeps a special lookout for accidents that may cause delays to the BTC (Bukit Timah Campus) bus that travels outside of NUS' Kent Ridge campus.
He also utilises the "uncle gossip network" – the uncles being the bus captains. He chats and interacts with them, and gets updates on the buses going around NUS. He says riding the bus feels similar to getting a ride from a friend, since he makes an effort to get to know the bus captains personally, even eating lunch with them.
Of course, being the ISB man, Ryan's friends will also message them if they find they are waiting too long for a bus or a bus' arrival time seems erratic.
There is also a "Discuss" function on the ISB Telegram channel. True to its name, it allows members of the group to discuss any updates about the buses – something that I did not even notice when I joined the channel. The "Discuss" function has several students discussing specific buses that have been delayed, and posting pictures of the buses, which the main channel does not have.
Being the ISB Man
Ryan in one of the many ISBs in NUS. Photo: Ryan Ch'ng
Ryan says, "One thing about being the ISB man is that I need a lot of empathy.
I have to be willing to learn and be able to understand perspectives from both students and bus captains."
Language skills are also important – he speaks English, Mandarin and Malay to the different bus captains.
"Small details like calling a bus captain from mainland China, 'shifu', a term of respect, will get them to open up faster and be more willing to talk to me."
He also tells me "every complaint is valuable because it also acts as a data point."
"Even if anything cannot be done about a complaint right now, it will be earmarked for future reference, if a solution for it becomes feasible."
When asked about his own outlook on ISBs after becoming the ISB man, Ryan tells us he had become much more understanding towards bus drivers.
"I used to be a student ranting about how rabak [out of hand] the driving was, but after becoming the ISB man, I have watched the bus captains try to improve.
It makes me thankful for them, and I want to encourage them to do better."
Behind The Blog
It is interesting to romp through the ISB man's blog – for example, I found out about abandoned bus stops around UTown and how former ISBs are currently being put to use (some of them are in Sentosa!).
When asked about where he gets material for his blog posts, Ryan tells me that he can easily find archived copies of old ISB route maps on NUSS websites – they can date all the way back to 2002.
Ryan's love for buses is apparent in the way he writes his blog posts. He tells me that he has always been interested in buses, and it is hard to articulate exactly where this interest stems from when it has been with him for so long.
"Since young I've always noticed bus routes and bus models – what makes a bus better or more well-liked, what buses pass near my house."
The way forward for ISB Telegram channel
When I asked him about the challenges he faced being the ISB man, he says that working with the constraints of the ISB system can be difficult.
There is a maximum of 32 to 35 buses, and creative solutions are needed so that everyone from students to bus captains can be satisfied.
He hopes that as the ISB man, he can raise awareness among students on how the system works, so that they may offer creative but feasible solutions.
He calls the student body a valuable resource for NUS, as they are the eyes and ears on the streets.
Further, he hopes that close cooperation between all the stakeholders involved — the Office of Campus Amenities (OCA), NUSSU, bus captains, and students – can be continued.
My chat with Ryan concludes, and I walk from FASS to Engineering to take D1 back to UTown. I run to catch the bus, but it pulls away just as I reach the bus stop. It's a fortunate thing the next one arrives in five minutes.
What are your thoughts on ISBs? Rabak or not, let us know how you feel at theridge.team@nussu.org.sg.