Let's Talk About Sex (LTAS) is a weekly discussion that is organised by tFreedom which typically involves eight participants and two facilitators (now capped at six and two respectively in light of the pandemic). Its existence provides a safe environment for Tembusu College residents to openly converse about topics pertaining to sex which might usually be restricted to the private sphere—especially in the context of a predominantly conservative Asian society like Singapore where cultural norms and sensitivities dictate a closed-mouth approach to matters regarding sex and sexual practices. Since its inception, LTAS has discussed a myriad of issues such as the moral philosophy, personal beliefs and feelings involved in sexual interactions. At its core, LTAS serves to not only educate the Tembusu community on meaningful and consensual sexual relations but also debunk the negative stigmas that surround sex and certain sexual practices.
Though such a space is especially important to have during our university years—a juncture in our lives where many of us are becoming sexually active—tFreedom's LTAS has recently been brought under an unfavourable spotlight due to its controversial discourse-driven event on safe bondage practices that was slated to take place at the beginning of September. The aforementioned event was organised with the aim to educate members of its community on safety practices regarding an arguably highly-misconstrued sexual act. With such, LTAS invited 0101 studio, a space that promotes education on safe and consensual rope practices, to speak at the event. It was, however, cancelled due to the backlash it received by petition starter Hope Loew.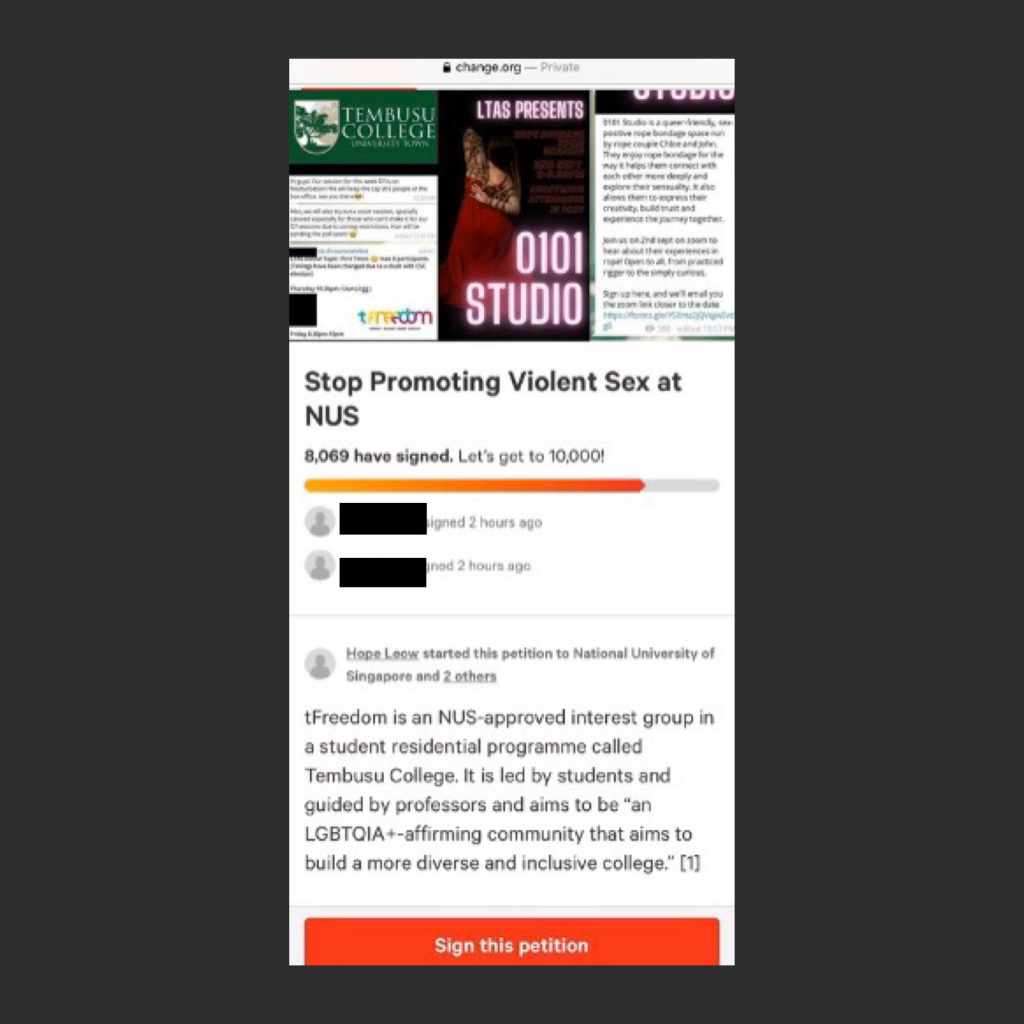 Titled "Stop Promoting Violent Sex at NUS," the Change.org petition materialized out of Loew's disapproval of the event. In the petition's description, Loew claims that the event "glamorizes creative bondage sex" and opines that "such dangerous fetishes should never be promoted in an educational institute." She then branches out and expresses that tFreedom as an entity both promotes loose behaviour and encourages dangerous sex practices. Currently, Loew's petition has garnered about 9,100 signatures, almost fourfold of the opposing petition's (which was not created by tFreedom) 2,400. To get a better understanding of the phenomenon, The Ridge reached out to tFreedom with some questions.
According to tFreedom, the event was not a workshop intended to demonstrate the act of bondage but a discussion in which guests from 0101 studio would be present to share their knowledge on, and experiences with, the safe conduct of bondage sex. The intention behind inviting the studio representatives, according to tFreedom, was "to educate the participants on how the practice is in actuality one that centers on safety, communication and consent, unlike what pornography depicts it to be."
In their perspective, Loew's petition has not only heavily mischaracterized the LTAS event and the intentions of LTAS' activities but also breached the privacy of the people involved—something they strongly disapprove of as private information of participants are now still circulating on the internet. Adding on, they "acknowledge and regret the fact that their promotional poster's lack of clarity might have contributed to the misconceptions."
When asked about their thoughts on discourses about sexuality and sexual practices, tFreedom feels that it is important to have safe spaces to discuss individual experiences and questions pertaining to sex. "By bringing into conversation the thoughts, emotions, or experiences we typically hold private, we might begin to make sense of them." They shared that testimonials from past and present LTAS participants revealed a general consensus that LTAS discussions have provided a sense of community in which they are able to "talk about and explore topics that relate to sexual health," instead of facing uncertainties alone.
tFreedom also cautions that as "school-based sexual education is centered on abstinence and sexually transmitted diseases, youths tend to turn to pornography for answers," leading to misconceptions and unrealistic ideas of what sex is. tFreedom believes that incomprehensive sexual education can lead to the enaction of practices youths observe from pornography—which can lead to uncomfortable sexual experiences and dangerous sexual practices.
Currently, tFreedom's operations have been halted to make way for a review of the interest group's activities. They would like to express that while they are respectfully complying with the review, it is important to highlight the fact that they are under a higher level of scrutiny as compared to other student interest groups due to their controversial nature.
Tell us what you think about the whole ordeal and what your stance is on a more comprehensive sexual education on our Instagram post or at theridge.team@nussu.org.sg!