From the 19th to the 21st of August, NUS' Centre for the Arts (CFA) held its first-ever exclusively virtual HERE! Arts Carnival. The HERE! Arts Carnival has long been an opportunity for NUS arts groups and other artistically-inclined students to showcase their talents and creativity. However, this year, CFA had to shake up its tried-and-true format for a more experimental online version, thanks to COVID-19.
For this year, the carnival's theme was In the Space Between. In the Space Between seeks to appreciate and honour those whose services and efforts keep us safe and secure, and without whom our life would look drastically different—a theme increasingly apt amidst the current global pandemic which is quickly and unapologetically restructuring our society. To provide further insight, Jobina Tan, Associate Director of Talent Development and Programming, NUS CFA, said, "as we all have to observe social distancing, we [CFA] think it's even more important that the arts play an essential role in bringing us together, reminding us of the need to connect with each other and overcome physical, and psychological barriers. Hence, the theme highlights that while we may feel separated or isolated, the arts is a perfect vehicle to remind us of the need to connect and close the gap between us."
Encapsulating the essence of this theme were the exhibits Return to the Fold, Build-A-Bridge, and #Blackout4Humanity. In addition to these exhibits, the HERE! Arts Carnival also embraced the new digital medium and the trends that arose out of pandemic-induced boredom with the following exhibits:
Virtual Opening Ceremony
unMask
Screen Shorts
NUS Museum Instagram Challenge
Club Sandwich
NUS Baba House Virtual Tour
NUS Museum Virtual Tour
UCC Backstage Tour
Open Circuit
But planning for a virtual carnival wasn't easy! Ms. Tan revealed that there were many challenges that CFA faced when producing a completely virtualized Here! Arts Carnival. According to her, there were "probably more differences than similarities from the traditional ways of doing things. It was like having to create a hybrid between a TV show and an arts performance—with the added challenge of keeping to social distancing measures." CFA had to contend with the relatively new medium of live streaming, the challenge of performers recording in separate spaces, bad internet connections, and issues with using copyrighted music. However, rather than shrinking in the face of such change, Ms Tan said that she, and CFA, wanted "to inspire our NUS artists to look beyond these limitations and create digital art projects that one would not have tried before—while keeping to the central idea of connecting people through art—and I'm glad to say that they rose to the challenge very well."
In fact, Ms. Tan exclaimed that "the content that has been created is something I'm particularly proud of—many of it of a very high standard and definitely very 'shareable.' Many works are as good as what professional artists create!"
With such resounding praise from a seasoned professional, how could we not check out the HERE! Arts Carnival and see for ourselves how successful the virtual iteration was? Read on to find out more about these exhibits! And if after reading this article you start bemoaning the fact that you missed the carnival, fret not for these exhibits are still available to watch online on CFA's HERE! Arts Carnival webpage.
Virtual Opening Show
The Virtual Opening Show kicked off the HERE! Arts Carnival with a musical performance of "When You Believe" from the animated motion picture The Prince of Egypt. The performance consisted of over 200 students from all 21 CFA arts' groups and is an excellent example of collaboration in these socially-distant times.
The fun and exciting performance showcased the talents of each CFA arts group through a montage of synchronised videos, and was the perfect way to start the 2020 HERE! Arts Carnival. Check out the Virtual Opening Show on CFA's HERE! Arts Carnival webpage.
Return to the Fold
Return to the Fold seeks to appreciate everyone from NUS who have worked tirelessly to keep the campus and all NUS members safe from Covid-19.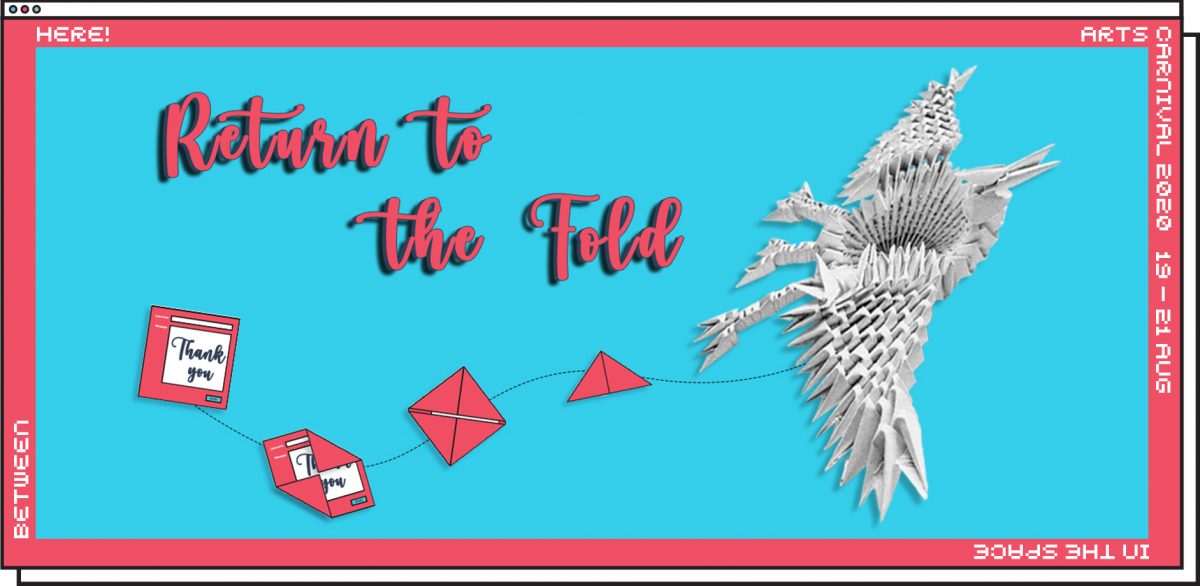 Playing a major role in the exhibit, NUS students took the time to write their heartfelt messages of gratitude to underappreciated individuals who have kept, and are still keeping, them safe in these tumultuous times. These messages, enclosed within origami cranes, were then used to build a gargantuan origami phoenix sculpture titled 'Rebirth.' According to NUS president, Tan Eng Chye, 'Rebirth' symbolises that the NUS community "shall emerge from this [pandemic] stronger, and even more united."
And NUS students didn't disappoint! As one contributor, Dimple, put it: "Covid 19 taught us something—never to take people and things for granted, NUS Heroes! All in the medical [team] but not excluding the back of the house contributors! Thank you [NUS Heroes] with a grateful heart!"
You can see all the other messages NUS students have sent to the NUS heroes on CFA's HERE! Arts Carnival webpage!
Build-A-Bridge
Build-A-Bridge was an initiative aimed at fostering relations between the Migrant Workers' Community and NUS students, in hopes of encouraging better understanding between students and the migrant worker community. Through Build-A-Bridge, students and arts groups were able to engage with photographs taken by migrant workers, and discuss with them their experiences that lend meaning to these photographs to then create performances that resonate with, and build upon, these photographs.
NUS students were given free reign to express their creativity which resulted in the diverse range of performances created—from Electronic Music Lab's audiovisual creation 'Hand in Hand,' to NUS Dance Blast's dynamic performance 'Reminisce,' to NUS Stage's introspective short film 'Girl of the Mud,' and many many more.
Michelle Hariff, an NUS Stage member of the 'Girl of the Mud' performance, said that "this project allowed us [to] encounter a very personalized view of Ritchelle's [the migrant worker] journey, of her philosophies, attitudes and views both about Singaporean society, and the migrant community in Singapore…[It also] shed light on her family and society back in her hometown of Ilo Ilo. It was very heartwarming and inspirational."
Working with Ritchelle also seems to have helped Michelle and the team see migrant workers as more than just the stereotypes that society lays on them. Through this experience, the team has been made aware of the migrant workers' own unique beliefs, dreams and life experiences, and they now view them as complex beings that transcend the bounds of their stereotypes. "We had such a great time talking to her because of her bright personality. We were given a lot of creative freedom and she was really supportive. She was always open to questions. During one of our talks, I think what particularly stuck out to me is not only learning about the social issues, the female experience, and her personal encounters back in her hometown, but also the personal philosophies that she, as an individual, lives by—that all of us have an individual sort of aura or life force from young that we can use to guide ourselves and pursue our dreams. She is very optimistic and has so much care and hope for humanity, especially children. That's why our responses and takeaways are so centred on our encounters with her as a person beyond the label of what her job is in Singapore."
When asked whether she believes Build-A-Bridge was successful in strengthening ties with the migrant community, Michelle responded with a cautiously optimistic answer:
"I think it's a start? For sure, I think it's a really positive and amazing thing for artists across cultures, backgrounds and communities to be able to connect with each other and collaborate and build upon each other's works…But I think whether or not it can count as a success is if it is more than just a one-time, one-directional exchange?"
If that sounds like something that will interest you, you can check out these short masterpieces on CFA's HERE! Arts Carnival webpage.
#Blackout4Humanity
The #Blackout4Humanity exhibit was inspired by blackout poetry wherein specific parts from already established texts are redacted to create a new poem that is both linguistically and visually significant. #Blackout4Humanity is the most literal manifestation of the carnival's theme this year as the medium plays with the spaces between words to bring closer the otherwise far-flung words and sentiments. The exhibit was created to convey the deeper meaning of uniting in solidarity from home, even in times of social distancing, through words.
Azreen Suffiyah, the student ambassador for #Blackout4Humanity, really appreciated the theme of this year's HERE! Arts Carnival, and shared that "what I loved the most was the central theme…to symbolize how despite the space due to COVID, we still bind together in solidarity and support one another." She further explained that "although we were all working through online means, the solidarity was not only present in the theme but through the collective group's [#Blackout4Humanity team] hard work of using the arts to foster hope."
You can check out the rest of the Blackout4Humanity submissions on CFA's HERE! Arts Carnival webpage.
unMask
unMask, developed in collaboration with NUS school of computing, is a new AI-driven online audiovisual installation that creates a unique audiovisual artwork by grouping together student-submitted selfies using specific tags relating to different CFA clubs.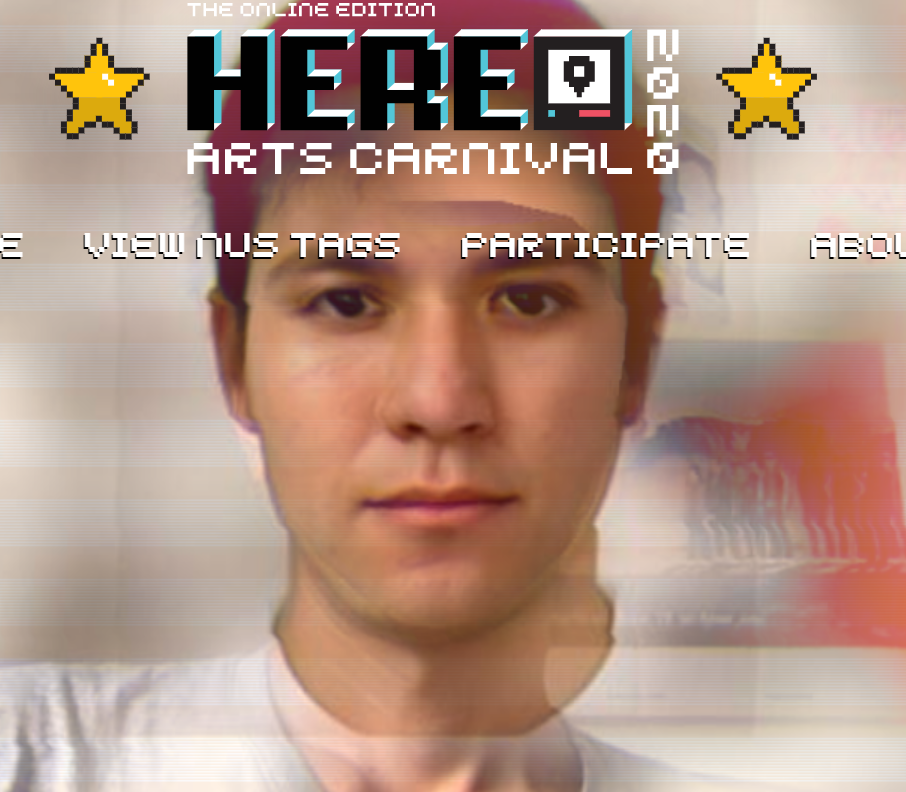 Ever wondered what the average face of a NUS jazz band member looks like? Well, now you know! Head on over to CFA's HERE! Arts Carnival webpage if you would like to see what the composite faces of the members of your CCAs look like! And, maybe, you can add in your own too!
Screen Shorts
Screen Shorts showcases 4 different short plays created by NUS arts groups that covers a range of themes from sexism and class differences to friendships and connections. These plays include: 'Summus Thesaurus' by NUS Stage, 'Class Reunion' by NUS Chinese Drama, 'Man, That's Whack!' by One Brain Cell, and last but not least, 'Reconnecting…' by Connected.
Screen Shorts was a challenging exhibit for most of these groups. Well-versed as these groups are in holding productions and creating theatrical performances, their usual medium is off-line live shows. Therefore, creating a pre-recorded online piece was, at its very least, a new challenge for them to tackle.
Some difficulties of recording online—according to Puah Yuu Shuen, the Secretary of the NUS Chinese Drama club and a member of the Class Reunion team—included the inability "to act with other actors in real life [making] it [was] more difficult to get into the 'zone' and [express] emotions. Furthermore, we had to be very aware of our subtle facial expressions and body language[s] as they are amplified and clearly captured on the webcam. Lastly, as most of us were filming in our own homes, there were many distractions and background noise that made it a little harder to focus."
Such difficulties, however, only pushed the team to find more creative solutions as attested by Yuu Shuen: "There was a scene where a couple was supposed to act together, however, due to the social distancing restrictions, we had to think of creative ways to overcome [that]. With that, we changed the script such that the man doesn't appear on screen and only the sound is heard."
Yuu Shuen also recognises that there were numerous advantages to creating an online play. She said that "being more involved in the whole process of creating a play from scriptwriting, creating my own set, clothes design to acting, I could better understand how difficult it is to create a good play."
She is proud of the group's collective effort to creatively overcome setbacks, and is excited to explore other technologies to enhance their plays and take full advantage of the uniqueness of this online situation.
You can catch Chinese Drama's Class Reunion, and the other three Screen Shorts' plays, on CFA's HERE! Arts Carnival webpage.
NUS Museum Instagram Challenge
If you've been online during the pandemic, then it's likely you have heard about the Getty Museum Challenge, in which the Getty Museum of Los Angeles challenged art-lovers to recreate their favourite art pieces at home with everyday items. And the results were, as expected, both hilarious and wildly creative!
Heavily inspired by the challenge, the Here! Arts Carnival adapted it and encouraged NUS students to push the boundaries of their creativity. And, boy, did we deliver with some truly wonderful pieces of art of our own!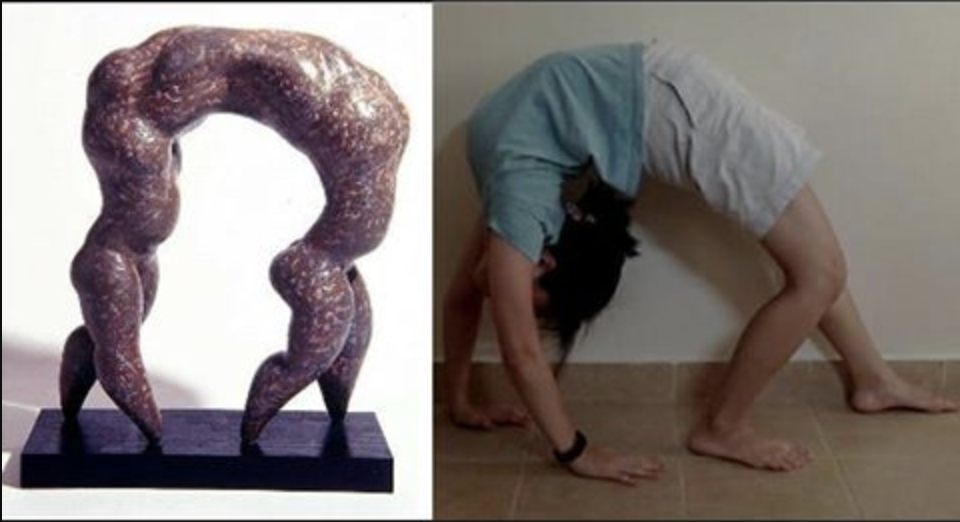 If you want to check out the rest of these submissions, head on over to CFA's HERE! Arts Carnival webpage.
Club Sandwich
Club Sandwich was an effort by CFA to promote its constituent clubs to freshmen and senior students through a late-night talk-show segment consisting of the 21 CFA Arts Excellence groups. It afforded each group 8 minutes to showcase their talents and answer questions related to their clubs' activities and community.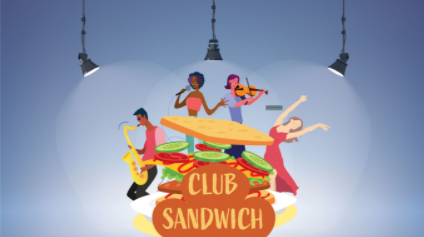 Spread over the three days, it allowed NUS students to get a glimpse of what it's like to be a member of a CFA club and get a sneak-peek of their past productions/training sessions.
If you are curious to find out what these clubs do, you can check out the Club Sandwich segment on CFA's Here! Arts Carnival webpage.
Virtual Tours—NUS Baba House, NUS Museum, and UCC Backstage
During this year's HERE! Arts Carnival, CFA also gave viewers a rare glimpse into three important NUS venues: NUS Baba House, NUS Museum and University Cultural Centre (UCC). Through virtual tours conducted by the knowledgeable and enthusiastic staff of each of the venues, viewers were able to gain a better understanding of the uses and exhibits within these venues.
The NUS Museum virtual tour guided viewers through 4 permanent exhibits, 3 artist shows and a prep-room whereas the NUS Baba House virtual tour afforded viewers an in-depth look into the history of the Baba House and its many early 20th-century artifacts. The UCC backstage tour, on the other hand, brought the viewers to many limited access areas at the UCC, such as the production and equipment rooms, as the host reminisced about the many productions that have been held there. And who knows, if you catch the online recordings, you might even hear some snippets of backstage drama that the host lets slip!
Be sure to check out these little gems on CFA's Here! Arts Carnival webpage.
Open Circuit
Open Circuit closed the HERE! Arts Carnival with an awards ceremony whereby three lucky NUS student submissions won the Open Circuit competition. The Open Circuit competition was one that challenged NUS students and staff to create performances indicative of their circuit breaker experience using these circuit breaker staples: dalgona coffee, toilet paper, pets, Zoom and pyjamas.
From the numerous submissions sent in, three acts were shortlisted and chosen as the finalists: Edward & David's magic show, NUS Dance Synergy's dance performance, and Jessalin's song. Find out who won the Open Circuit competition, and watch the three shortlisted performances on CFA's HERE! Arts Carnival webpage.
What are your thoughts on the exhibits in the carnival?
Whether you are enthusiastically adapting to the "new normal" or prefer the way performances used to be held before the pandemic struck, digital online performances might just be a reality that is here to stay. As Ms. Tan puts it, "given the uncertainty of when live arts performances can resume, we would have to continually see how online performances can become somewhat of a staple in one form or another."